Overview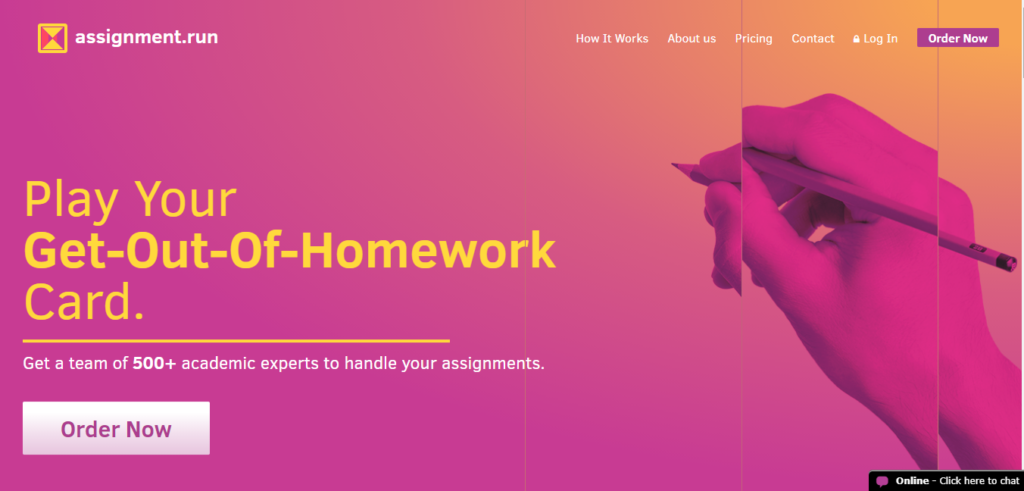 New essay writing companies come into being every year. Surprisingly, not all of them tend to invest in marketing or somehow promote their services. Recently, I came across one of such platforms – Assignment.run. The service seemed to be comparatively new as I did not succeed to find much information about it. However, the colorful design catches the eye and their impressive statistics suggest the opposite, trying to convince you to choose this platform to master your assignments. Does the company deserve your trust? And how good are their services? The only way to find the answers is to test the website. So, let's get started!
The website looks impressive and some of you might even think that the company earns your trust. But do not rush on. Some information on the platform seems to be missing. Who are their writers? Do they provide discounts? How can you check out the quality of their papers? You will not find the answers to these questions until you dig deeper. Some interesting stats might catch your attention. But do not accept it at face value.
The ordering process is clear and simple. Assignment.run does not require excessive personal details and does not let third-parties access them, according to their Privacy Policy that is ultimately good. Plus, they do not hide the legal information – address and phone number are available on the website.
Although the company has certain drawbacks, benefits are also present. For example, you can opt for progressive payments while ordering a large assignment. Extra services such as a title page or plagiarism report are free of charge. Free revisions are also provided. Yet, there are some questions to be addressed before using this service.
Story
The first thing to be mentioned is the statistics shared on the main page:

According to the stats, the company has been in business for 9 years. This is a solid experience. Supposing the quality of their work comes up to scratch, the platform could not stay off the radar. But why are there no reviews on the service then? How is it actually possible? I asked myself and went to Internet Archive. Here is what I have found:

The website was created in 2018 but its story does not seem to be rich. Thus, there were no pics of how the platform looked at the very start, so I had no chance to track its evolution. Returning to the statistics published on the website, it is pretty obvious that the platform itself has been functioning for less than 9 years. So, this is lies, right? 
Not really. The company does not hide legal information. It is published in the Terms and Conditions and refers to Cyber Jam Limited, a company registered in the United Kingdom. Its legal address is 3rd floor 120 Baker Street, London, W1U 6TU, United Kingdom (Company No: 08796322). It operates by itself, through its authorized partners, or affiliate websites. Based on the information, I drew a conclusion that the company could operate through other resources over the previous years. So, the information on the website is true. Cyber Jam LTD employs multiple platforms, including PenDrago.com, to promote and develop its writing services. The company has a straightforward and comprehensive policy that makes the intersection with it more transparent and secure.
Pros and Cons 
Pros:
Clear and comprehensive guarantees
Straightforward Terms and Conditions are the way a company confirms the fact that you can trust it. Thus, before using any custom writing service, check out the Terms and Conditions section. As for Assignment.run, all guarantees are well-described and do not leave room for ambiguity.
Legal information is present
Assignment.run does not hide any legal details. All of them are available in the Terms and Conditions and can be easily verified.
It takes only four steps to place an order. You can do it with ease, providing as many or as little details as necessary. Plus, the platform does not require any additional personal information and does not store it.
Nice design of the website
The interface is attractive and user-friendly. It is easy to find all you need on the website (except for the information that is actually missing).
Getting a reply is easy and does not take much time. There are multiple channels to contact the support team, including live chat, email, and phone.
Cons:
The lack of information about writers
On the website, they write that their authors have BA, MA, and PhD degrees. But who are they? Where are they from? There is no relevant information about it. You will not find the answer even in the Terms and Conditions where most platforms highlight the categories of writers they have.
The price is too high and no discounts are available
The price of writing services starts at $17,55 that is higher while comparing with the market average. Although the company has a loyalty program, they do not provide any discounts, making their services less affordable.
The company has no reviews on such platforms as Reddit, Sitejabber, or TrustPilot. So, it is hard to believe that it has been on market for 9 years.
It is impossible to evaluate the quality of their services unless you place an order as there are no samples of their papers on the website. For me, it is a great disadvantage.
The social media presence is not the case for Assignment.run. The platform does not have any social media accounts, so it does not do its best to reach out to its audience.
Types of Services

The services are divided into three main categories – writing, editing, and proofreading. As for the range of assignments, they are not that numerous. On the platform, you can order a lot of types of essays (descriptive, narrative, persuasive, legal, etc.) and some other college papers. For some students, who seek more sophisticated essay writing help, it may be not enough. So, it is difficult to understand why they think they can drive up prices.
Prices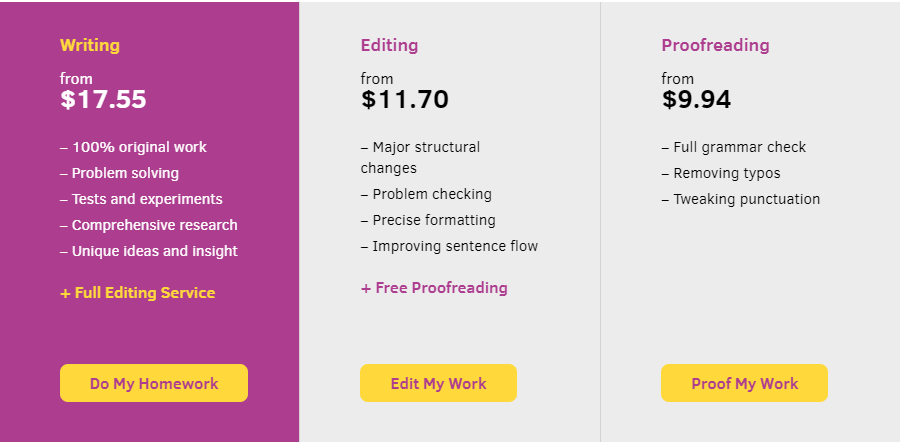 The prices seem to be too high for such a basic service. The prices for writing start at $17.55 per page, editing will cost you at least $11.70 per page, and proofreading – $9.94 per page. The prices vary depending on the deadline, extra services, and probably the category of writers. Although we do not know anything about their authors, I have learned from the ordering process that you can opt for the best available writer or choose them by language proficiency. Does it mean that the best available writer is a non-native? Frankly, I did not succeed to find it out.
Keeping in mind exorbitant prices, the platform does not provide any discounts either. On the other hand, they have a loyalty program that is pretty standard.
If you have over 25 completed and paid pages, you are eligible for a 5% discount;
50 completed pages give you a 10% discount;
If you have previously ordered over 100 pages, you are eligible for the maximum 15% discount.
While the service owners may seem that these discounts are enough to attract loyal customers, I'd rather disagree. Who needs to overpay if there are a lot of more affordable (and expensive but more reputable) essay writing services?
The platform offers several payment options, including Visa, MasterCard, American Express, and even some online wallets. Assignment.run assumes solid security measures to ensure the safety of your funds. Thus, apart from a basic SSL certificate, the platform employs Norton Security software.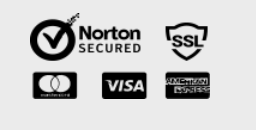 Customer Support
Unfortunately, there are not so many channels to contact customer support. Although the quality of service means more than the number of ways to reach the support team out, modern essay writing companies should contribute to effective interaction with the users. It implies reaching out to the students where they need this.
So, you can contact a customer support manager via live chat at any time. Getting a reply does not take longer than 5 minutes. Herewith, they hire real people to address your problems as I have obviously talked to a real person. It is good as many companies nowadays tend to employ robots, operating instead of human managers. I disapprove of this practice when it comes to custom writing services as students usually have real problems to solve when collaborating with such platforms.
Anyway, you can also contact them by phone or email. They have different email addresses for various needs. But unfortunately, Assignment.run does not have any social media accounts.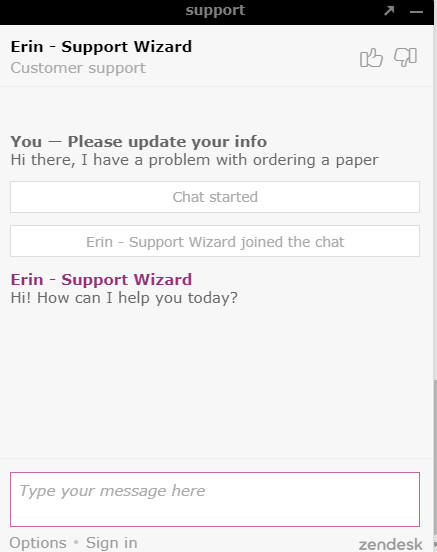 Quality
The quality of writing services is pretty basic according to the paper I have received. I opted for the best available author as I did not mean to pay more than I thought they deserve. And I did not go wrong. I ordered a persuasive 2-page essay that had to contain at least three comprehensive arguments. I kept track of the progress by maintaining contact with my writer who was quite polite and attentive to my instructions. As a result, I received a decent essay that was grammatically correct and did not contain any formatting mistakes. The paper looked like it was written by a native writer. Yet, it was not as perfect as I expected.
Paying someone $17,55 per page, I expect the ultimate quality of work. I could pay $9 per page for basic material or $12 per page for a great paper. But I opted for this service the price of which starts at $17,55 per page. Getting the average assignment made me disappointed as I fell under the impression that I have overpaid. Two out of three arguments were great, but the third one left room for doubt. Plus, I have noticed a couple of stylistic mistakes that were not critical. The paper was delivered on time and I got my plagiarism report. I checked the essay by myself and it was unique. Besides, getting my paper revised was easy. So, all in all, my experience was satisfying.
As mentioned above, the company has a comprehensive policy. Yet, some aspects are to be unclear. Let's look into the essential guarantees, trying to evaluate them.
The revision policy implies only one free revision that is just ridiculous:
"After the completed Sample is submitted to the Customer, he/she can review it and request the executive of the Order to make changes in the Sample (request a revision). A free revision is possible only under the following conditions:
The revision request is submitted within 10 calendar days since the Sample was submitted to the Customer.
Instructions for revision do not contradict the initial instructions and do not provide any additional information that was not mentioned in the initial instructions for the Order." –Terms and Conditions 
Although the 10-day period might seem to be an upside, the only revision is definitely not enough when you order a massive assignment. So, if you will need more than one revision, you will have to pay for it. Essay writing services usually provide up to three free revisions and this is the minimum number that allows ensuring a high-quality assignment.
Anyway, the company has a strong anti-plagiarism policy. Each paper is checked at least twice with modern plagiarism detection software. Assignment.run guarantees that their samples are always unique. If you have identified any sign of plagiarism in your work, the free revision will be provided or you can get full compensation.
As for other money-back guarantees, there are several cases when you can get a refund, as follows:
You are eligible for 100% compensation if your task has not been assigned to a particular writer yet. 
If your project has been assigned to a writer, and half of the deadline has not passed, you can get 70% compensation. 
If half of the deadline has already passed, you are eligible for up to a 50% refund. 
If your paper is sent later, 20% compensation is possible. 
Supposing your paper is late and you want to cancel the order, you will get a 100% refund. 
Formatting mistakes will result in 10% compensation. 
Grammar, punctuation, or spelling mistakes will give you up to 30% back. 
The unoriginal content is strictly prohibited, so if you have detected plagiarism, you will get a 100% refund. 
If a writer did not follow your instructions, you are eligible for 100% compensation.
How to Place an Order
The ordering process takes just four steps to complete. Assignment.run is one of those platforms that require registration to access their services. So, let's look into it in more detail:
Step 1: Signing up
Here, you have to provide your email, name, and phone number – nothing more.
Step 2: Identifying the type of service
Choose what service you need, define the deadline, the purpose of your project, and your preferred writer. You can opt for the best available writer (that can be ESL), or a native speaker.
Step 3: Submitting the instructions
At this stage, you should identify the guidelines for your project along with citation and formatting style, page count, title, and other essential details.
Step 4: Finalizing the order
Check whether all of the details are correct, submit your task, and wait for a reply from a manager.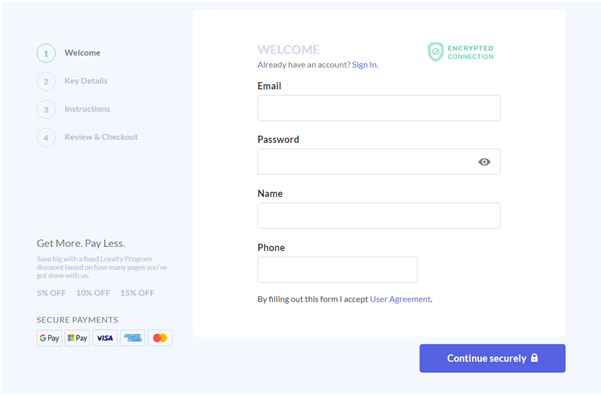 Customer Reviews
The only place where you can find reviews about the company is the main page of its website. Are these reviews genuine? Who knows. But I would not recommend you to trust them as essay writing services tend to publish fake feedback. In the end, there is no way you can check whether they are real or not.
As usual, I browsed Reddit, Sitejabber, and TrustPilot, hoping to find some customer reviews, but it was all in vain. There were no reviews at all. So, if you ordered something on this website, share your opinion below.

Verdict
The average essay writing service with the basic quality of work is the overall conclusion I have drawn from my experience with Assignment.run. However, there are some inconsistencies. For example, the price is too high for such a basic quality of writing. I cannot say Assignment.run is a reputable essay writing service as it has no reputation at all. But it is definitely not a scam. While using this platform, you are safekeeping as well as your funds. You can order smaller assignments on the website, but if you need a large one, get ready to pay more for additional revisions as they provide only one for free.
Would I recommend using this platform? I'd rather say "No", but it is up to you to decide. They literally do nothing to prove that their services are worth the money you pay. They give you no discounts, scrimp free revisions, and hide information about their writers. All in all, there are more reputable, affordable, and transparent essay writing companies.
This blog contains the author's views and reflections on topics about which he chooses to write. The author reserves the right to express his subjective opinion and is not responsible for the quality of services provided by the overviewed sites.