Overview
Every time in my reviews, I encourage students to learn how to delegate. In fact, that's a fairly popular topic for discussion. Why do people easily entrust household tasks to specialists but cannot do the same in the case of essay writing? Can't fix the window yourself? Call the contractor. Did your car break down? Take it to the car-care center. Can't write an essay yourself? Order it from professionals! Now it is very easy to find a company that suits every taste and budget. What's more, you can rely on people like me who will help you make a choice.
Recently, I was invited for a short interview by an Internet publication. Its representatives asked me a couple of questions about my work experience and how I came to write reviews. It was interesting to look back and remember all the mistakes I made. In an interview, I called them `rookie mistakes`. I trusted the wrong people and paid hundreds of dollars for plagiarised essays from the Internet. Once I didn't sleep all night before the submission because I was rewriting an entire chapter of a research paper! But I am grateful that everything turned out that way. I share my experience and help students not to make the same mistakes. Don't you think I'm getting carried away with philosophizing? Let's get down to business. About a month ago, my colleague told me about writing services based on the auction system. In particular, he spoke about Bid4Papers.com. I got curious to learn more about it, so I conducted my mini-investigation. It's high time I shared the results!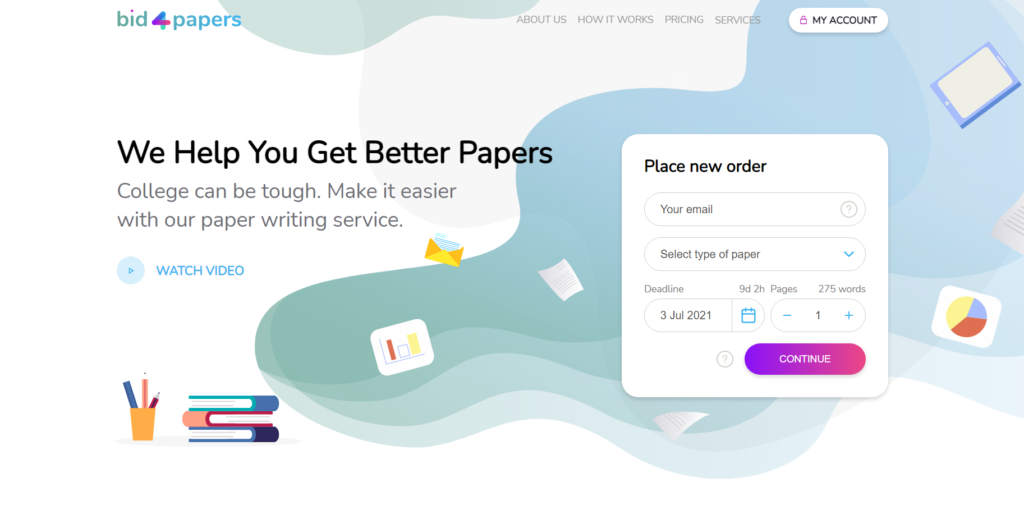 Story
Nowadays, there is a rush for software that helps you easily create the website layout. The brightest example on the market is WordPress. Since these platforms share the same set of templates, the sites are like two peas in a pod. More and more often, I catch myself thinking that sometimes I confuse them with each other! And before you ask, I still like the Bid4Papers design.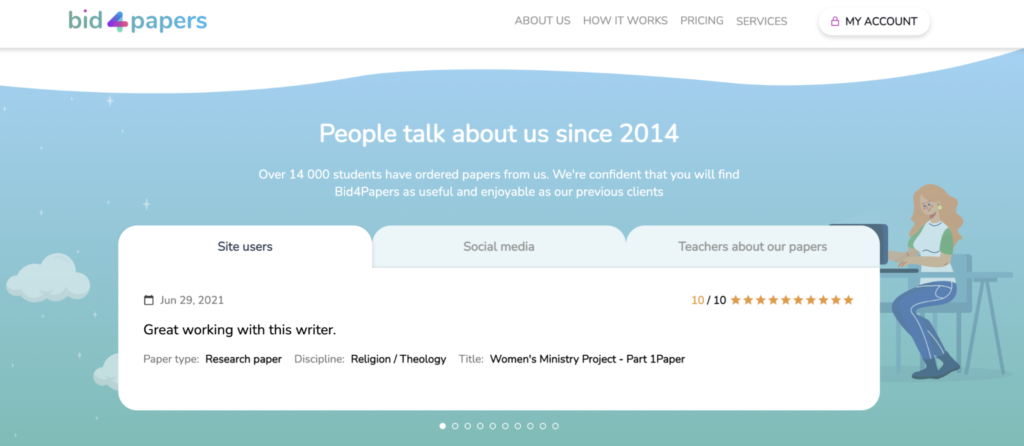 The website states that the company has been helping students with essays for more than seven years. I wouldn't be me if I didn't verify this information through Web.Archive. Well, the data is correct!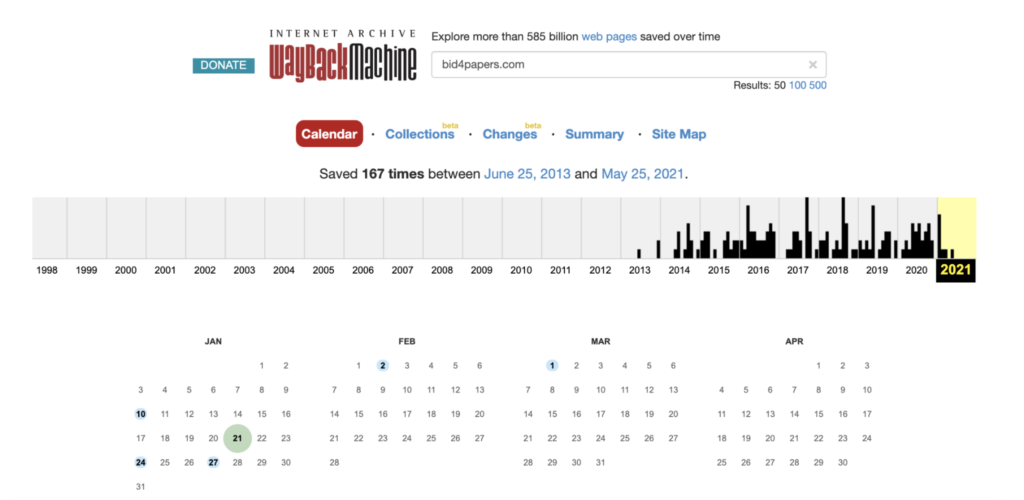 To give a complete picture, I found the original Bid4Papers start page.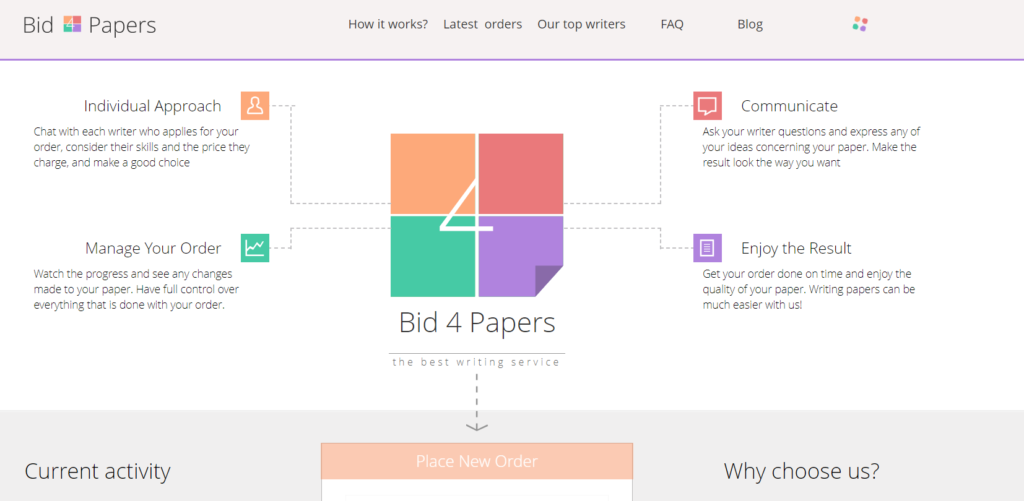 I decided to dig deeper and collect more information about Bid4Papers. According to Terms & Conditions, it belongs to FrogProg Limited, a company headquartered in Cyprus. Its name looked familiar to me as if I'd already met it in my reviews. And I really had! Founded in 2010, FrogProg Limited owns and operates several writing services such as Essay Shark and Write My Essays Online.

Pros and Cons
Pros
On the list of pros, it is first of all worth mentioning the auction system. No more boring price lists and dreams of a 50% promo code! Be the one who decides how much your paper costs, who to write it, and when to receive it. Place your order and wait till the authors start bidding for it. If you have a controversial issue, start an online chat with the candidate.
With Bid 4 Papers, you are safe and sound from scammers. The company offers clear Refund, Privacy, and Confidentiality Policies. However, I do recommend you spend a couple of hours reading them. Prepare the list of questions and forward them to the customer support team (if there are any of them). Thus, you will eliminate all possible issues with your order.
This essay writing service has not only honestly worked out its legal side but also history. I mean, you won't find fairy tales about 40 years of operation and millions of customers. Since 2014, Bid 4 Papers has completed approximately 14,000 orders.
Although there are only 66 reviews on Sitejabber, they all have a fairly high rating. As long as the client is satisfied, I'm satisfied!
All students have a thousand and one things to ask customer support service. However, sometimes there is no need to write emails and then wait for the reply. Are the authors native English speakers? Does Bid4Papers provide free revisions? What are the payment options? You can find answers to these and other questions in the FAQ section.
At first, I thought that the list of pros would be much longer than the one of cons. I've never been so wrong!
Cons
While we're on the subject of customer support, it's worth noting the absence of online chat or something like that. All you've got is a good old email address. That could be a problem for those who have an urgent issue to be sorted out.
On the site, there are no samples of completed papers. Against the backdrop of competitors offering entire libraries of materials, Bid4Papers looks pathetic. I don't want to sound like a snob, but it's true!
What's more, there are a few types of services available. Again, while competitors offer writing, editing, and proofreading, Bid4Papers decided to stop at the first one.
On top of that, there is a problem with social networks. The accounts on Twitter and YouTube are absolutely abandoned! No posts, no links, no memes – I wash my hands of it!
Types of Services
Once in a blue moon do I see as short a list of available services as that one.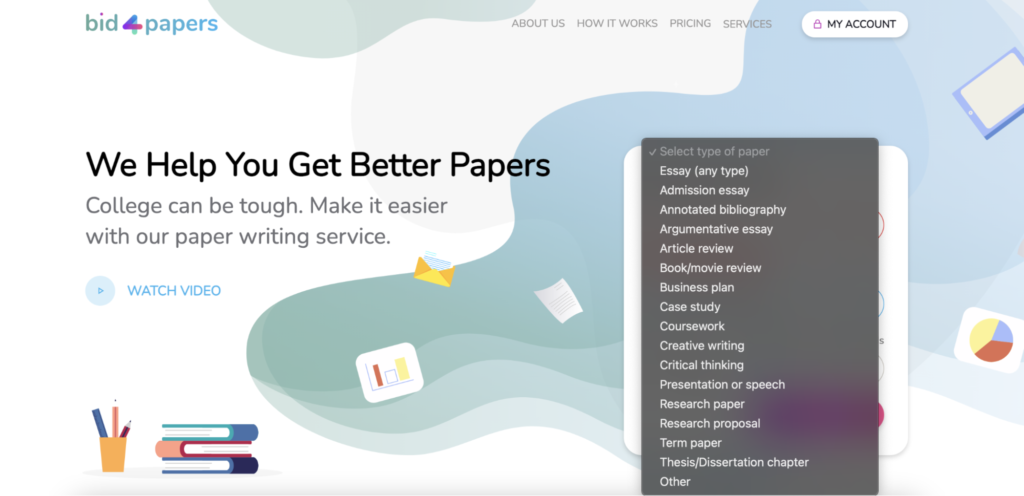 On Bid 4 Papers staff, no one can handle either proofreading or editing. If you seek academic writing, then you are in luck! The company offers the most popular types of student papers, such as an essay, bibliography, case study, research paper, and thesis.
Price
Bid4Papers is an essay writing service powered by an auction system. As soon as you place your order, writers start bidding for your order. Your task is to look through the list of candidates and choose the one with the sweetest offer.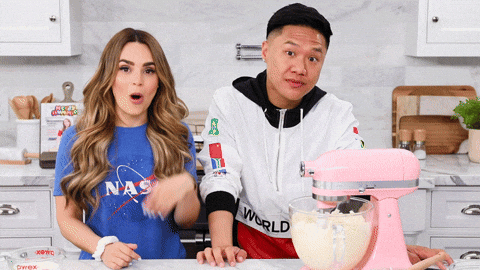 A distinctive feature of the bidding system is that it won't give you an idea about the company's pricing policy. Since each author evaluates his labor costs independently, it can vary greatly. On Bid4Papers.com, you can find an example of what criteria the authors rely on when offering their prices.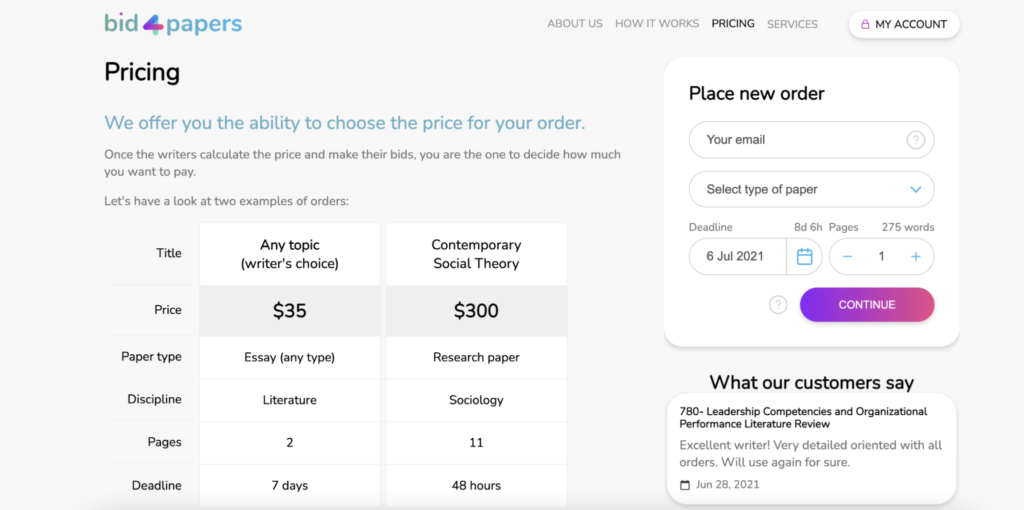 If you count on discounts or any freebies, then I am here to disappoint you. Again, due to the bidding system, managers cannot even implement a referral program or something like that.
Customer Support
I must admit that the Bid4Papers customer support service is its Achilles heel (sorry for my Greek). Neither can you call managers nor drop them a message in the online chat. All you've got is an email address.
Despite the old-school method of communication, managers reply fast enough.
Quality of Service
Even if there are no grammatical or lexical mistakes in the essay, it doesn't mean that the quality of the service is high. For me, important indicators are the guarantees and samples of work provided. Moreover, I love it when sites publish photos of their team with short bios. This way, you can get to know the authors better and make it easier for yourself to choose a suitable candidate. Anyway, let's bring this conversation back to Bid4Papers.
On the site, you can look through the list of the top 50 writers. Even though there are no photos (I guess it's a matter of privacy), you get their rating. What's more, you can see whether the author is online, away, or offline.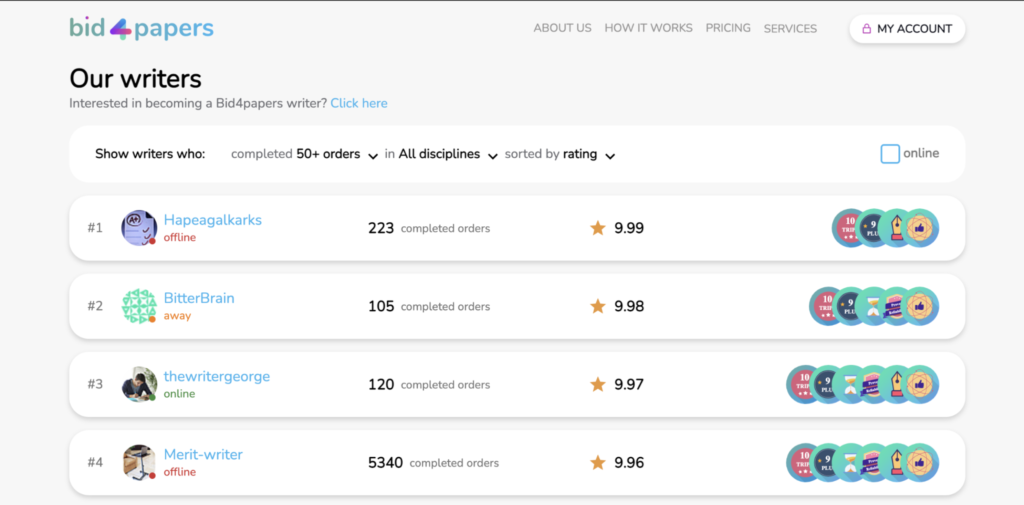 Are you ready for more? You get access to the number of completed / in-progress / canceled orders with detailed feedback from customers. Ace! Find out a theme, the number of pages, delivery date, and customers' feedback.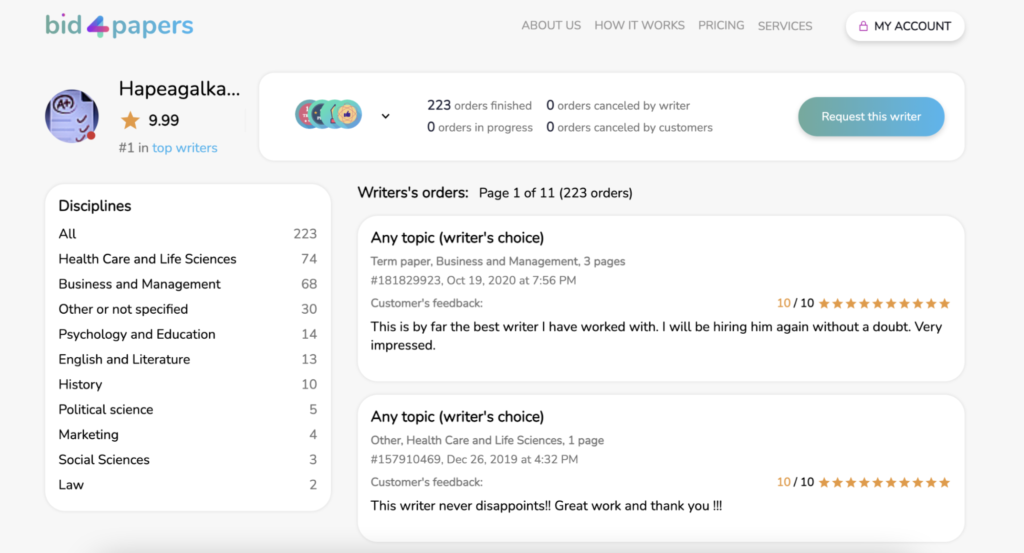 On Bid4Papers.com, you can find Refund Policy, Privacy Policy, and Confidentiality Policy. If I have no questions about the last two documents, the first one does make me wonder. Usually, competitors publish the detailed terms and conditions of a possible refund. In our case, there are no accurate figures.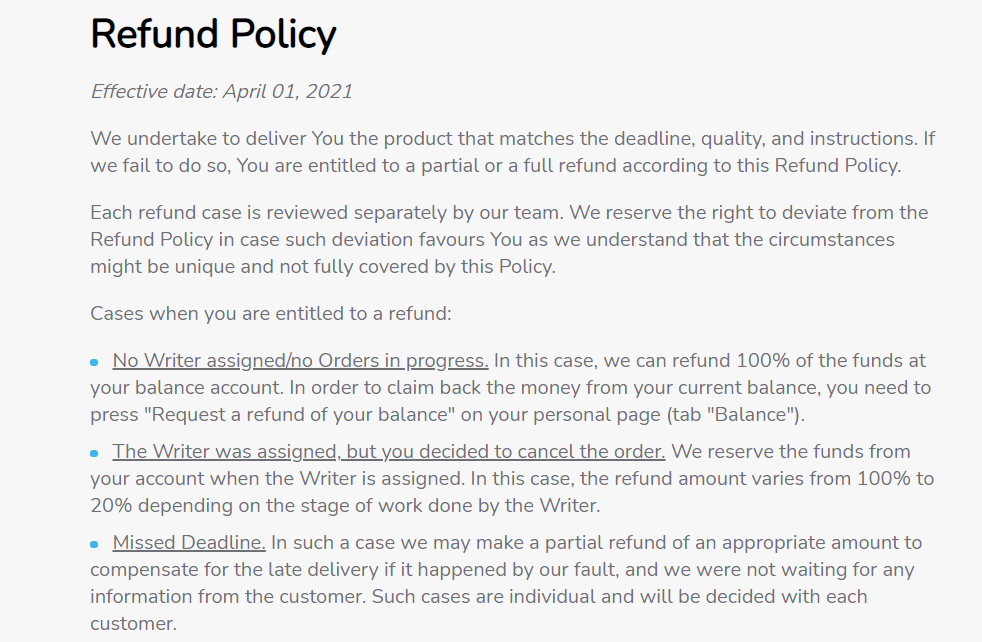 I got good news for those who are bothered with data privacy. You can ask managers to erase your personal information anytime. As soon as you get the desired result, disappear from the Bid4Papers database and sleep well!

There was also something that upset me. Thus, the site doesn't present samples of the authors' works. You cannot evaluate the writer's style, the grammatical constructions he uses, nothing!
How to Place an Order
Before placing an order, customers have to fill in the registration form.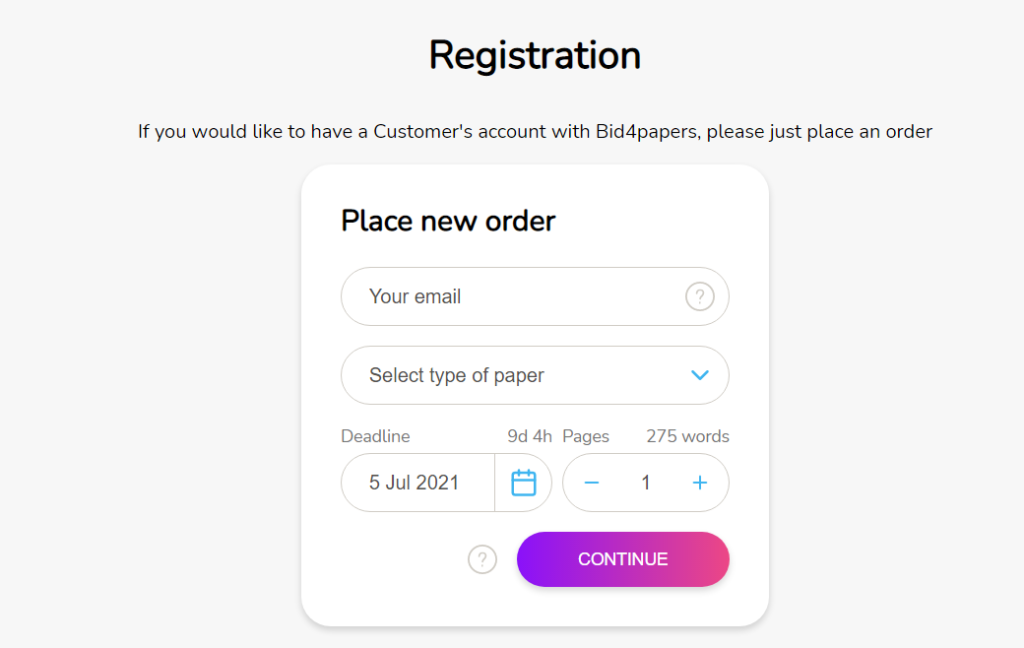 Those who already have an account on Bid4Papers.com can log in and continue the order process.
As soon as you complete the task, you proceed to the next stage. Here, customers have to provide detailed instructions on the paper and specify:
type of paper
topic
the number of pages
deadline
discipline
type of service
academic level
format
As soon as your request is ready, it becomes visible for the pull of writers. That is where they start to bid for your paper. All you have to do is choose your fighter!
To get a clear picture, start a chat with the preferred author and discuss your essay. When you find your perfect match, you reserve money and monitor the process of writing in your account.
Reviews
Sharing your impressions of ordering paper from a writing service is not that hard. I always ask my followers to leave either positive or negative feedback on a company. Keep in mind that a couple of minutes of your precious time can help others save money!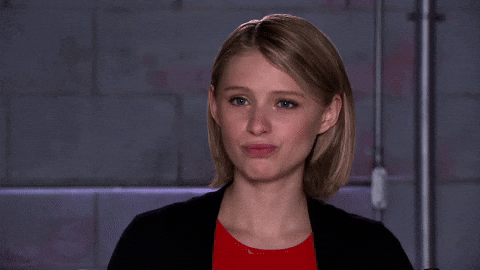 In the case of Bid4Papers, there is an average number of reviews on third-party websites. However, for a company that has been present on the market for seven years, it is still not enough. For those who don't want to study Sitejabber or Trustpilot, there are reviews on Bid4Papers.com.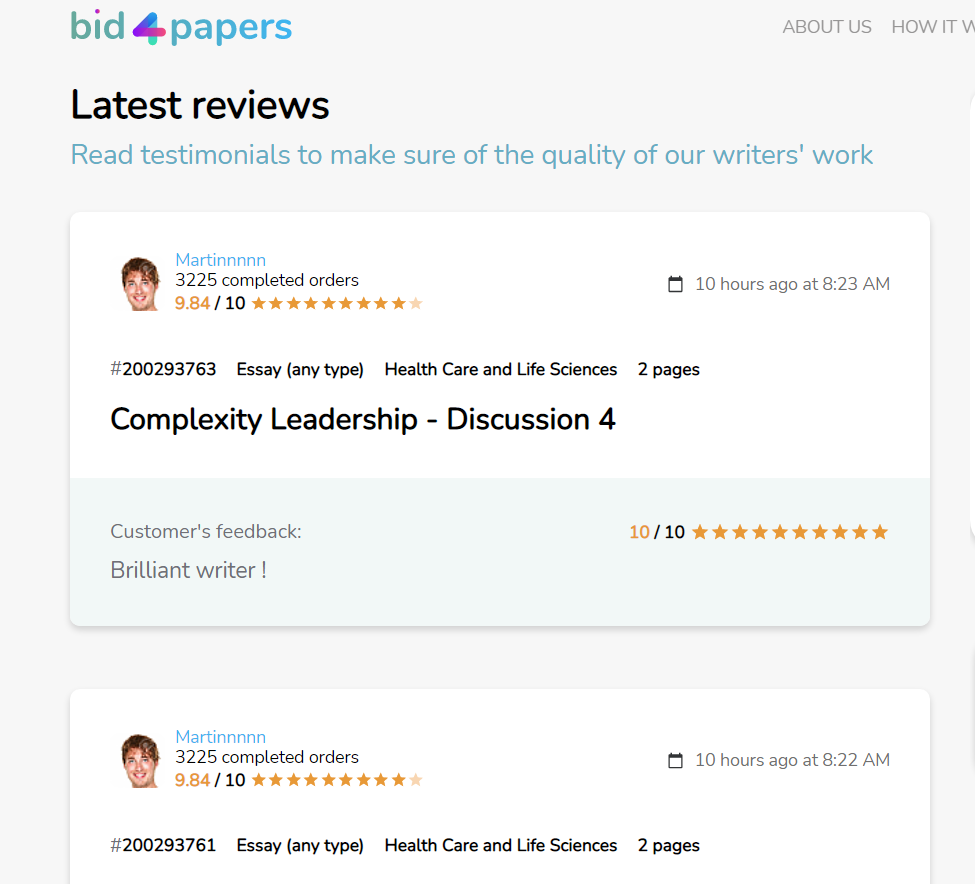 Sitejabber
On Sitejabber, this essay writing service has a consumer rating of 4.81 stars. That's a good result! In total, there are 66 reviews, with only 3 of them negative (1 or 2 stars).
I appreciate it when customer support keeps an eye on feedback and replies to satisfied or unsatisfied customers.

Trustpilot
To my regret, I couldn't read feedback on Trustpilot. The access is denied.

Social Media
Bid 4 Papers has accounts on Facebook, Twitter, and Youtube. The latter is not popular with students as it has only 937 followers and six videos. Its Twitter account is also abandoned. The last post there is dated Feb 2019.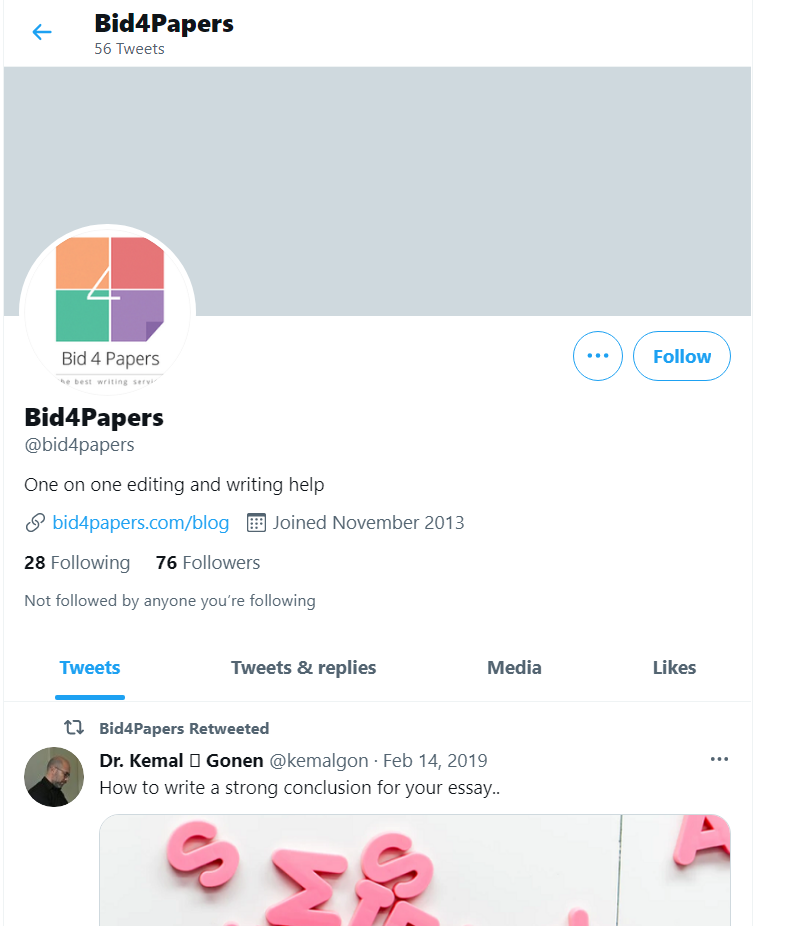 I guess that managers hurled all their effort into Facebook. Several times a week, they post links on educational articles and hilarious memes that made me laugh out loud.
Verdict
Did I like Bid 4 Papers? To be honest, the idea of the service is awesome! If you are tired of the endless pursuit of discount coupons, then this site is just for you. Here, you won't find any special offers and referral programs since the price for your order is determined by the authors. Hence, it is in your hands to decide who is overcharging and who is offering a really good deal. You can discuss all the order details in a personal online chat. With Bid4Papers, you can be sure that your data won't leak to scammers. This writing service has well-developed Privacy and Confidentiality Policies. If you suddenly have any problems, you can write an email to the support service. Yes, I said `an email`. Unfortunately, there are no other ways to communicate, like a call or an online chat. You can try to drop them a message on social networks, but it's unlikely that you will succeed. The accounts have been abandoned for a long time. In general, this writing service is mediocre. If you want to try something different from the standard, then it's definitely worth it.
This blog contains the author's views and reflections on topics about which he chooses to write. The author reserves the right to express his subjective opinion and is not responsible for the quality of services provided by the overviewed sites.