Bookwormlab.com Review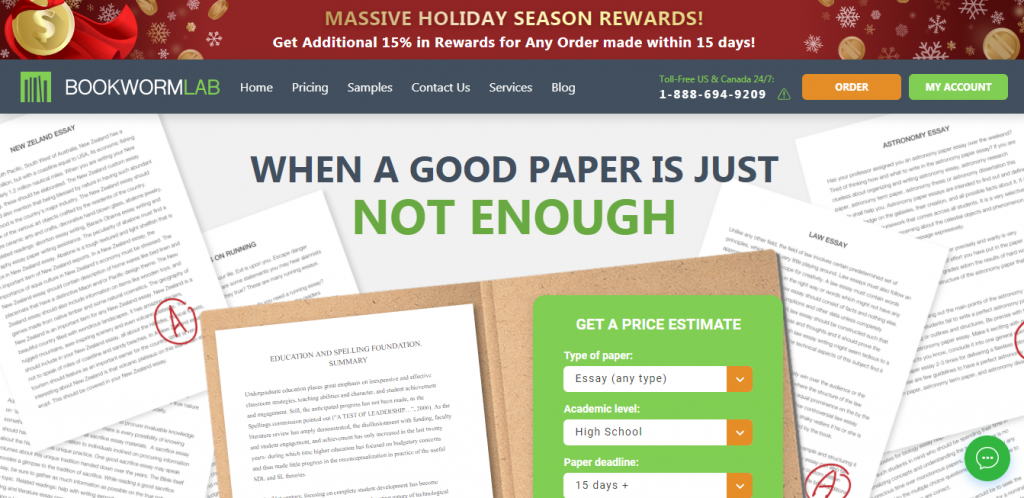 I have been reviewing a lot of writing services for a very long time, so I know how to differentiate between good and bad ones. I have come across several Bookwormlab customer reviews and decided to check this website out. I want to determine whether it is trustworthy and reliable.
This writing company has some pros and cons, which I am going to detail in this review. Generally, it is a good writing service with diverse types of papers suggested. The prices are affordable and surely dependent on such things as the required level, urgency, and the number of pages.
When reviewing writing services, I usually tend to evaluate different objects found within the site. I know that one of the criteria that students typically rely on is the history and experience of the company. It is obvious as customers always trust writing services that have been established for a long duration. According to webarchive.org, Bookwormlab.com started its journey in 2008, and it has relatively good statistics over this time period.

They have changed their website dramatically by adding more writing services to satisfy customers' needs.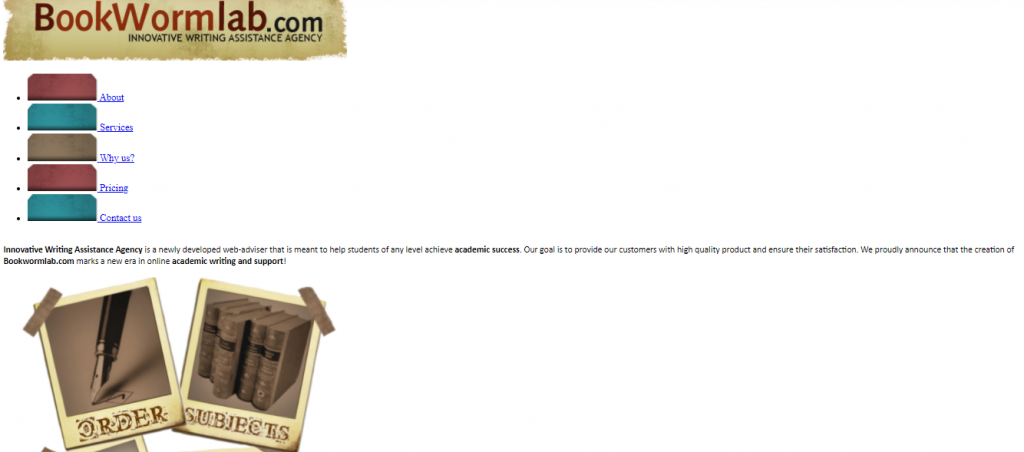 I have not only checked its history, pros, and cons but also tried their writing service for myself. I can honestly say that it is a reliable company. It doesn't only offer a wide range of writing services, but it also has an informative blog that provides essay tips and writing help from top website writers.
However, I need to point out that there are some things that are not clear. For example, it is quite difficult to find any additional information about the company's experts. Moreover, the website doesn't provide any links to social media pages. It makes it challenging to check whether all of these reviews are written by real, satisfied customers.
Story
I typically do not check only the reviews on the website and other social media pages, but I also try the writing services available myself. Bookwormlab wasn't an exception, and so I ordered a simple essay from there. I got it on time (it was of a good-quality and plagiarism-free), however, some of the details were missed by the writer. My overall experience with the service was great. I enjoyed their excellent customer support and I received some rewards for my first order.
Pros and Cons
Undoubtedly, it is impossible to find a perfect writing service that won't have any disadvantages. But it is easy to face difficulties as there are lots of fraudsters nowadays. Bookwormlab isn't a scam as this company is legitimate and reliable. It has both pros and cons, so it is down to your opinion to evaluate if the advantages outweigh the disadvantages:
Pros
It provides a wide range of writing services

It also suggests a lot of additional services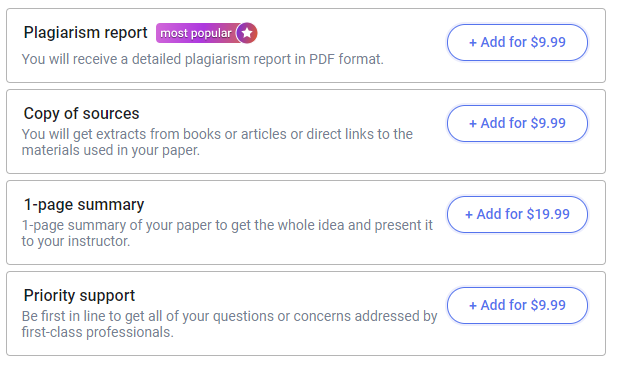 Customers can check a price estimate before placing an order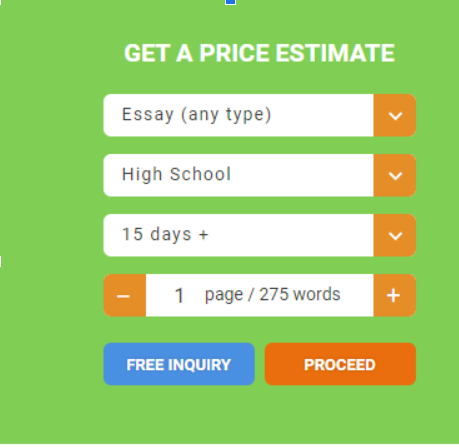 There are samples and examples of the articles on the website
The service offers a blog with useful writing hints
The company also provides high-quality customer support with 24/7 online chat. They also answer to almost all reviews at Sitejabber and Trustpilot
It has a thorough FAQ
Although it sounds good, there's always a fly in the ointment. Let's check the cons that, to my mind, could spoil the overall impression.
Cons
The website doesn't contain any information about the company's experts
Customers can find only the website, and there aren't any links to social media pages (I have found only one page on Facebook. But it seems that they rarely post there)
Some reviews don't seem to be true

Bookwormlab.com is a reliable writing service that provides constructive help at affordable prices. It has excellent customer support, plus it provides additional services. However, there are some downsides that make you wonder whether this service is the one you should choose.
Types of Services
As mentioned above, Bookwormlab offers a range of writing services, and customers may order:
Various academic writing papers
Different project writing services
Diverse reviews
Research papers
Speech writing
Resume writing
Plus also web content writing service
With a range of writing services offered, Bookwormlab is ready to satisfy almost all customers' needs. Moreover, when you place an order, you can choose some additional options for an extra charge.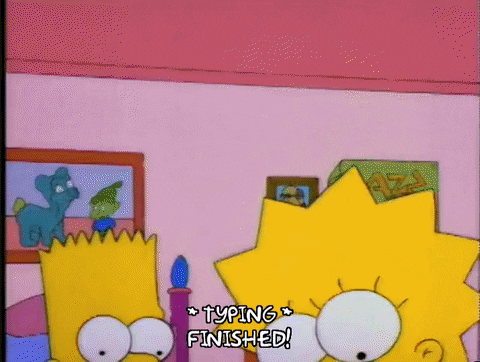 Customer Reviews
The website itself provides customer reviews, and you can also check the feedback on Trustpilot and Sitejabber. However, the website and Trustpilot seem to have only positive reviews, although a considerable amount of them appear not to be true. Sitejabber offers several negative reviews, plus they show that some customers weren't satisfied with this writing service at all.
Trustpilot

Sitejabber
It shows both positive and negative reviews: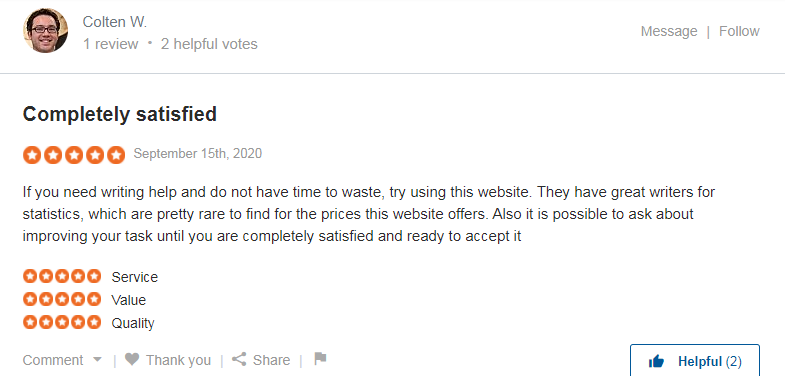 Prices
The company has a transparent pricing scheme, and the final sum depends on the type of paper and the deadline. A customer may get a price estimate before placing an order, and the website provides a convenient table that shows how much your paper will cost: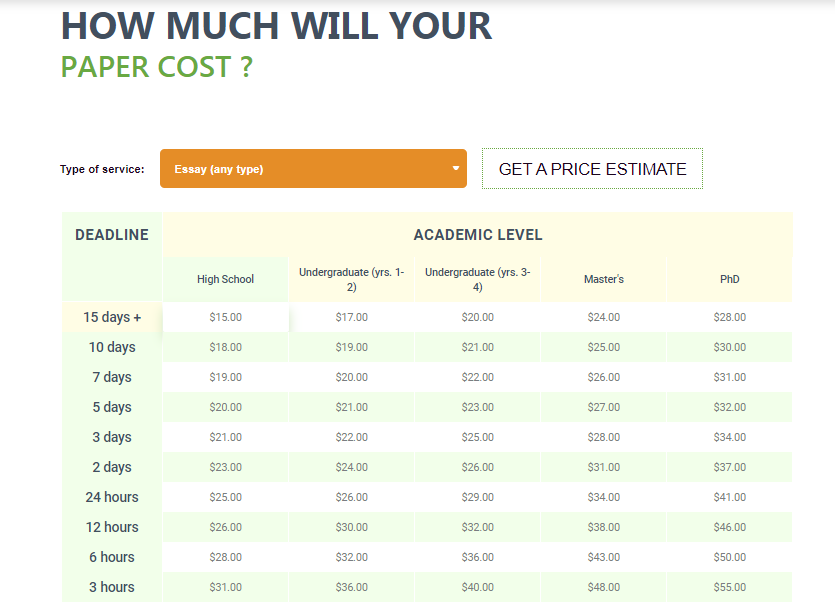 It works perfectly, plus you can easily choose an option that is affordable and suitable for you.
Quality
Top priority when choosing a writing service is the quality of the papers they provide. Bookwormlab writers are native English-speakers, and the service states that it hires only American and British writers.
Consequently, if you choose this service, you can ensure that your paper will be of a high-quality. You will get a final product that you won't require you to double-check as all of the grammar, punctuation, as well as required writing-style, will be carefully followed.
The service states that it has 1068 writers, and you can choose the perfect writer as soon as you place an order. Customers can track their orders and coordinate with the writer in the creation of the paper. They may leave comments to their writers and surely ask for an unlimited amount of free revisions.
Furthermore, Bookwormlab offers a huge amount of free sample essays for various types of assignments.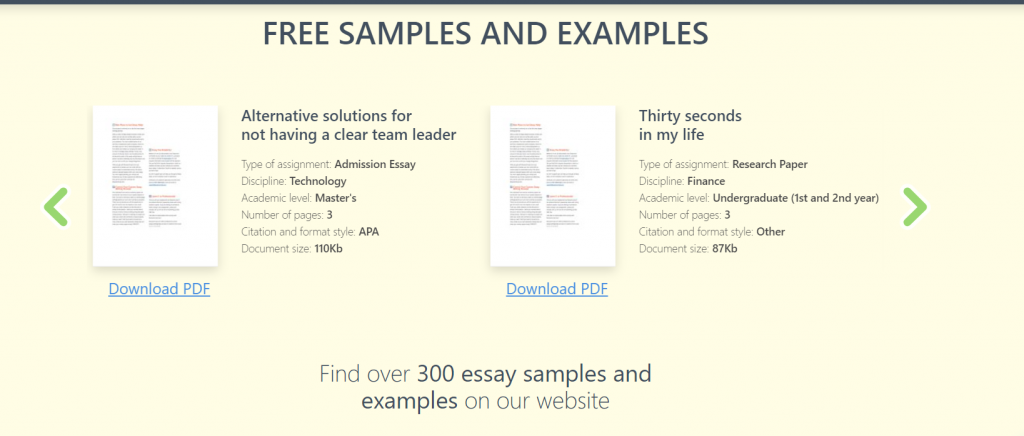 Customer Support
The company is registered in the USA, and users can connect to them via phones:
Toll-free for customers from the USA and Canada: 1-888-694-9209
International: 14075060723
Also, via e-mail: [email protected] and in an online chat as well. The customer support works 24/7, and, as you know me, I certainly decided to check out how fast I could get a reply. It took me less than one minute to get an answer in the online chat: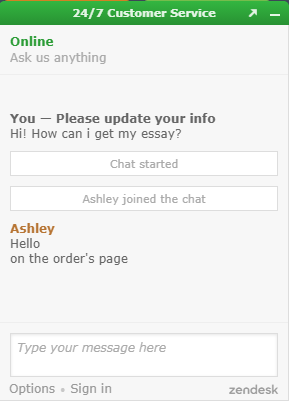 As aforementioned, the website provides a thorough FAQ. Customers may use it in case they don't want to contact customer support representatives directly.
Payment Methods
Unfortunately, there is not an option to pay by card. Bookwormlab suggests PayPal only. However, it guarantees the security of your online transaction as PayPal offers:
Purchase protection
Transaction monitoring
Seller verification
Plus extensive security of financial information.
Guarantees
Bookwormlab states that their service is legal and reliable. They are not only ready to complete your assignment on time but also assure you that the quality will be of a high standard. They provide plagiarism free content and keep your personal information private.
Moreover, Bookwormlab guarantees that your order will be ready on time. If there are any emergencies, they are ready to issue a refund. Their money-back policy is quite clear, and they offer a extensive list of possible conditions when you may expect to receive your money: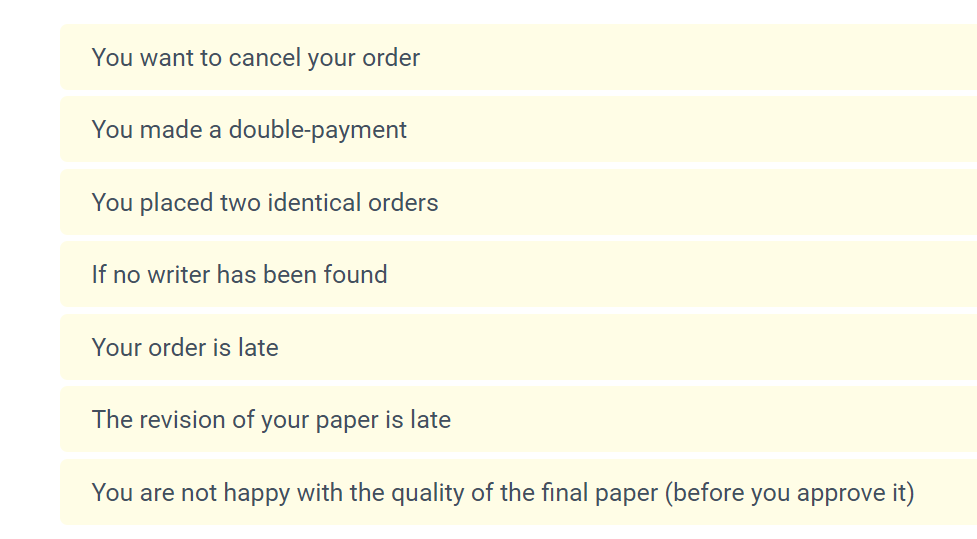 Additionally, I like the idea that they will provide refunds in case you have made a double payment. Customers just need to contact customer support and describe this issue in order to cancel one of the payments and get money back.
How to Make an Order
Subsequently, it is quite easy to place an order as the service offers a user-friendly interface: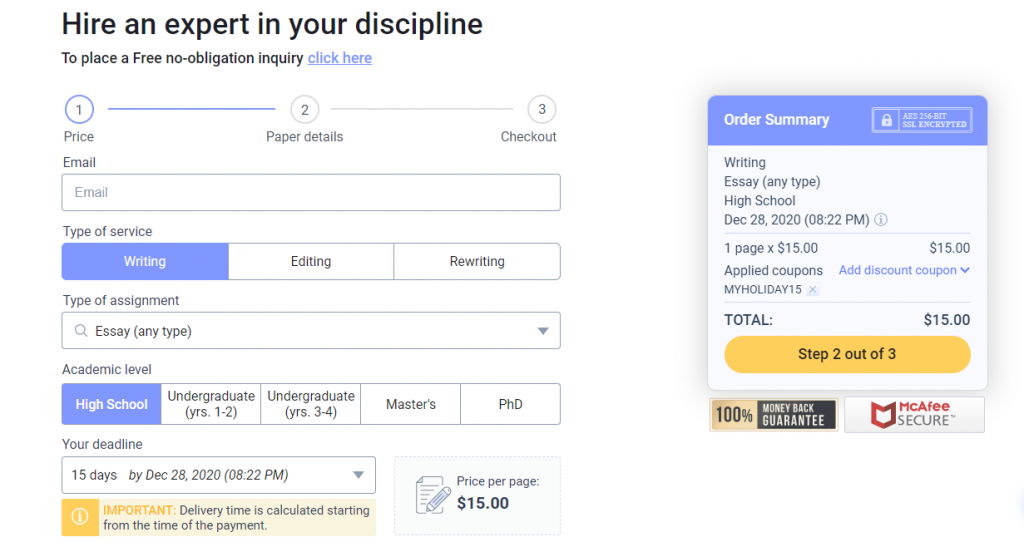 The support team checks your request as soon as it is submitted. They search for the appropriate writers, and then usually assign them once your payment has been received.
If you are dissatisfied with your paper's quality, you may ask for an unlimited amount of free revisions. It is also possible to choose another author to complete your assignment. Nevertheless, you may ask to issue a refund and easily get your money back if unhappy with your piece.
Loyalty Program
Bookwormlab offers some perks to its loyal customers. Each user that places an order can get up to 15% back in rewards credits and utilise them for their next orders. Furthemore, the company provides some additional discounts during promos and sales.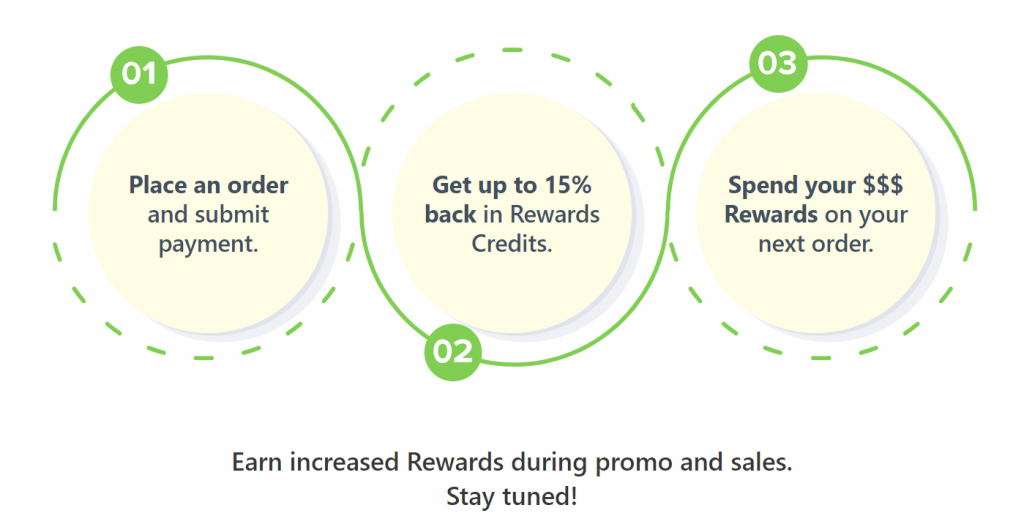 Verdict
To conclude, if you still wonder whether it is possible to write a good essay overnight, you may want to check diverse articles with useful pieces of advice. However, if you are someone who doesn't believe in fairy-tales, then I suggest finding a good writing company to help you prepare your assignment.
Bookwormlab is definitely a legitimate and reliable writing service that is available to complete your order on time. Also, they take care of their users and provide excellent customer support which will answer questions 24/7. Undoubtedly, it is difficult to believe the multitudes of positive reviews as the company indeed has some cons. Despite this, do they outweigh the advantages? Personally, I have checked Bookwormlab myself, and I can assure you that this writing service is worth your attention. Although it has some disadvantages, it is a trusted company that offers a wide range of proven essay writing services. Plus, it provides plagiarism-free content that is written by native English-speakers.
This blog contains the author's views and reflections on topics about which he chooses to write. The author reserves the right to express his subjective opinion and is not responsible for the quality of services provided by the overviewed sites.