EssayAssist Overview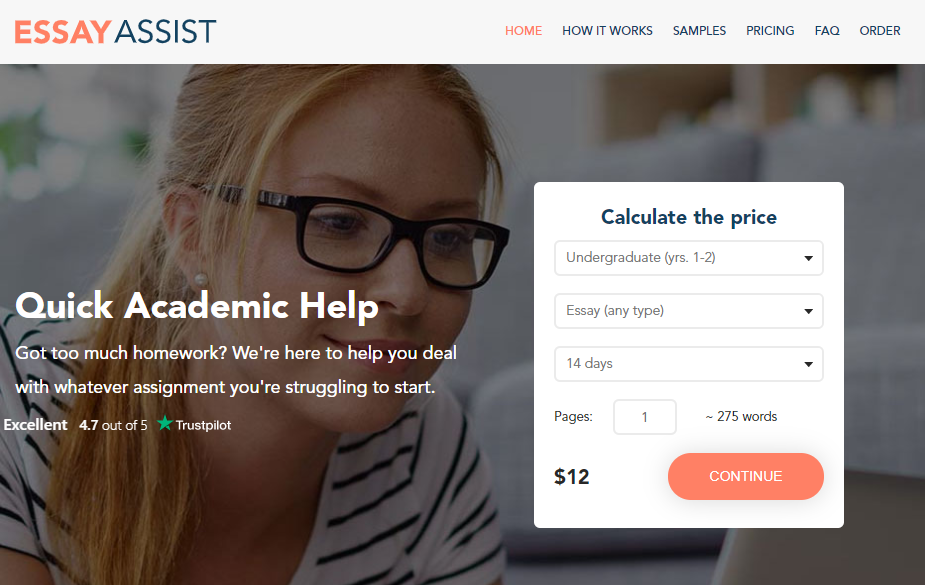 As soon as I heard about a new writing service called EssayAssist, I decided to write a review. I'm always excited when I hear about writing services that I haven't encountered before. I do my research and share useful facts with readers so that they can avoid scammers or find a reliable writing service for their academic papers. Essay Assist isn't the worst writing service out there. Here you can buy decent papers. Although it could be improved, this service might be appreciated by many students. To help you understand whether or not EssayAssist is a good choice for you, I'm going to consider its pros and cons in more detail.
The website looks neat. It has a nice design and it's easy to use. If you need to make an order quickly, you can use an online form on the main page. If you're not sure or if you have any questions, you may get many answers by reading the main page that includes a lot of information about services for potential customers. There is also a convenient price calculator that will help you evaluate the cost of your order so that you won't be surprised by the price later. Links to such important sections as a Revision Policy and Refund Policy are hidden at the bottom of the website, which is a common practice, even though it's certainly not the best approach.
Story
Whenever I hear about a new online writing service, I do my research to figure out whether or not it's trustworthy. The first thing I do is check customer reviews. Fortunately, many people who order papers online like to share their experiences with others. However, not all reviews on the internet are real. For example, there are many fake review websites that simply promote certain writing services. Many services also post fake positive reviews on third-party forums and review platforms. Usually, such companies have a lot of positive reviews and no negative reviews, which should certainly be a red flag for students because even the best services have some unsatisfied customers.
When researching EssayAssist.com, I found many positive reviews that looked real because they included specific details about orders. I've also found some negative reviews which helped me figure out what this service needs to improve. However, most customers seem to enjoy ordering their papers here, even though many writers are non-native English speakers, and sometimes, this service may fail deadlines.
After reading all the online reviews, I decided to make a simple order here to properly evaluate the quality of papers and the overall customer experience. I ordered a simple essay, and the only thing I included in the description of my order was the topic. I expected that the writer would contact me and ask for more details, but they didn't. Some customer reviews also mention that writers are not really cooperative. Perhaps, the reason is that they don't want customers to know that they are dealing with ESL writers. The overall quality of my essay was good. I needed to edit a few sentences so that they would sound more natural, but my writer didn't make any critical mistakes. The essay was properly researched and formatted.
Generally, this service is not bad, and if you're looking for a legit service that actually delivers papers, you may want to consider this one. It has reasonable prices, and this company has a clear pricing policy so that you can know how much any order will cost in advance. Although there are many ESL writers here, they do their best to provide nice academic papers, and they seem to have the necessary knowledge of their disciplines. Of course, you may choose a writing service where all writers are native speakers, but in this case, you should prepare to pay much more.
Pros and Cons
Pros
The company takes orders with the tightest deadlines.
An easy to use interface enables you to quickly make an order.
The company offers a vast variety of services.
The customer support team is fast and helpful.
Cons
There are just a few samples available so it can be difficult for you to evaluate the quality of papers.
Not all writers are native English speakers, which can be a big problem if you're looking for complex academic papers.
Types of Services
One of the best things about EssayAssist is that it provides a vast variety of writing services. Here you can order all kinds of essays, including analytical, admission, cause and effect, compare and contrast, and argumentative essays. You can also use this service if you're looking for coursework, a capstone project, book, movie, or article review, annotated bibliography, creative writing, biography, personal statement, research paper, rhetorical analysis, lab report, etc. The full list of services is available on the website, and it's really long.
On the one hand, this company focuses on academic writing so most of the services available are intended for students. On the other hand, not only students use custom writing services. For example, many people are looking for custom business writing. In this case, EssayAssist might also be the right choice because here you can order a business plan or cover letter.
Customer Reviews
When I read EssayAssist reviews on the internet, I was pleasantly surprised that most of them looked legit. Most customers were completely satisfied with their papers. The reviews emphasize the affordability of these writing services, as well as the originality of papers and writers' skills. Given that plagiarism is a common problem among custom writing services, you should certainly consider this company if you're looking for unique papers that will pass plagiarism checkers.
Essay Assist ranks high on legit review platforms like Trustpilot and Sitejabber. I can say that most of the reviews are real because when companies post fake reviews, they all look almost identical. There are no details about orders, and such reviews are generally pretty basic. This is not the case with EssayAssist reviews because customers shared a lot of details and explained what exactly they like about this service. Of course, there are also a few negative reviews. Some customers complain that they didn't receive their papers on time, while others note that the support service didn't help them resolve their issues.
Prices
I've already mentioned that the prices are affordable. For example, a high school essay with a two-week deadline will only cost you $10 per page, which is one of the cheapest prices in the market. Of course, there are many services that offer even lower prices, but most of them are a scam. The price of your order will increase if you opt for some extras. For example, you can choose the Preferred Writer option.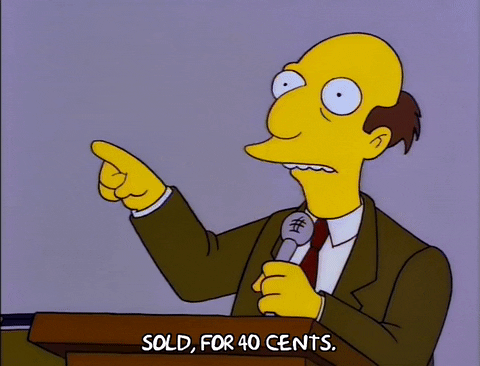 The price also depends on the academic level of your paper and the deadline. A great thing about EssayAssist is that here you can order papers even if your deadlines are extremely tight. For instance, you can use this service if you need your essay to be ready in three hours. However, in this case, the price will grow significantly. For instance, if you need an Undergraduate paper delivered in three hours, it will cost you $40 per page.
When making an order, you can also enter a promo code. According to the EssayAssist website, you can contact a support team and ask for a discount, or you can check out weekly promo events.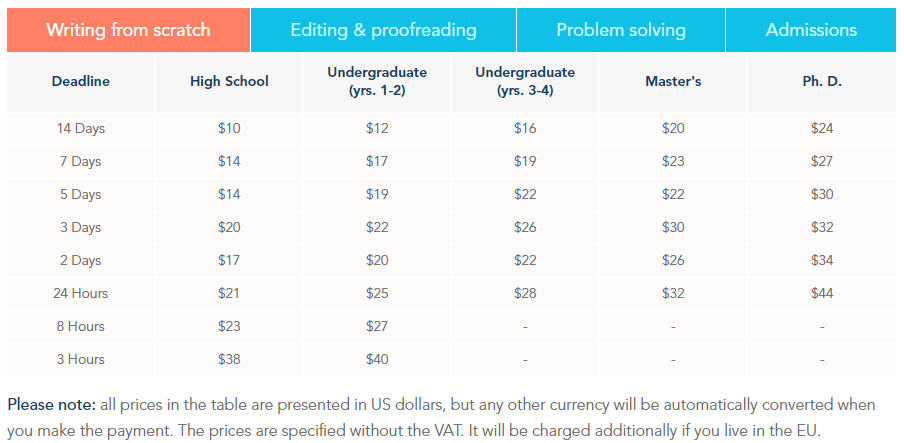 Quality
Although I selected the "Regular writer" option when making my order, the quality of the essay was quite good. The writer did nice research, the whole paper was neat and properly formatted, with no plagiarized elements. My writer made a few mistakes, and a couple of sentences sounded somewhat weird, probably because my writer was not a native English speaker. I only spent a few minutes editing so if I needed my paper quickly, this service would certainly help me.
Most reviews from customers reflect the same customer experience. Many people note that they needed to make minor changes to their papers, although the overall quality was good. Apparently, EssayAssist doesn't have a quality assurance team that would check papers for grammar mistakes before sending them to customers so I recommend that you keep it in mind if you decide to make an order here.
Customer Support
You can contact the customer support team by using a live chat on the website. You can also contact it via email or call it. The support team responds quickly and is always ready to answer any questions. I was also impressed by the fact that the support team replies to all EssayAssist reviews and genuinely tries to help customers who have any issues with the delivery or quality of writing.
Payment Methods
EssayAssist supports Visa and Mastercard payments, but all the payments are made through PayPal. Therefore, if you don't have a PayPal account, you will need to create one. However, if you have a PayPal account, this type of payment might be even more convenient.
Guarantees
EssayAssist offers a money-back guarantee and unlimited free revisions. Both the Refund Policy and Revision Policy are clear and straightforward. You can get a 100% refund if the company fails to find a writer for your order, fails to deliver your paper on time, or delivers a plagiarized paper. I recommend that you check the Refund Policy carefully before making an order to avoid any misunderstandings.
While many services don't allow you to get a refund if you've already submitted your paper for a revision, EssayAssist sticks with an opposite approach — you may not be able to get a refund if you don't ask for a revision first. I suggest that you read the Revision policy carefully to make sure that, if anything goes wrong, you will know exactly what to do.

How to Make an Order
You can check the price of your order right on the main page. If you're satisfied with the price, you can click "Continue." After this, you will see a simple order form where you'll need to provide more details about your order, such as the topic, number of pages, and deadline. After this, you will need to make a payment and wait for your paper.
Loyalty Program
EssayAssist has a referral program that enables you to earn money by recommending this writing service to your friends. You can get a referral code that you should send to your friends. Every time they make an order using your referral code, you get 10% of the price of their order. You can use this money to pay for your papers or withdraw it to your PayPal account.
Verdict
If you decided to read this Essay Assist review to figure out whether or not this service is legit, the answer is yes, it's legit. If you make an order on this website, you will actually get what you pay for. Although there are many ESL writers here, they know their job and do nice research. The company also has affordable prices, and if you're looking for affordable essay assistance, this is certainly a great option.
This blog contains the author's views and reflections on topics about which he chooses to write. The author reserves the right to express his subjective opinion and is not responsible for the quality of services provided by the overviewed sites.