Overview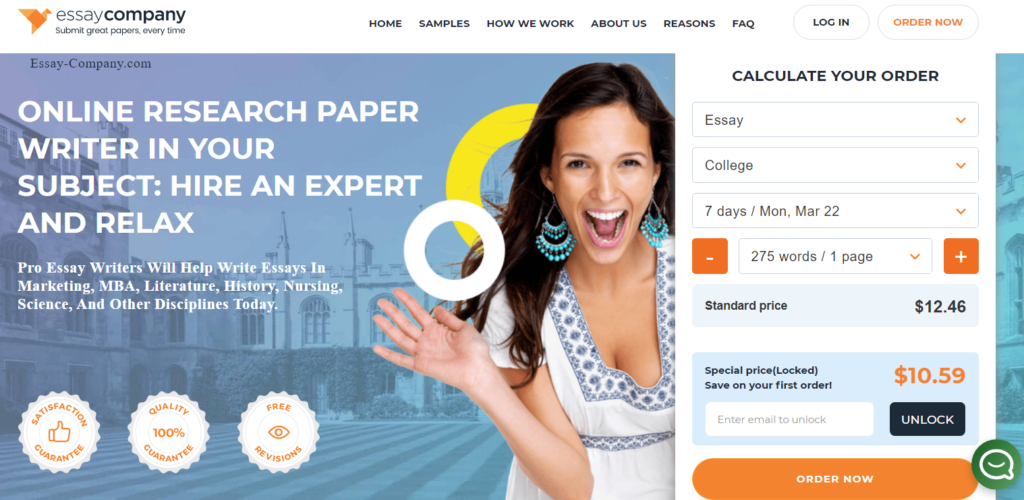 Essay-Company is one of those writing services that leave mixed feelings. If you need guarantees, Essay-Company isn't the best choice. At the same time, it has affordable prices, so should you give it a try? In this review, I will try to answer this question. This company certainly isn't completely honest with its customers, so my goal is to figure out whether or not it's a scam.
Story
I've written dozens of reviews of writing services. At some point, I realized that some reviews are more useful for students than others. There are some writing services with a spotless reputation that always deliver top-notch papers, and reviews won't tell readers anything new. In contrast, when a service's reputation is unclear, reviews become crucial. Therefore, every time I hear mixed opinions about a certain writing service, I want to do my research and write a review that will provide readers with all the necessary information. This is exactly what happened when I first heard about Essay-Company.
When students choose a writing service, they want to know whether or not a certain service is legit. Therefore, I always check information on the website and carefully analyze customer feedback on reliable platforms. As soon as I started researching Essay-Company, I noticed some red flags. For instance, the website claims that this company was founded in 2006. However, according to web.archive.org, it was created in 2013. Usually, only low-quality writing services lie about their experience to persuade students that they are reliable.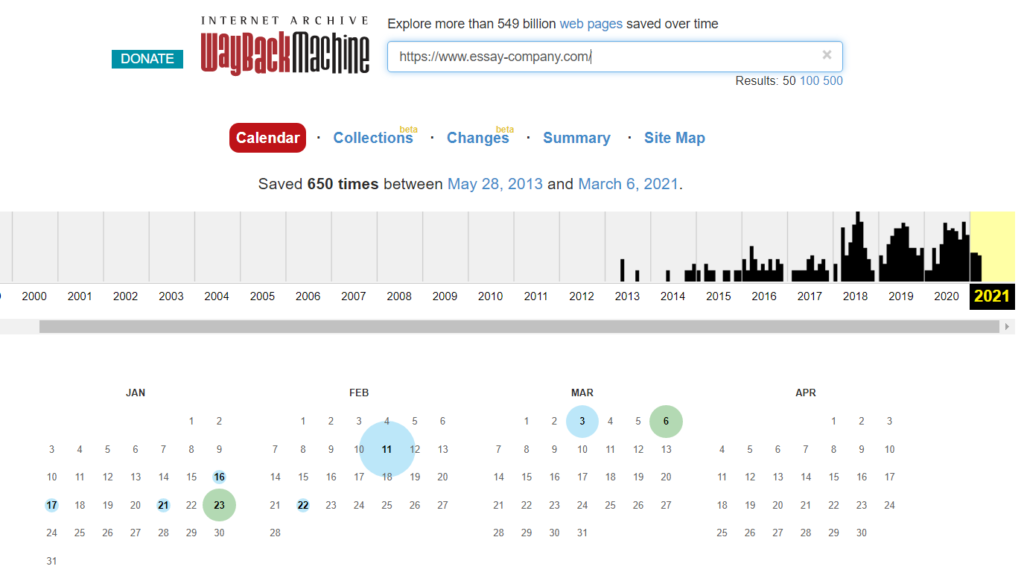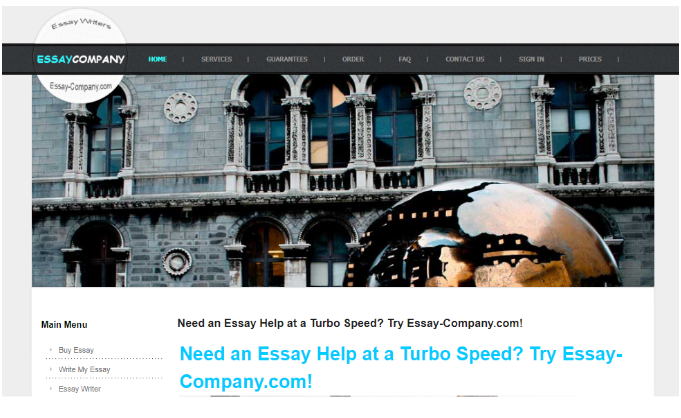 Essay-Company.com is owned by Writeperfect LTD (HE 346067), and it's registered at 1-3 Boumpoulinas, Bouboulina Building, Office 42, 1060, Nicosia, Cyprus. This is a private company that was established in 2015. Essay-Company.com isn't the only custom writing website owned by this company. In fact, Writeperfect LTD also operates 22 other websites, including PaperNow.org, Expert-Writers.com, BuyEssayNow.net, SameDayEssay.com, and others. Even though the company is registered in Cyprus, the customer support claims that the company is based in Albany, NY.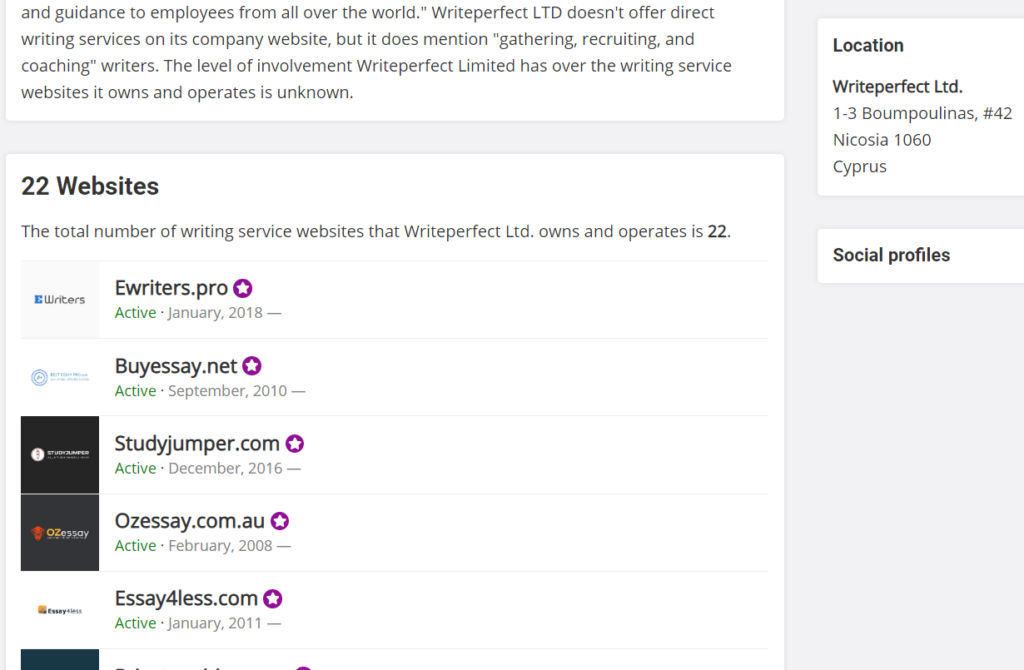 If you ask support agents about writers, they will also tell you that their company only hires ENL writers from the U.S. and the U.K. It's hard to tell whether it's true or not, but what I can tell is that writers' profiles on the website are fake. You can find photos of writers on the website, but if you google these photos, you will find out that they were stolen from people who have nothing to do with custom writing. Here's just one of many examples — one of the writers who specialize in management and business turns out to be a UI/UX designer.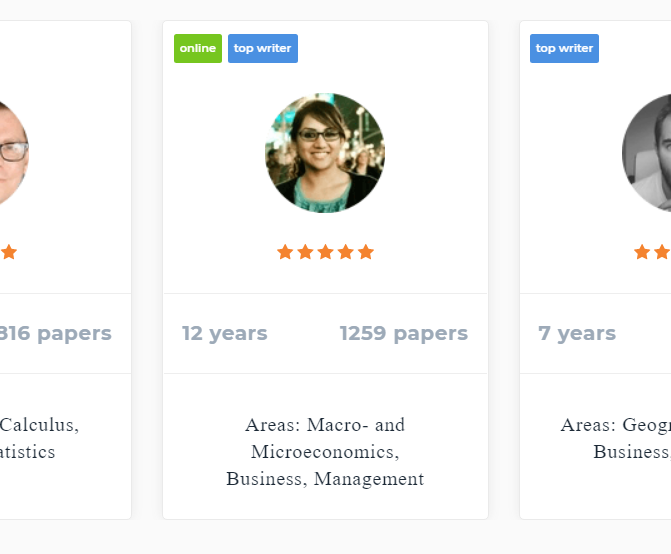 As you can see, the company certainly isn't honest with its customers. These things, however, have nothing to do with papers. Essay-Company just decided to build a nice image for potential customers but didn't bother to actually tell the truth. The website itself is well-designed but lacks some important sections that many students may want to check before making an order. I will consider these things in more detail later.
Pros and Cons
Pros
A simple website
Discounts
You can get a sample of the final paper
A great range of the available writing services
Cons
No money-back policy
You cannot see the writer's level and rank even when the order is already placed
Inactive profiles on social media
No sections dedicated to types of services and prices on the website
Types of Services
Yet another weird thing about this service is that there is no page dedicated to the types of services available here. To understand what exactly this company has to offer, you need to scroll down the main page and click the "More" button at the very bottom of the page. After this, you will see an impressive list of papers that you can order here, including different types of essays, reports, research papers, dissertations, literature reviews, etc. The company also provides editing and proofreading services.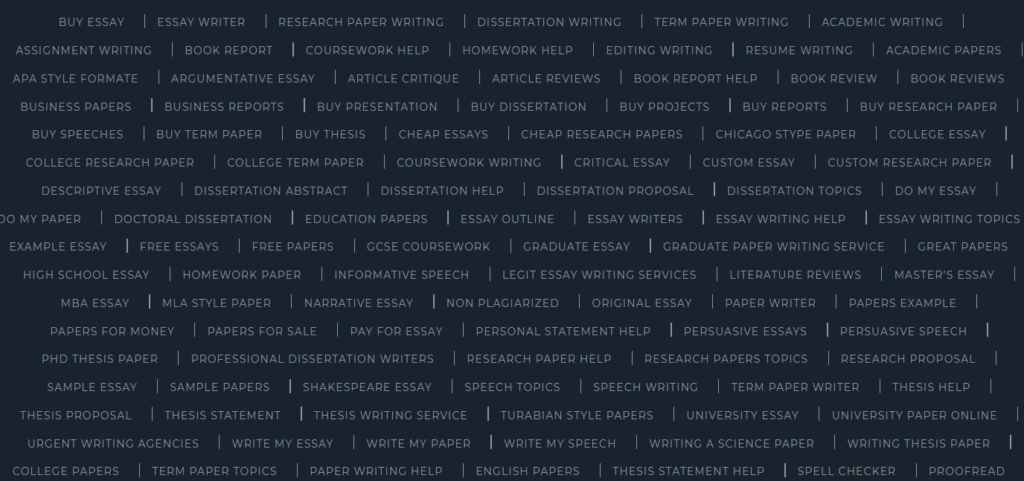 Prices
The good news is that Essay-Company is a cheap service. However, it's not the cheapest service out there. You can use a price calculator on the main page to evaluate the price of your paper before making an order. Just like many other writing services, Essay-Company has a pricing policy that's based on the type of paper, its academic level, the number of pages, and the deadline. If you're going to make your first order on this website, you can also get a discount. For instance, while a college essay with a seven-day deadline costs $12.46 per page, the first-time discount changes this price to $10.59 per page. You can also get a 15% discount if you subscribe to the company's newsletter.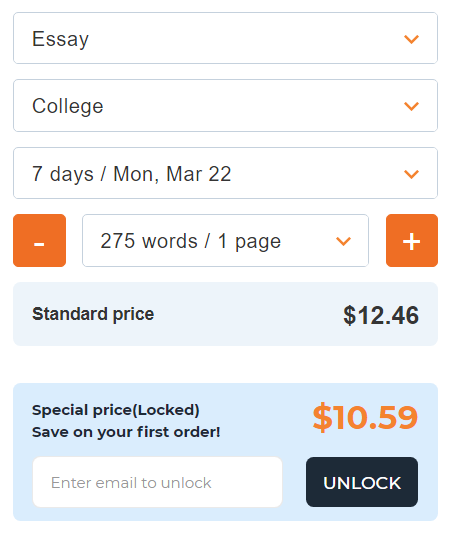 Quality
The website contains a specific "Reasons" section dedicated to the reasons why you should choose this writing service. Apparently, the main reasons why you should choose this service are confidentiality and safety:

What makes this company different from many reliable writing services is that, when talking about advantages, it doesn't mention a money-back guarantee. A clear money-back guarantee is among the most important things you should check because it enables you to get at least a partial refund if something goes wrong. After I didn't find a specific section dedicated to a money-back guarantee, I checked the FAQ section, and the only thing I found was a recommendation to visit the Our Guarantees section. The problem is that if you click on the Our Guarantees link, you will be redirected to an empty page.

The Terms and Conditions page also doesn't contain any information on guarantees. Therefore, it's safe to assume that this company simply doesn't provide any guarantees. The only thing this company guarantees is free revisions. You cannot know what quality to expect from this service simply because this service doesn't provide any reliable information about its writers. The only thing you can learn from the website is that there are 2,000 writers with a Master's degree. I couldn't find any evidence that would prove such claims, but I did find fake writers' profiles.
Customer Support
You can contact the support team by using a live chat on the website or on Messenger. However, many customers report that the support team is rather slow.
How To Make an Order
The ordering process is no different from that on many other websites in this niche. First, you should provide the type of your paper, its academic level, and formatting details. After this, you can choose the type of writer. If you choose Top Writer or Premium Writer options, the price of your order will increase.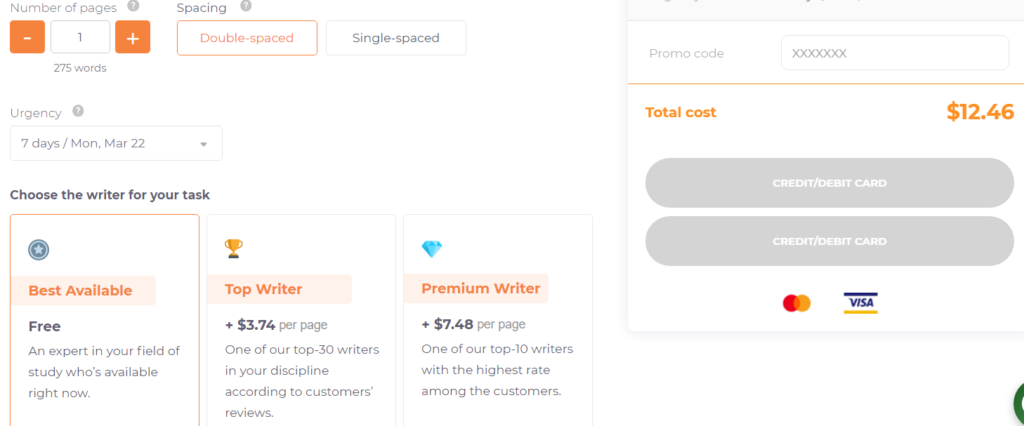 You can also order various extras that will increase the price of your order significantly. For instance, you can order a plagiarism report, a copy of sources, a summary, and an initial draft. After this, you should pay for your order and wait until your writer completes the paper.
Reviews
I always check customer reviews to understand whether or not a certain writing service is reliable. Essay-Company has a reviews section on the website, but all of these reviews are positive and their trustworthiness is questionable given fake writers' profiles and other misinformation. Therefore, I decided to check reviews on reliable third-party platforms like Sitejabber and Trustpilot. There are not many reviews on these platforms, but most of them are positive so the chances are that some people managed to get decent papers here. Essay-Company is ranked 4.5 stars with 21 reviews on Trustpilot and 4.73 stars with 35 reviews on Sitejabber.
Although most of the reviews are positive, some users complain about typos and grammar mistakes. Some users also note that they couldn't get a free revision when they requested it, which is a big problem given that this company doesn't offer a money-back guarantee. Besides, this service doesn't respond to negative reviews and doesn't try to resolve any issues, which is yet another red flag. However, most customers seem to enjoy this service.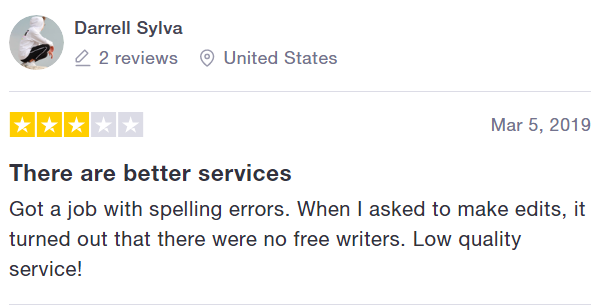 Social Media
The main page has links to the company's accounts on Twitter and Facebook. However, Essay-Company only has 200 subscribers on Facebook, and it published its last post a year ago. I expected that the company's Twitter account would be more active, but the situation is even worse there: Essay-Company only has one subscriber, and it posted its last tweet back in 2018.
Verdict
So, is Essay-Company a scam? Is it legit? Well, the website is full of misleading information and this company certainly isn't honest with its customers. Nevertheless, many people leave their positive reviews online so I cannot say that this service is a scam. It seems like some people buy decent papers here, even though writers' grammar might be far from perfect. Is Essay-Company risky to use? Yes, because it doesn't offer a money-back guarantee. Given that the prices are rather low, you may take a risk and give this service a try, but I cannot recommend this service. There are many companies with the same prices that offer a money-back guarantee and don't lie about their background.
This blog contains the author's views and reflections on topics about which he chooses to write. The author reserves the right to express his subjective opinion and is not responsible for the quality of services provided by the overviewed sites.