Overview
Let's face it we all like good-looking websites that are intuitive for us to navigate, responsive and answer all our questions even before we realize we have them. No surprise, there are UX researchers, studies on the color scheme and the whole industry speculating on making apps and websites addictive. But that's not the case.
My point is that many well-established professional writing services started operating back at the beginning of the 2000s. Fast forward ten years, the team got so busy working and writing high-quality papers that they forget to renew their website and refresh the design. In the end, for a new generation of students, they look old-fashioned and less appealing and students go for something else. According to the statistics, 75% of consumers judge a company's credibility based on the website design. Thus, it's become so easy to fool students and make them fall for bad service.
I'm not saying EssayGoAway.com is the case when a company can't offer anything except for a beautiful interface. But it's a good example of how students can entrust the website because of its design and forget about all the red flags that I'll mention later.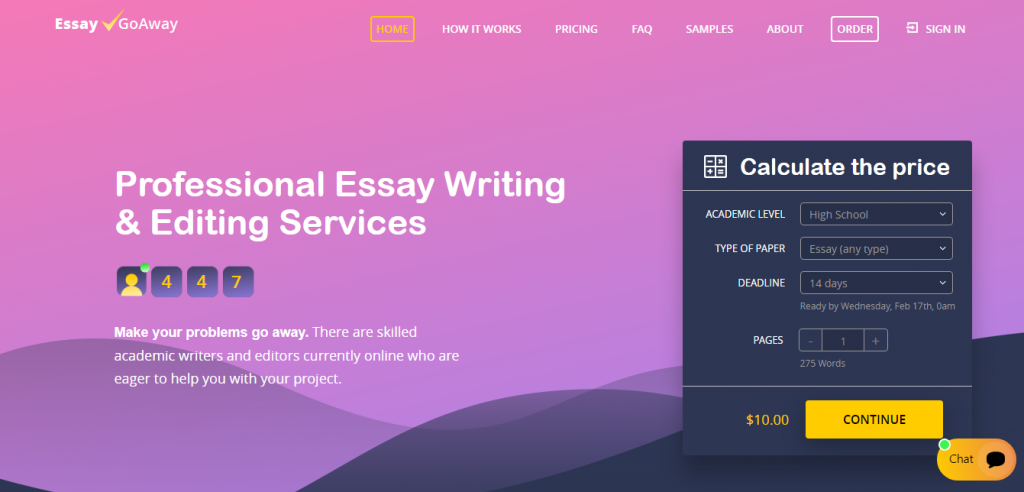 EssayGoAway.com provides a variety of writing services: admission essays, annotated bibliography, case study, lab report, research proposal, term paper. EssayGoAway writers have an academic background in English, Computer Science, Literature, Marketing, Psychology, Criminal Law and many other areas. The company also offers editing, paraphrasing and proofreading services. Overall, it leaves a good impression. Students of any major can find much needed help there.
I decided to search web.archive.org to see more information on the website, as EssayGoAway doesn't share much. The website was created in 2019 and hasn't changed much ever since. Two years in operation are not that much for a professional writing service. It takes time to form a pool of professional writers from all academic areas and earn a reputation among students. The first red flag for me is the lack of information about the company and its team, no writers portfolio, no pictures of the team, no social media. The only bit of information you can find on the 'Terms of Service' page is that the company is owned and operated by a Cyprus-based company called Forpio Limited.
I googled a bit and found out that Forpio Limited is an outsourcing company that also owns and operates another writing service called Essayassist.com.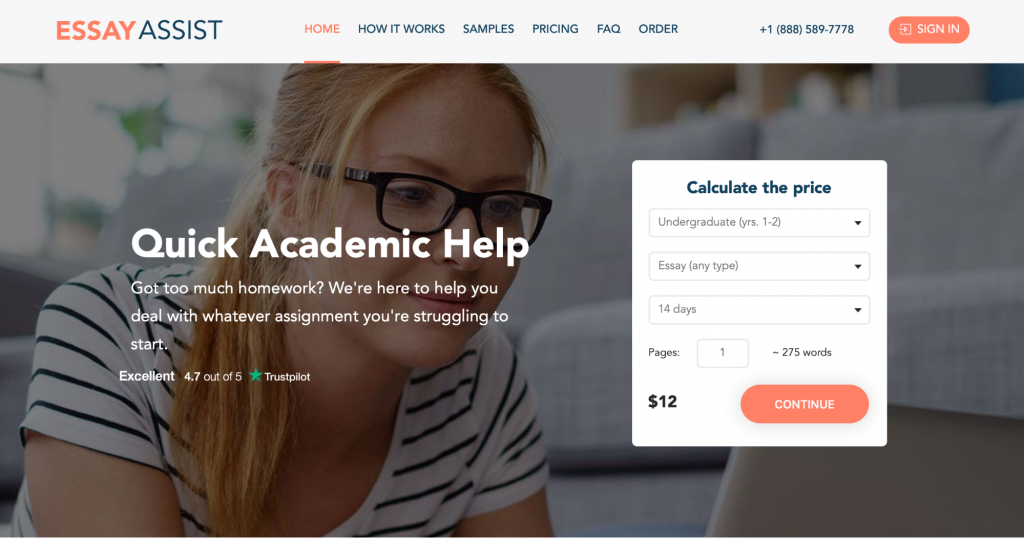 Story
If you're new to the site, you need to know one thing. I'm 0% tolerant of writing scams and dishonesty. I write my reviews to help students because I was in the same position as you. I hated writing essays in high school and college. I remember how frustrating it can be to spend hours searching for good service, that's why I make those reviews. I decided to take a closer look at EssayGoAway.com because I'm always in search of new names on the market. I noticed how EssayGoAway.com mentioned a couple of reviews it got on Sitejabber, but when I checked EssayGoAway's page on Sitejabber I found none. I didn't like that and it pushed me to investigate it more.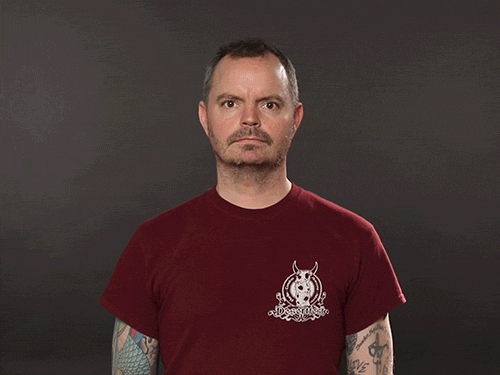 Pros and Cons
Pros
As I've mentioned earlier, the service has a beautiful user-friendly interface. You enter the page and immediately see the number of writers online and how many essays on every topic they've submitted. I like that it's a little minimalistic compared to other writing services that try to include every keyword in every sentence and subheading. It looks like the website isn't actively trying to sell you anything but just tells you about the services they have.

A big plus is that you can calculate the price before placing an order, so there won't be any surprise for you later on.
The minimum deadline EssayGoAway.com offers is 3 hours. It's important to remember that not all papers can be written in such a short period.
The pricing starts at a $10 mark which is pretty low compared to average prices on the market. The company also offers some free services and partial and 100% refunds. It's a good sign. So if your paper wasn't formatted properly, you can get up to a 10% refund. If it contains any mistakes, you can get up to a 30% refund. All the information is available on the 'Refunds' page.
Cons
On the website, you won't find any information about the team behind the company or writers who will work on your paper. I always find it hard to trust services if I have zero knowledge about the team.
Scarcity of information about the company is the main thing. You also won't find any links to social media. Nowadays, it's strange if a company has zero presence on social media.
The website is great but not that functional. For example, the only way to check the list of services is to go to the 'Pricing' page or start to place your order.
The only way to get a discount is to subscribe to the EssayGoAway.com newsletter and wait to receive promos or individual special offers. For students on a tight budget, it's not that appealing.
The service claims to have hundreds of writers but you can't browse a list of all available writers and choose the one you liked the most. You need to believe that the service will pick the best one for you.
The biggest con I left for the end. I always check the samples to see if a company offers good quality writing services. It's the only way to make sure the work will be worth your money. Here's what I saw when I checked the EssayGoAway.com 'Samples' page.
The company displays 11 papers. I decided to read a couple of them and see if I can find these works floating around the web. I checked the Ethics, Technology, Sustainability, and Social Issues in Business coursework. I wasn't that surprised to find that this same paper was also listed on the Essayassist.com page, another writing service operated by the same company.
It's funny how one paper is labeled under the college and Ph.D. academic levels and two different subject areas. Here's the coursework on EssayGoAway.com, here's the same paper on Essayassist.com.
I thought it's just one work, maybe it's a mistake. So I decided to check another work, for example, Goals of Monetary Policy. I found a part of this research paper on this website. Yes, it's stated that the paper was written by a paper writing service. But it was published on October 23, 2017. In case you forgot, the EssayGoAway.com website was created in 2019.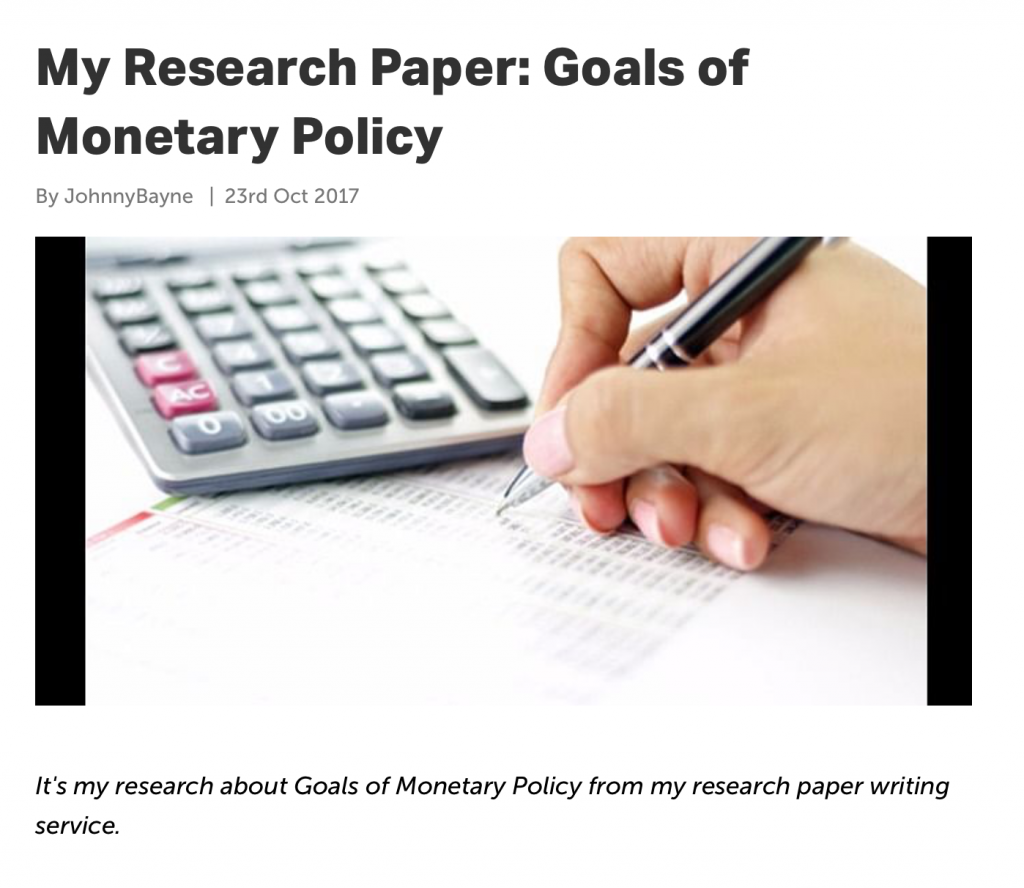 Can you still trust a writing service after something like that?
Types of Services
The company offers different types of academic writing: argumentative essay, assessment, book review, cause and effect essay, personal statement, rhetorical analysis and so on.
There is no dedicated page to see all types of works. You need to go to the main page and select it from the list.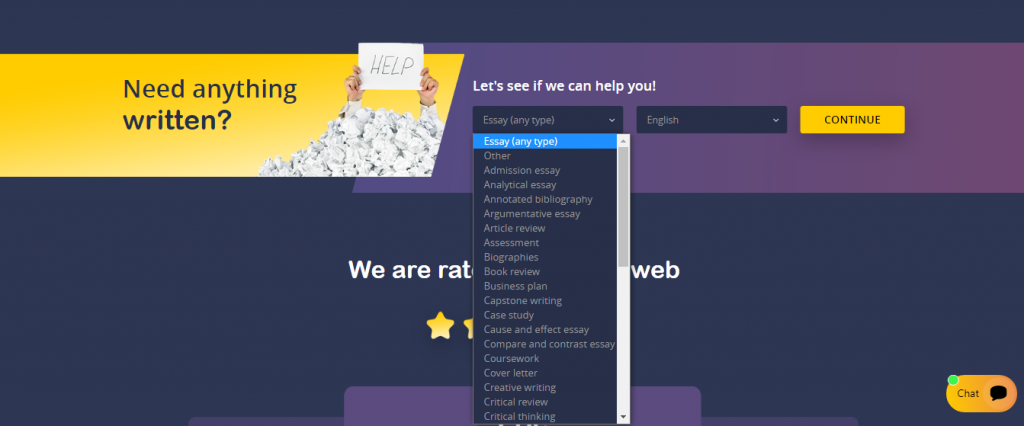 The company also offers academic support, editing, proofreading and problem-solving services.
Prices
EssayGoAway.com is transparent about the costs of their services and devoted a separate page for prices. Here you can see that the price depends on the type of service, writing or editing, your academic level and deadline. It's all pretty standard. EssayGoAway.com also offers problem-solving services. What could that be?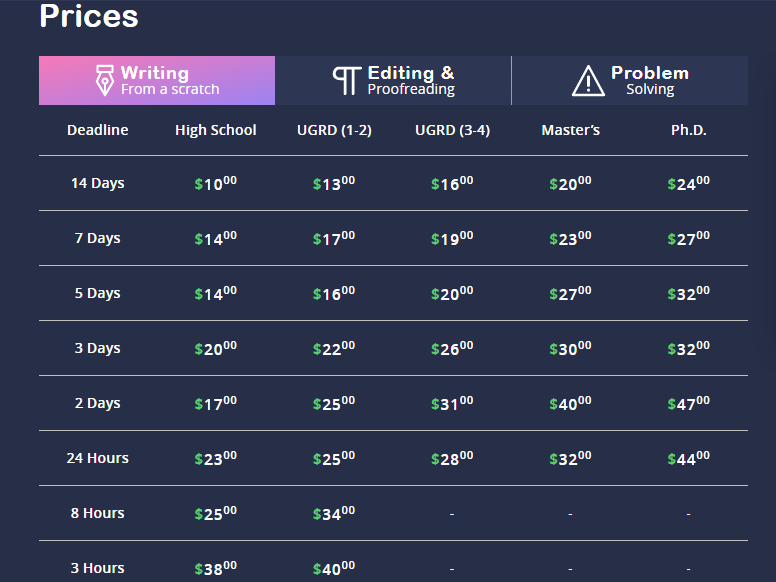 You will also see the price before leaving your contact details and confirming your order. So be sure, there won't be any surprises, additional charges and services draining your wallet.
EssayGoAway.com doesn't have any discounts on the first order or something like that. The only chance to get a discount is to subscribe to the newsletter. I haven't tried it and don't know if they share promo codes regularly or not.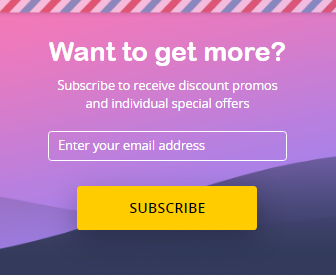 Quality of Service
One thing that makes me question the quality of service is samples of work that led me to another writing service. Even though they both are owned and operated by the same company, I would appreciate honesty and transparency.
The company promises to deliver a unique high-quality paper and provides revisions or modifications upon request. If they fail to find a writer or meet the deadline, EssayGoAway.com will refund the full price. It's a good sign as no business wants to return money to the customer.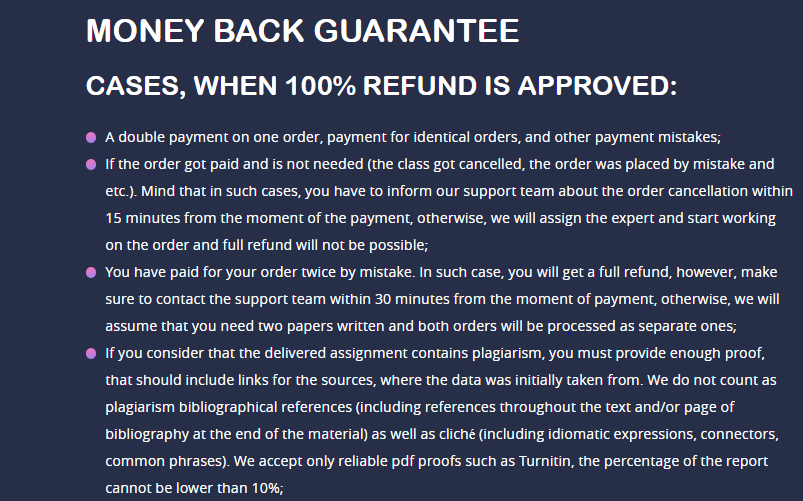 Some terms of the refund policy are tricky. For example, you need to inform the EssayGoAway.com support team that you've placed an order by mistake or for some reason no longer need a paper within 15 minutes from the moment of the payment.

There is another important nuance. You can request a refund in case you didn't like the essay and back your argumentation with the feedback from your professor. But if you ask for a 100% refund, from now on, the company can share the details and publish the assignment on the website. I'm sure you can navigate the situation with a Dispute Manager, just don't forget about it. Otherwise, you can get caught.

Another thing that I didn't like is that writers are not necessarily native English speakers. It can affect the quality of the paper.
Customer Support
The company provides customer support 24/7. You have a variety of ways to contact the support team. You can either call +1 (888) 576-2417, write an email on [email protected] or contact via an online chat. I prefer the chat as it's the quickest option out of all. It takes seconds for the support team to get back to you.
How to Place an Order
The whole process is simple. First, you need to share common information about your paper: academic level, type of work, subject, deadline. Based on that, the system will calculate the price.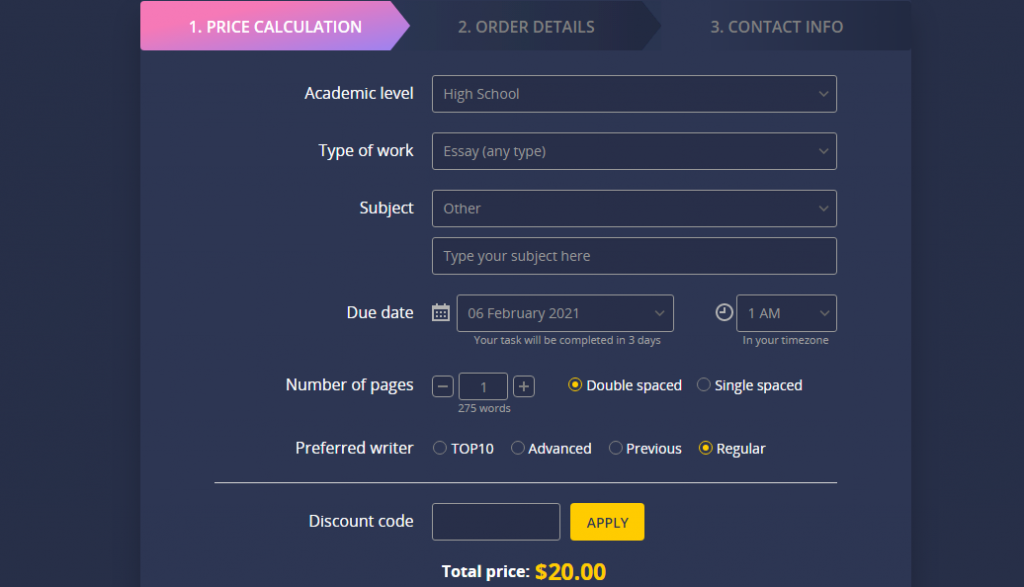 In the 'Order details' section, you can mention additional information and any specific requirements. Here you can also select additional services like writing an abstract, making a PowerPoint presentation, etc. I'm not sure what 'High priority' means since you've already mentioned the deadline. Probably, the company will try to deliver the page even before the deadline.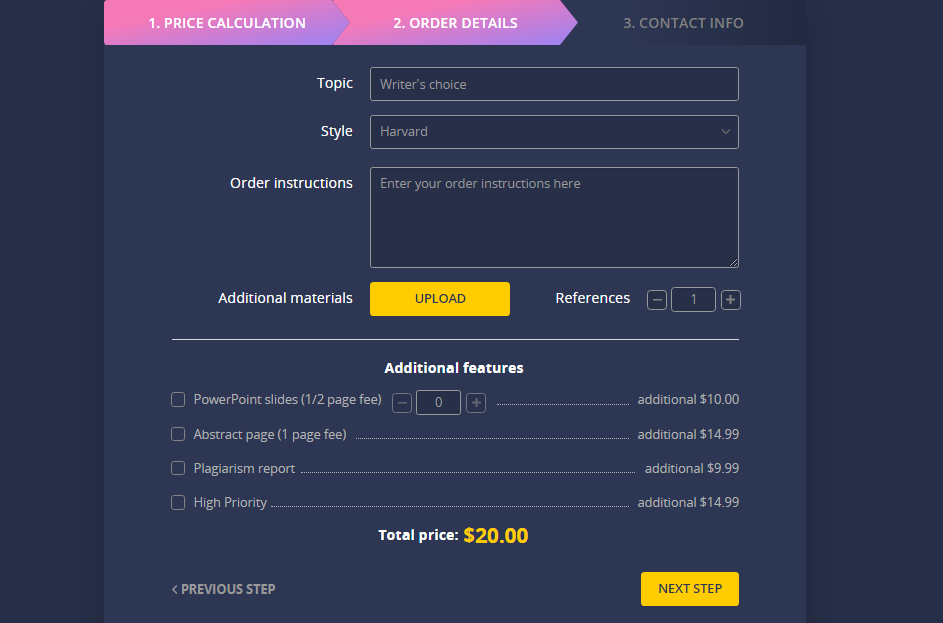 Next, you proceed to contact information and payment. The company accepts Visa, Mastercard and American Express. If you live outside of the U.S., it's not a big deal. Your state currency will be automatically converted into U.S. dollars. For all my EU residents, you'll be additionally charged for value-added tax.
Customer Reviews
Customer feedback is what I always look for. It's a type of social proof that always gives away if the service is legit. EssayGoAway.com doesn't have any reviews on the website but it provides links to the trusted review services like Trustpilot and Sitejabber.
All reviews are super positive but there is a catch. I checked Sitejabber, and there are no reviews there. The page is empty. There is no Nathan thanking EssayGoAway.com for helping him throughout the year or Eric who recently ordered a paper.
I've also checked Trustpilot. The situation is much better: EssayGoAway has 17 reviews and an average rate of about 4,4. Customers mention how responsive and attentive writers are. Some reviews show that papers were delivered even before the deadline. EssayGoAway responded to all the reviews.
Verdict
Reviewing all the facts, I'm still not 100% sure I can recommend this writing service. There are a couple of red flags. The company doesn't have any links to social media so we could check how it interacts with customers and what people say about the service and the quality of papers. Second, EssayGoAway displays on website reviews it doesn't have that makes me question the reliability of other customer feedback. Besides, EssayGoAway publishes samples of work that leads to another writing service. Considering, you're paying up front, I would think twice before placing an order. But that's just my opinion.
This blog contains the author's views and reflections on topics about which he chooses to write. The author reserves the right to express his subjective opinion and is not responsible for the quality of services provided by the overviewed sites.