EssayOneDay Overview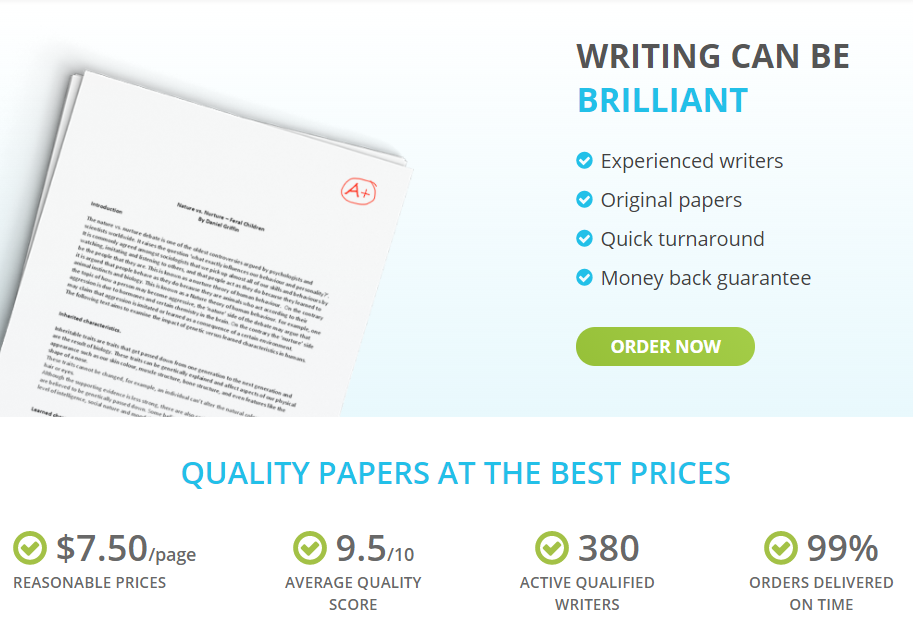 EssayOneDay.com is a writing service that provides different kinds of essays and other academic papers. As soon as I heard about it, I decided to do some research and to write a review so that you can decide whether or not you should use this service. The main thing that makes EssayOneDay stand out is its unbelievably cheap prices. The prices start at $7.50 per page, which is much lower than average prices in this industry.
Many students who think about ordering a custom essay for the first time in their lives start to look for cheap services. There's no surprise that many students want to save some money. The tuition costs are high, and students are certainly not the wealthiest people. However, no matter what you're looking for, the chances are that better quality means higher prices, and custom writing is no exception. I've already encountered dozens of cheap writing services so I know that, if you order cheap essays, you should be ready for anything. You may need to proofread your essay or to carefully analyze the terms of service so that you can request a refund.
Good writers deserve to get fair compensation for their effort, which is a reason why the majority of reliable writing services that hire native English speakers are not cheap. However, some students don't mind editing their papers, or they have enough time to request multiple revisions. If such factors don't stop you and you want to save some money, choosing a cheap writing service might be an option. Although cheap services usually work with ESL writers, it doesn't mean that these writers are necessarily bad.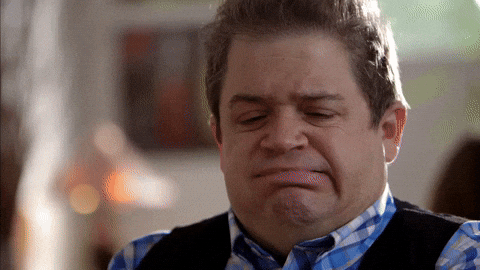 The EssayOneDay website is easy to use. As soon as you visit the website, you'll be offered a 5% discount for your first order, even though the prices are already extremely low. If you need to place an order quickly, you can do it right on the main page. There is a price calculator that enables you to evaluate the cost of your paper based on the number of pages, academic level, and deadline. If you're satisfied with the price, you can click "Continue," and you will see the order form. You can also use a live chat to contact the support team.
Story
I always carefully research services when writing reviews, but when I'm going to review cheap writing services, I'm especially careful. There are thousands of cheap companies that promise to deliver good papers, but not all of them actually keep their promises. It's important to know whether or not a certain company is trustworthy before making an order because otherwise, you may get a poorly written or plagiarized paper, or even lose your money without getting anything in return.
Unfortunately, many unreliable writing services do whatever they can to persuade students that they are the best choice. For example, some companies publish tons of fake positive reviews, while others create entire review websites, where certain writing services are top-rated, despite being absolutely unreliable. At the same time, online reviews are the main source of information that can help you learn more about the quality of services.
When I do my research, I always analyze customer reviews. If there are many positive reviews that look almost identical and don't include any specific information about orders, it's certainly a red flag. Unfortunately, this is often the case when dealing with cheap services. However, EssayOneDay pleasantly surprised me. This service only has a few reviews on SiteJabber, but it has a very good rating on Trustpilot. Apparently, many students use this website on a regular basis and are completely satisfied with the quality of papers. Therefore, if you're looking for affordable academic help, it's certainly a nice option to consider.
Pros and Cons
Pros
Very low prices
Decent quality
Timely custom support
An opportunity to work with a native speaker
Cons
A sketchy money-back guarantee
Customer support is a little annoying
Types of Services
EssayOneDay provides a whole range of custom writing, including essays of any kind, article reviews, annotated bibliographies, book reviews, case studies, critical thinking assignments, lab reports, presentations, and term papers. Here you can also order a business plan. Although custom writing is this company's main specialization, you can also order proofreading and editing of your own drafts.
The list of the disciplines available is also quite impressive. Given that this company works with hundreds of freelance writers from all over the world, there's no surprise that here you can order papers on any subject, from literature to aviation, biology, law, and physics.
Customer Reviews
As I've already mentioned, I was surprised by the number of positive reviews. Although there are not enough reviews on SiteJabber, you can find more than a hundred reviews on Trustpilot. Most of these Essay One Day reviews emphasize the reliability of this service and timely delivery. However, some customers were disappointed because this service doesn't deliver papers that are due in less than 24 hours.
A few customers also complained about the professional level of some writers. However, the vast majority of reviews are positive, which is great given the fact that this service works with non-native English speakers. Apparently, most of these writers know their job. However, it's important to keep in mind that your experience may differ depending on the chosen writer. Therefore, I recommend that you read the money-back and revision policies in advance. This way, you'll know in what situations you can submit your paper for a revision or get a refund.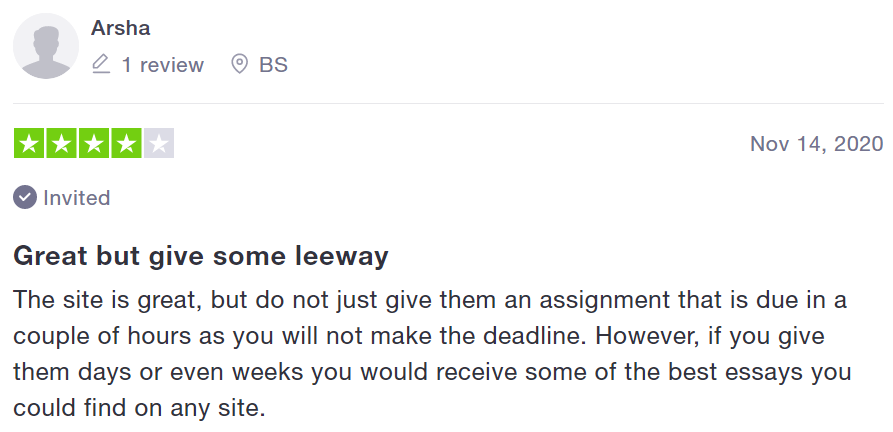 Prices
Prices are certainly this service's main selling point. If you need a simple high school essay delivered in two weeks, you can buy it for $7.50 per page, and finding reliable services with such low prices is almost impossible. The price of your order depends on several factors. The more urgent and complex your order, the more you will have to pay. For instance, if you need a university paper delivered in two days, it will cost you $34 per page, while a Ph.D. paper with the same deadline will cost $67 per page. Although the prices are already low, this company also offers discounts. For example, you can get a 5% discount on your first order.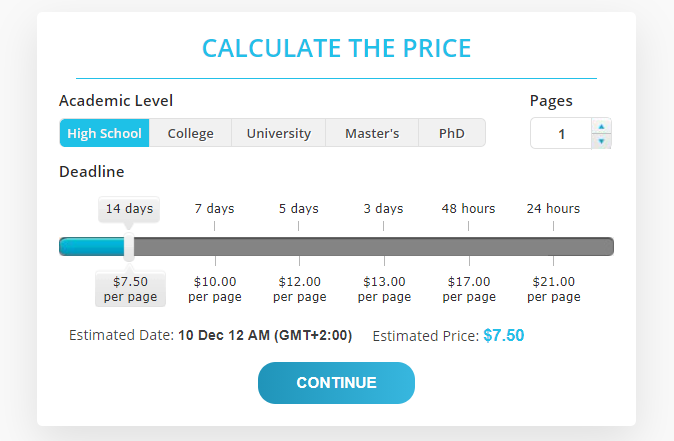 Quality
The best way to evaluate the quality of a writing service is to make an order so that's exactly what I did. I ordered a simple essay and gave my writer enough time to prepare it. He did a nice job, the subject was properly researched. I also checked my essay for plagiarism, and it turned out to be original. On the one hand, I received a great paper for $7.50. On the other hand, if I needed a perfect paper, I would choose another service. I needed to edit my essay and fixed a few typos. A couple of sentences sounded awkward, perhaps because my writer was a non-native English speaker.
Most of the writers on this website are ESL, and they will work on your orders unless you request an ENL writer when making an order. However, these writers certainly know their job. This service is probably one of the best cheap writing services that I've seen, and most customers agree that this company provides decent quality despite the extremely low price.
Customer Support
First of all, I must admit that the support team replies quickly. However, my experience was not perfect because whoever I talked to was really annoying. I contacted these guys to learn more about their services. I hadn't placed an order yet so I just wanted to get answers to some questions. The support representative started to ask me what my order was and what type of assignment I ordered. I understand that money is the most important thing, but I think that support representatives should also do what they can to help potential customers make an informed decision.
On the bright side, if you need any help with your order, the support service can be very helpful. You won't need to wait for a few hours until somebody replies. Timely support is extremely important when ordering cheap papers online because you may need to request a revision. Another good thing about EssayOneDay is that you can contact your writer 24/7.
Payment Methods
This service accepts credit card payments, which is great. Many services only accept PayPal payments so you need to have a PayPal account to make a payment, but here you can pay for your order quickly.
Guarantees
It's always important to know whether or not you can get your money back if anything goes wrong. EssayOneDay has a clear Money Back Policy, and I recommend that you check it out before making an order. You can get a 100% refund if you accidentally pay twice, if the company doesn't find a writer for you, if you can prove that the paper you've got contains plagiarism, or if you receive your paper too late. However, every case is investigated individually, and you may not be able to get your money back if the company decides that you didn't provide clear instructions.

How to Make an Order
The ordering process is straightforward and simple. First, you should choose the type of paper and the subject. Although providing other information is optional, I recommend that you provide as many details as you can so that it will be easier for your writer to deliver exactly what you're looking for. You can check the final price of your order and then select extra features, if necessary. Keep in mind that extras will increase the cost of your order. However, if you choose an ENL writer, you'll be able to get a better paper.
At the final stage of the ordering process, you should check the information that you provided and confirm the order. You will have to make a payment, and then you'll be able to relax and wait for your paper to be ready. You can also communicate with your writer during the writing process so don't worry if you forget about some details when making an order.
Loyalty Program
Unfortunately, I couldn't find any information about the EssayOneDay loyalty program. Perhaps, the reason why this company doesn't have a loyalty program is that the prices are already extremely low.
Verdict
EssayOneDay.com is a reliable writing service that offers affordable writing help of any kind. Unlike many other cheap services, this one actually keeps its promises and delivers nice papers at a low cost. If you're looking for a decent quality of writing and you don't want to overpay, this is certainly a nice option.
This blog contains the author's views and reflections on topics about which he chooses to write. The author reserves the right to express his subjective opinion and is not responsible for the quality of services provided by the overviewed sites.