EssayEdge.com Overview
In this EssayEdge review, I thoroughly examine the editing service from all perspectives to give you unbiased and straightforward opinion. The opinion, based on user experience and my expertise concerning essays and essay writing services, aims to help you understand the services offered by EssayEdge. I aim to ensure that, should you decide to engage EssayEdge, your future with the company will not be cloudy. From this review, you will see through EssayEdge as if it is freshly polished clear glass.
EssayEdge unapologetically boasts of precisely 23 years in the essay editing industry. In their website, the company claims that since 1997, tons of students passed through the firm's hands, which in turn molded the students' essays, making them persuasive, clear, and impeccable. I confirmed at the Internet Archive that the website was up and running from September 19, 2000.
The editing service confesses openly that 90% of the students who use their services enroll in the top 10 universities in the U.S.A. This claim, whether real or false, got me laughing because, in all honesty, I consider 90% of students in over 23 years joining top 10 universities vague, boastful, cunning, and hot air. Do you think there is any honesty there?
My first impression of the site was that of professionalism and confidence. You know why? The website is not filled with untidy content. In my experience reviewing essay writing services, I realized that the more clutter an essay company has on their website, the more likely they are a scam with numerous negative reviews in their sac and vice versa. Professionalism and organization go hand in hand. Also, as the proverb goes, first impressions can make or break you, and on this merit, EssayEdge wins compared to one of my reviews on EssayVikings.
Does EssayEdge have a Mobile application? Unfortunately, EssayEdge does not have a mobile application. Other companies in the essay service space use mobile applications to boost traffic and get more orders. However, it seems EssayEdge is confident that word of mouth is sufficient. Therefore, the company uses its website only.
EssayEdge specializes in essay editing in a vast array of fields. I was not impressed that the firm does not offer the writing-from-scratch service to its clients. The company only offers products allied to essay editings such as proofreading, expert critique, document polishing, and topic brainstorming. Interestingly, EssayEdge claims that all its editors are Ivy League graduates with extensive experience in their specializations. All of them? EssayEdge reviews from customers about quality will tell.
An important aspect of any essay service provider is pricing. EssayEdge is straightforward with its pricing. The company has a price table that shows what the company charges for their proofreading, standard, and premier services. My jaws dropped when I read that their lowest price is $69 for proofreading 0 – 600 words. Unashamedly, the firm is definite that the editors proofread for grammatical errors and typos while providing "minor constructive suggestions." So, I pay $69 to get minor corrections for a 500-word essay? Not a sober value proposition! However, they still get clients, and there must be a reason for that – a driver we will establish.
Story
If you are not new to this website, you know I hate poor quality essay services. Essay services that promise heaven and deliver hell, or worse, scam you of your hard-earned money cause us tremendous pain. As such, I am always on a thorough journey, where I scan through essay service websites. My mission is still to proffer my readers a full understanding of offerings promised and delivered by essay service companies.
I came to learn about EssayEdge from a random chat we had with my real estate agent neighbor. He wanted to pursue an M.B.A. and hinted that he had submitted his M.B.A. application essay to EssayEdge, an editing service company, a friend of his recommended. Since I had never heard about EssayEdge, I decided to investigate the editing service company and wrote this review so that you can get a source of information before jumping into unfamiliar pools.
Pros and Cons in Details
Pros:
1. Free samples available online.
Essayedge offers its potential clients a snippet view of how their essays will look like after editing. The sample is a positive attribute that differs from other essay service providers who will require you to pay without any idea of what to expect – unless you are a returning client, of course.
2. You can choose an editor.
Editors at EssayEdge are not cut from the same cloth. Different editor profiles show differences among the editors about their editing experience at EssayEdge and their areas of expertise. Therefore, by giving you the opportunity to select the editor you prefer, EssayEdge further ensures you get an idea of what to expect.
3. Discounts for 3 or more orders.
Who doesn't love discounts? We all do. At EssayEdge, when you order three orders at once, you get a discount. As an elaboration, if you would have paid $99 for your 1,000-word essay, ordering three essays at once in their "all in one" pricing package qualifies you for a $51 discount, hence, you pay $249.
Cons:
1. They offer essay editing only.
EssayEdge has specialized in essay editing. As such, they won't write your essay for you.
2. High fees considering its just editing ready work.
EssayEdge has over-priced services. Other top essay writing service providers charge less for both essay writing and editing. Also, for similar corrective suggestions on my essay, a one year Grammarly subscription would be cheaper.
3. Average customer service.
I am reluctant to say their customer service is poor. On their live chat window, they are categorical that the Covid-19 pandemic slowed their response. However, considering the charges, they ought to find a way around offering faster customer service.
Types of Services
Unlike other essay service providers that try to be all-round (for instance, you can read about EssayOnTime), EssayEdge provides only editing and proofreading services for the following categories:
College paper editing service.
Graduate Editing services. Herein, EssayEdge breaks down its services into the following categories: Accounting, Computers & I.T., Divinity, Education, Engineering, Finance, Fine Arts & Architecture, Government, Psychology, Hospitality & Sports, Humanities & Social Sciences, I.L.R. & Management, Journalism, Other Graduate Program, Public Health, Science & Math, and Social Work.
M.B.A. application essay editing service.
Medical Essay Editing services.
Law school application essay editing service.
Academic proofreading service. Under the academic editing service, EssayEdge works on fields similar to those in the graduate category.
In a bid to include not only students but also job seekers, EssayEdge helps with the following types of documents:
Personal statements.
Statement of purpose.
Admission essays.
Resume/CV.
Letter of Recommendation.
Cover letter.
Customer Reviews
Have you ever tried searching for something you can't find, but your guts insist it exists? That is how I felt looking for negative customer reviews about EssayEdge. I began the review process with burning zeal and desire to uncover what I thought was a deceitful EssayEdge mask. A mask of confidence and professionalism hiding poor essay services beneath. I firmly believed that I would find several negative reviews about EssayEdge. I was wrong. Out of all essay service providers I have encountered so far, never have I struggled with discovering negative customer reviews as I did with EssayEdge.
I will take you through my review mining journey. The first stop was at SiteJabber. In the last 12 months, EssayEdge received 100% positive reviews with an average rating of 4.94/5.0 on SiteJabber. Not a single negative review. None! What's that? Here are a few testimonials on what customers had to say about their experiences at EssayEdge on SiteJabber.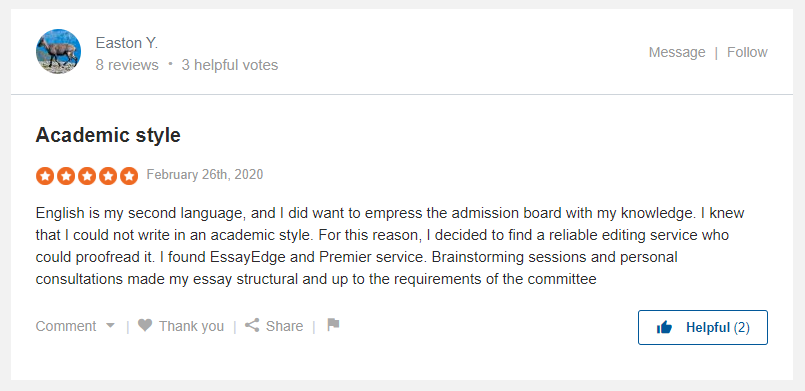 Naturally, I am not easy to convince. In my view, the reviews did not look real in the sense that everyone cannot be pleased with something. That is despite the faith I have in SiteJabber.
I proceeded to TrustPilot, where I found some hope, even though little. Notably, most customer reviews on TrustPilot were also positive. However, the ratings were lower – 4.7/5.0 – than Site Jabber's terrific 4.94/5.0! The existence of a poor score in a pool of customer reviews is what makes customer feedback realistic. That is not to say the mere presence of an unsatisfactory rating convinced me. The rating alone was not descriptive. Even though someone did not like something about EssayEdge, the dislike is not informative. We do not know what it is the person dislikes, which makes the feedback non-constructive.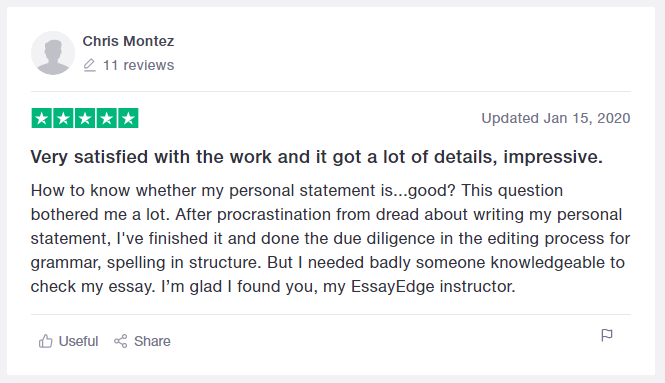 My last stop was at Scam Fighter, where EssayEdge has a low rating of 2.5/5.0! Yes, you read that right. Some of the issues the reviewer had concerning EssayEdge were:
High prices.
Minimum 24 hour deadline.
No guarantee for revisions or refunds.
Non-exhaustive proofreading.
Here is my small conclusion concerning customer reviews:
Overall, EssayEdge has positive customer feedback. Therefore, from a customer's perspective, EssayEdge is legit.
Native English speakers who buy the EssayEdge proofreading service may not find the service to be 100% perfect.
EssayEdge is more focused on making you a better writer than spoon-feeding you with corrections.
Prices
EssayEdge has over-priced services. The cost of your essay varies based on three aspects: word count, order type (Proofreading, Standard, or Premier), and deadline. Proofreading starts at $69, Standard at $149, and Premier $379. After uploading your essay, the site then calculates your price automatically.
There is no maximum rate, like is the case in many other essay service providers. A keen analysis of the price chart below will show you that with EssayEdge, you pay less for more work. For instance, if you buy the basic proofreading service for an 1800 word essay, you spend $129. If the pricing was per page, and we assume a page at EssayEdge is 600 words, you would have paid $207 for three pages, hence, you save $78.
Interestingly, EssayEdge does not have freebies. Do you want your paper within 24 hours? Pay $59 for the 24-hour rush. Would you like to add more words to your essay for editing? Pay $12 for every 100 words added. Oh, you are used to free revisions, in this case, second readings? Forget it and add 50% of the order price for a second reading. Take it or leave it.
Quality
In my experience reviewing numerous essay service providers, I am yet to find one that is as conservative as EssayEdge concerning making promises. If you thoroughly read all descriptions on their website, the company makes thoughtful quality guarantees such as:
Your order will only be assigned to an expert editor in the particular discipline.
Editors are keen on maintaining your tone. Hence, they will not add or omit more than 100 words in your essay while editing, lest the tone becomes the editor's and not yours.
They have native Ivy league editors on board.
They will make your essay persuasive, concise, and original.
Based on customer feedback concerning the quality of proofreading and editing at EssayEdge, I can confidently say that the company has earned its reputation. All the positive reviews praised the quality of service EssayEdge offers. The negative reviews, on the other hand, focused on pricing, unavailability of writing-from-scratch, and an unrealistic expectation of an essay that is as flawless as snow's white color. Hence, I conclude that EssayEdge delivers quality services.
Customer Support
The EssayEdge website indicates a telephone number (415-763-6020), email address ([email protected]), and a live chat button.
I tried writing them a message with intentional spelling mistakes in their live chat, and the first pop up on the live chat window was that, due to the Covid-19 pandemic, the site's response time is slower than usual. Kind, respectful, and effective communication is two-way. The message made me feel like I was dealing with a company that values my time hence the need for an explanation. That is impressive, isn't it?
What's more, EssayEdge has a robot ready to record a means to reach you once a member of the support team comes online. That will make you feel valued unless you think along the lines of those scrupulous subscription services that fill your mailbox with junk. As such, even though the company guarantees 24/7 customer support, I am not in a position to adequately judge their customer support right now due to Covid-19. The pandemic has affected every one of us in some way.
Payment Methods
EssayEdge accepts three payment methods:
Credit cards such as Visa, American Express, MasterCard, or Discover,
Alipay, and
PayPal.
The fact that PayPal did not blacklist EssayEdge from its service further cements EssayEdge's commitment to essay editing only. Apart from editing and brainstorming, it does not and will not write your essay. Furthermore, the use of credit cards as payment options hints to the company's investment on end to end encryption for the security of your details.
Guarantees
EssayEdge conspicuously reserves guarantees. In black and white, I would say the company does not have any guarantees. What the company does is it gives you details on what to expect from its services. I know that your most essential concerns revolve around refunds and revisions.
Concerning refunds, the company does not guarantee refunds. According to the company's terms of service, academic grading or admissions outcome are not viable reasons for refunds. Also, once 90 days elapse, you cannot claim a refund for whatever reason.
Concerning revisions, EssayEdge insists that ideas of the essay belong to you and not the company. As such, the firm guarantees that it won't do any reorganization or broad modification of your work. So, "the edit is just the beginning" phrase aims at giving you insights to further improve your essay after receiving the EssayEdge edit.
How to Make an Order
Placing an order at EssayEdge will be one of the easiest, most clear, and fastest things you've ever done online. The following straightforward steps enhance the convenience of placing an order on the site:
Step 1: Once logged in, upload your draft essay, choose your service, and select an editor.
Step 2: Pay.
Step 3: Track your order progress.
Step 4: Download your EssayEdge edit.
Loyalty Program
If you want to get your edits at cheaper rates, you can look for EssayEdge coupons online. I also agree that EssayEdge services are not cheap enough. A quick search on Google will yield reliable sources. The vouchers give discounts ranging from 5% to 50%.
Verdict
Is EssayEdge legit? From where I stand, I honestly feel that EssayEdge is a legit essay editing service. This view is motivated by the firm's numerous positive customer reviews. Also, I conclude that EssayEdge offers quality editing services according to its terms of service that the edits aim at guiding you into improving your writing – the edit may be final from EssayEdge. Still, it should not be last to you.
Can I buy EssayEdge services? Personally, I won't. I agree that the firm is not shady at all. However, I am not willing to pay the amounts of money EssayEdge charges. In business, the game is between a willing buyer and a willing seller, right? So, do I recommend EssayEdge? On that note, based on our review, weigh your options and decide whether or not you will buy EssayEdge services now or in the future. Thank you for always reading my reviews, and I promise to serve you more!
This blog contains the author's views and reflections on topics about which he chooses to write. The author reserves the right to express his subjective opinion and is not responsible for the quality of services provided by the overviewed sites.