Overview
From 2014 EssayLab has served a plethora of students with a variety of academic writings, including research papers, assignments, essays, and many more. When I visited the EssayLab website, I did not feel like it was hard to navigate as the site looks quite interactive having all the information regarding their prices, services, and support which is a huge plus to appeal the clients' attention. That actually worked for me also.
Though the EssayLab doesn't have any mobile application, yet you can reach their website easily and find everything there. As mentioned earlier, EssayLab specializes in academic writing with guaranteed quality. I have noticed that their customer support team awfully polite and professional in their dealings, which is good if they can handle every situation calmly. As I said their website has all the details, so does they have a very clear and detailed table of pricing. The price table covers every aspect, with different types of writings and 5 deadline options. So, you can easily calculate your price with the number of pages you want in your work.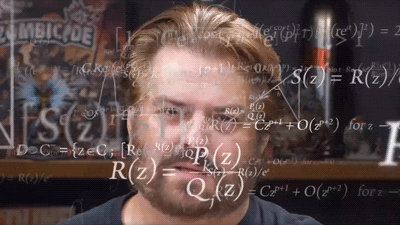 Another pleasant surprise was their blog section. Guess what, they had a lot of blogs that are actual guides for students in writing their assignments and essays. That's cool, they fulfill their words of helping students in the form of guiding blogs. So, in case you find that enthusiasm to write your work on your own, you can get the guideline from EssayLab blogs.
But wait, what! They are missing the Terms & Conditions page. That's a hefty miss, even though they have explained their Money Back Policy very well, but I'm a little confused about the detailed policies of their revisions, and late deliveries. They have mentioned a few things in FAQs but yet few mentioned policies demand details.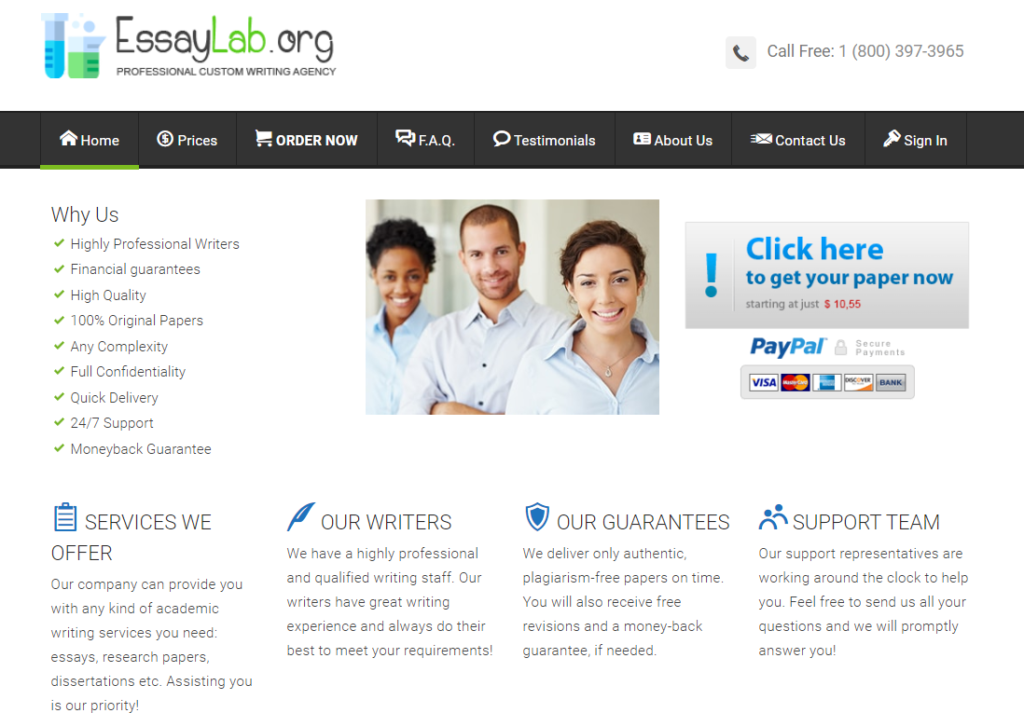 Now comes the concern that did they serve the quality of what they are charging for? Probably no, they aren't serving what they are promising as there are a lot of companies that are serving better quality. Their essays are marred with grammatical and spelling mistakes. And the most noticeable negative point is that they are using Wikipedia sources for 90% of their data collection. That might be acceptable for college essays, assignments, but research papers need reliable and legit sources which their writers don't seem to consult and reference.
Story
A couple of months ago, a friend of mine got the paperwork at his university and had absolutely no idea how to work on such a type of research paper. And from the very start, he decided to get some help from some essay writing service and came across essaylab.org. He was pleased overall with the received paper, the quality was acceptable. Hence I found out about this service.
Before writing the review, I ordered two papers to check the quality at the moment, and their customer support managed the case very professionally and helped me place my order with them. The work done was satisfactory, though it could be better. Let me tell you more…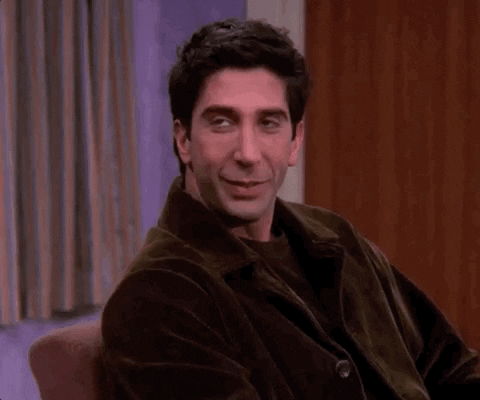 Pros & Cons
Pros:
Reliable Customer Support:
The most prominent service of EssayLab is their customer support. Their support team is very polite and professional in handling every matter.
Usability of the website:
A user-friendly website that has got you covered, including all the details regarding their services. From the home page to order, everything is presented professionally.
Prices:
EssayLab offers a medium range of prices comparatively, and prices for each service are presented clearly on their site.
Cons:
Quality:
Quality matters the most in writing, and EssayLab fails in serving the best quality content. A lot of grammatical and spelling mistakes and using unreliable sources of information are the main downsides of their deliverables.
Deadlines:
EssayLab writers didn't bother to meet deadlines. A lot of people reviewed regarding delays in delivering the work that can make one suffer a lot as if they have submission deadlines for their assignments.
Types of Services
EssayLab guarantees professional help in your education. There's a lot of services EssayLab is dealing with, including:
writing
editing
proofreading
book reports
lab reports
essays
dissertations
assignment writing
report writing
PowerPoint presentation
research proposal
short stories
thesis writing
admission essays
That's a lot to claim especially for the students who are too lazy with their researches and assignments. It seems like a treat to be served by professional writers of EssayLab with a free outline, title page, and plagiarism report. Free revisions, plagiarism reports, and e-mail services are also included in their package that helps to receive the best-demanded work up to satisfaction.
Customer Reviews
EssayLab garners good as well as harsh words in their reviews. As some people are totally satisfied with the services they get, however, some claim their essay, paper, or assignment writing services as worst.
Almost 80% of their clients are satisfied with customer support and prices, which means that they master in dealing with their clients and that's a huge positive. Believing in positive reviews, they deliver good quality content for most essays and assignments. So, we might assume that they have some good writers that are really professional in their work and helping Essaylab establish a good relationship with their clients.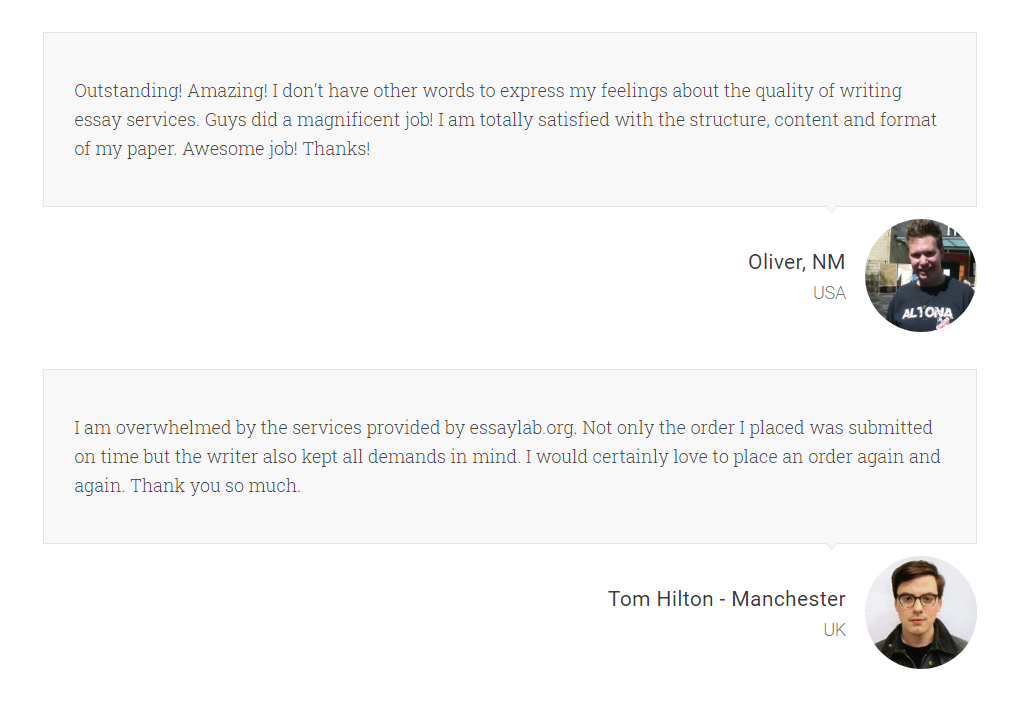 Looking at the negative side of the story, some people also claim that their support didn't respond after delivering the work when they need revisions. Such reviews just put a negative point in my mind that once EssayLab has their payment, their support didn't respond on time as they might not care about the satisfaction of their customer or probably they think of this as the writer's duty to deliver the best work so the support doesn't bother to mess with this situation which isn't okay.
Some of the dire statements from customers are quite powerful, which highlights that EssayLab doesn't have experienced writers specifically for research papers. A lot of people complaining about grammatical mistakes and that writers didn't use the legit and reliable sites for data collection and instead quoted Wikipedia sources for most of the information, while we all know that Wikipedia isn't really helpful in research works.
Another major issue recorded from reviews is that the writers didn't bother to meet the deadlines. That's I guess a huge negative, as a person might have a pending submission at school, college, or university and if EssayLab didn't submit their order on time the student might face failure or negative grades.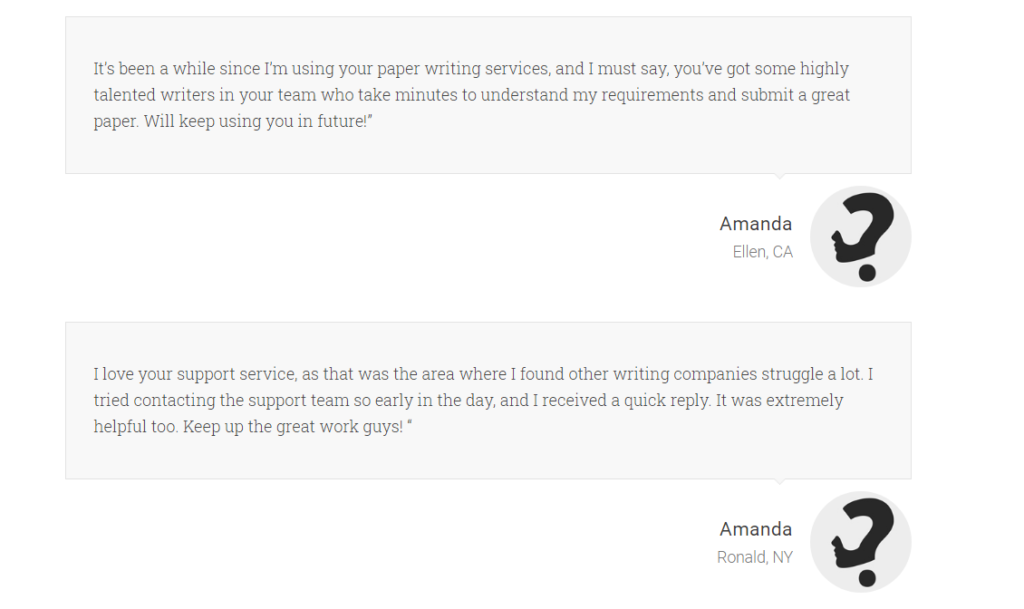 Depending on customer reviews, EssayLab might have a professional customer support team and people are also satisfied with their prices. But in terms of quality, there's a lot of room for improvement.
Prices
When it comes to pricing, EssayLab offers a clear and simple pricing system with each category of the deadline, education level, and content type displayed in separate tables. That makes it easy to calculate your cost by selecting the correct category your work falls in with a choice of 5 deadlines at different prices. One thing to notice here is that EssayLab has mentioned the prices of one page so you can multiply the amount with the no. of pages you want.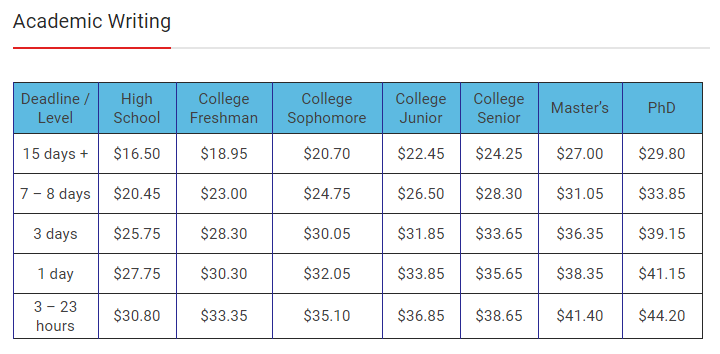 Their prices aren't the most affordable in the market, but you can count it as a medium-range. Other than the work, they offer some free services like the title page, revisions, outline, and e-mail delivery. EssayLab did mention about their discounts, but I didn't find any details about that and even didn't receive any discount codes via emails.
Quality
Quality of content matters a lot and essay lab guarantees to deliver a high-quality paper and essay writings written by highly professional writers. Although they had a lot of positive comments the quality of their content I have noticed is not as good as it should have been. I used 2 of their services, one is an essay and the other was a research paper. The first mistake of the writer is that he used Wikipedia sources for quoting information instead of a research journal, or a book.
The quality of their essays was fine, as they use simple English and very clear wording and sentence formation were easy to understand and you can score good marks. But the research paper requires a lot of experience and professionalism by the writer. However, the writer just used 1 source which too wasn't reliable. The writer was supposed to perform thorough research on the topic and then write relevant findings but unfortunately, it seems like the writer didn't bother to work on it and had no idea how to write papers.
Although the paper was delivered in proper formatting there were still some major mistakes of grammar and spelling. The main topic or term of my paper that actually shows the title and theme of the paper wasn't even written properly anywhere. Concluding all these factors, you can't rely on EssayLab for the research papers but yeah, they are a good source for getting your essays and assignments done.
Customer Support
Their customer support team can be contacted through multiple sources. You can call them at the given number, send an email with your query, and the most convenient way you can get your queries answered via live chat. Moreover, they also allow their clients to contact the writer directly who is handling their assignment or paper. Thus, it means you don't have to rely on the support to get your queries answered and confirmed by the writer; you can directly get in touch with the writer and stay updated on your work delivery.
EssayLab has a respectful and professional customer support team and unlike other companies, they have their email support available 24/7. They pay a lot of attention to customer care. The best and most convenient way of their online service is activated 12 hours a day from 9 AM till 9 PM GMT so you can contact the online support in that time frame. Considering these support systems, their customers don't face problems while contacting customer support.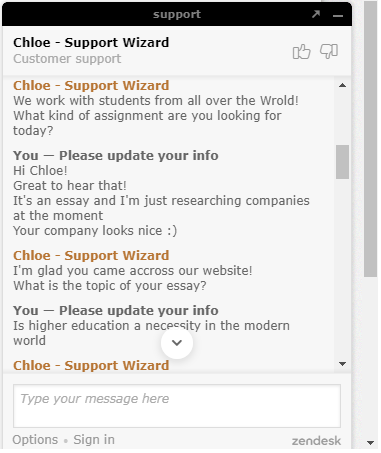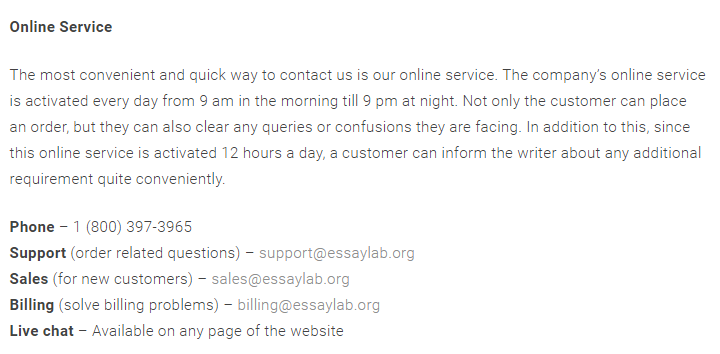 Payment Methods
Once you have made your mind to try EssayLab services, you can place the order by providing all the details of the project. EssayLab offers diverse payment methods including credit/debit card, bank account, and PayPal balance. Other than your card details, the payment page also requires you to provide your billing address (country, state/province, city, street address, etc.) and contact number.
Guarantees
EssayLab guarantees to deliver well-researched and plagiarism-free essays and papers within the promised time frame. They also provide free revisions that you can request within 10 days after receiving the order. Money-back guarantee, which allows you to claim your money. You can cancel the order anytime but with the refund depending on the time of cancellation i.e. if half of the deadline has passed you will only get a 50% refund of your payment, or if they deliver late the refund will be adjusted according to the deadline.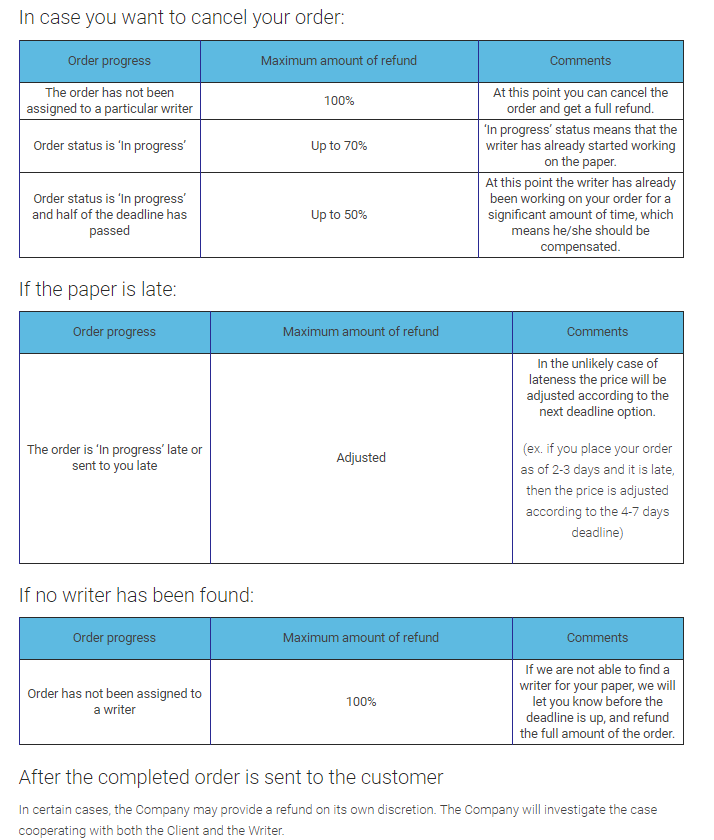 In case the work delivered by EssayLab writers isn't satisfactory at all, the company may provide a refund but it's their discretion. They investigate the case by collaborating and involving both the writer and the client and then make a decision that cannot be challenged. So, the disputes might be time-consuming and 90% of the time the decision isn't in your favor.
How to make an order
EssayLab has a multi-step order form having 4 sections, quite like other sites and is extremely intuitive and simple:
This section requires you to sign up with EssayLab or simply login with your credentials if you already have an account.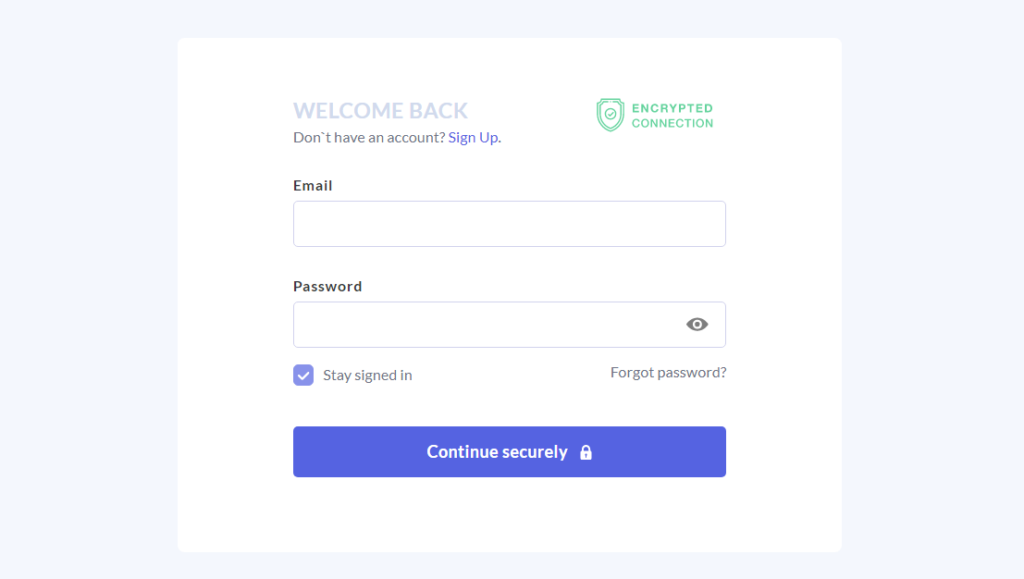 In this section, you can enter the details of the service you need from the EssayLab, the type and level of project, deadline, and your preference for the writer.
Simply describe your project in detail i.e., project title, subject, formatting, spacing, pages, etc.
Check your order details and price and proceed to checkout.
Loyalty Program
EssayLab offers a few extra services including plagiarism reports, revisions, title page, outline, and e-mail delivery for free without charging any extra money. Plagiarism reports and revisions for alterations in work prove their loyalty to the clients. While considering their discounts and offers, they do mention on their website, but honestly, I haven't noticed any discount code, even when the first time I used their services neither did read in any comments claiming that they get discounts on their orders. So, I don't think they really offer any discounts or simply might be I couldn't get any.
Verdict
Concluding my views in final words for this EssayLab review; I would say they aren't the most reliable name in the market as there are a lot of other essay writing services serving the best quality work. But I can recommend their services for simpler writings like essays and assignments, but definitely a no to their research writing. Don't waste your money and time in demanding the best research writing, and if you really wanted to check what they actually do with researches just order for the research proposal and then go further if you like their work.

Their prices are competitive, and the customer support team is very helpful and manages every case with great care and responds on time. But they lack professional writers, their writers use very simple and easy language which isn't acceptable in research papers. Trying their services I can say that they aren't the best, you can find even better providers who can serve better quality of work. They also sometimes messed up the deadlines. I would not recommend completely relying on their services, as you might have to put in some effort yourself too.
This blog contains the author's views and reflections on topics about which he chooses to write. The author reserves the right to express his subjective opinion and is not responsible for the quality of services provided by the overviewed sites.