Overview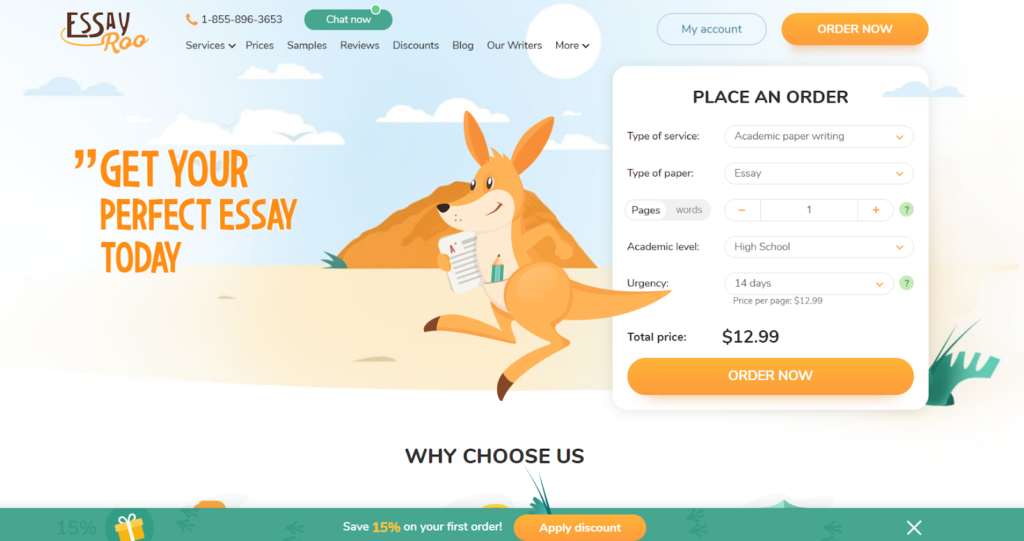 There are plenty of reasons why lots of students use writing help nowadays. The main one is the fact that such services let them save time and get high-quality papers written by professionals.
But the demand generates supply, and lots of writing companies appear on the market nowadays. Still, not all of them are ready to provide customers with high-quality services or any guarantees.
I've come across many fraudsters that don't even care about the quality of papers they prepare. On the other hand, I've also met many companies that are underestimated by users. As I use writing services pretty often, I've decided to share my reviews with others. I hope that my unbiased opinion will help people pick the company that satisfies their needs.
This page will describe EssayRoo.com – a service that raises many doubts as it has too many disadvantages. So, take a closer look at this company and decide whether you want to cooperate with it.
Story
If you've read my reviews, you know that I always start by checking the company's history. I surely tend to believe in services that have nothing to hide.
If we go to the "About us" section, we will find that the owner of EssayRoo.com is an Australian company. In reality, the service is owned by NetFix LCC, R.P WRITINGSMART TECHNOLOGIES LTD, registered in Cyprus. This company also owns such popular sites as BoomEssays.com and Academized.com, which we have already reviewed.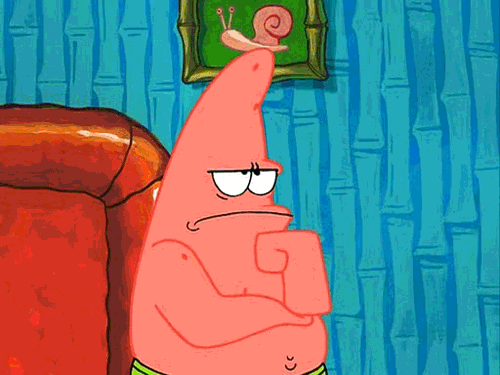 The website is rather new as, according to webarchive, it was created in 2017. Also, the service hasn't changed the design of the main page:

Pros And Cons
The quality of Essay Roo services raises doubts as even though there are some pros, it still has too many cons:
Pros
the good thing is that the service provides a money-back guarantee and privacy policy. It also states that all personal and payment data is kept private. It uses encryption and never shares any information with third parties;
a nice discount system that lets users save up to 15%, and there's also the first-time discount available with the promocode. Moreover, users get some freebies with their orders;
nice and user-friendly interface;
easy process of placing an order that will be intuitive even for amateur users. Customers just need to fill in the form and complete 3 steps
Cons
false company's history and lack of information about the service. It means that users can't trust this company;
there's no possibility to communicate with authors. It means that it will be quite difficult to explain all the order details. Moreover, the writers are ESL speakers, and it may result in inaccuracies in papers;
lack of reviews on trusted sources as well as fake feedback on the main page. It is another point that plays against this service and makes it uncompetitive on the market;
there aren't any links to social media pages;
low-quality customer support. It means that it will be quite challenging to solve issues or get answers to your requests;
there's no clear information if all papers are 100% plagiarism-free. The service states that all orders are written from scratch, but I doubt it is true
Types Of Services
The company suggests a limited amount of writing services, and users may pick among suggested positions. All available types of paper help can be found at the bottom of the main page:

Users may also find suggested options in the "Services" tab.
Prices
I wouldn't say that the prices are low, but in comparison to many other services, they are quite affordable. The lowest price is $12.99 per page with a 14 days deadline. As you can see, the total sum depends on the number of pages, delivery time, and type of work: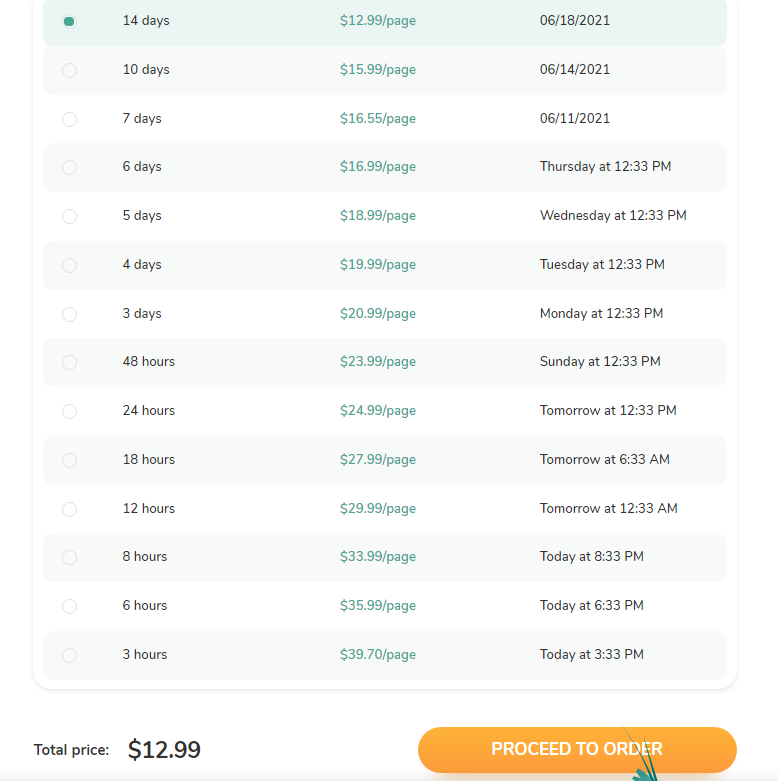 There's also a price calculator that helps users get an approximate price of their order. It can be found on the main page and the page devoted to prices: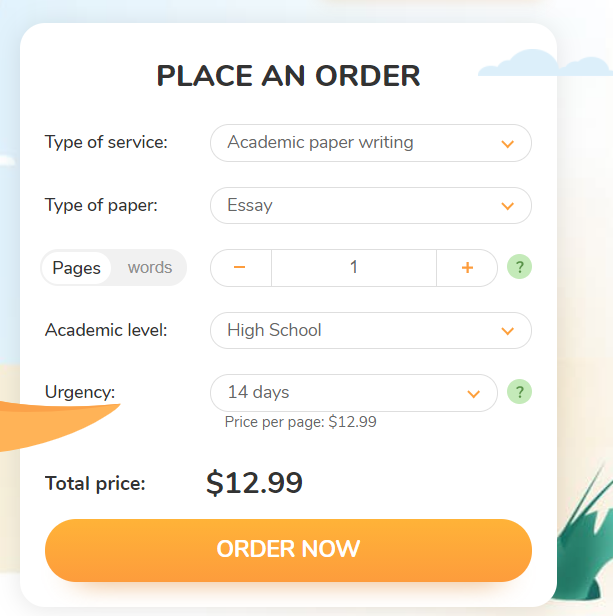 On top of that, users may save 15% with the first order by using the code, and there's also a lifetime discount system.
I also liked the fact that there are plenty of freebies available with the order: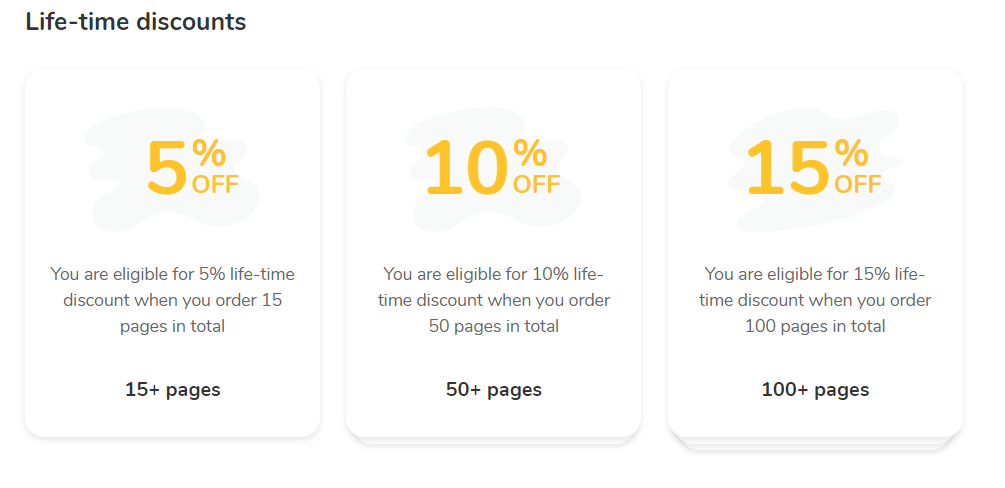 Customer Support
Users may contact the customer support team via phone or online chat. But I wouldn't say that customer support is a strong point of this service.
I've tried the online chat on my own and here how it looked.
When you open it, you get several suggestions that could help solve your problem. After you pick one of the options, they will just propose to write down the email so that they connect you. But I don't understand what the reason to do that in an online chat:

Quality
The quality of the provided services is the main point each customer is looking for. Here are the main factors, which may affect the quality of the final paper and service in general:
The service suggests 100%, 70%, and 50% refunds in various cases that can be checked in the "Money-back guarantee" section. If customers don't fit any category, they may contact customer support to find a solution for their case: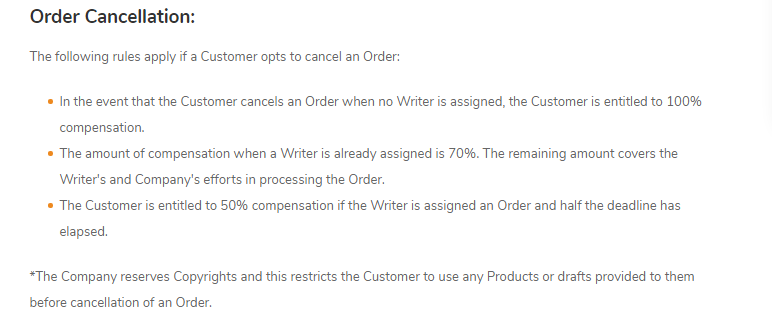 EssayRoo.com respects privacy and saves all personal data private. The service uses encryption and never share the information with any third parties: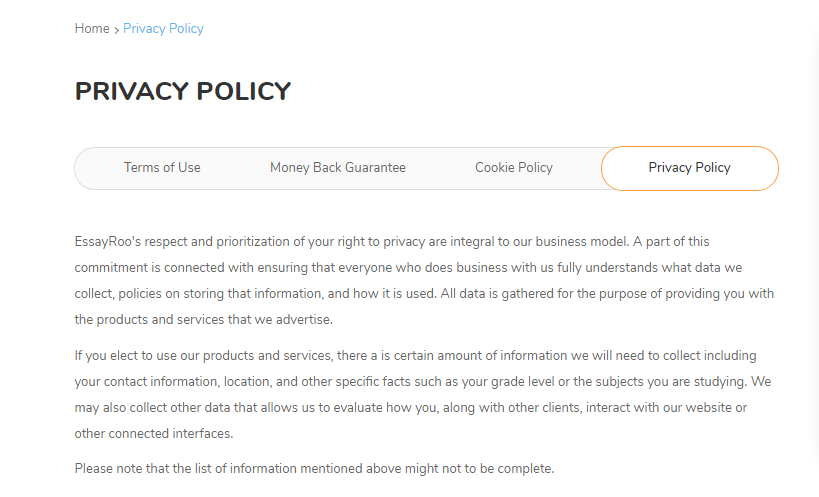 Although the service states that all writers are qualified, the fact is that they are non-native speakers. Thus, it may result in some inaccuracies and mistakes in final papers.
On top of that, there's almost no information about authors, and here is how their profiles look:

There is no plagiarism guarantee; they only provide a plagiarism report with the final paper. It is indeed the worst thing as users can't be sure that their papers are original. 
There are some samples of final works available on the website. It means customers have a chance to take a look at the quality before placing an order: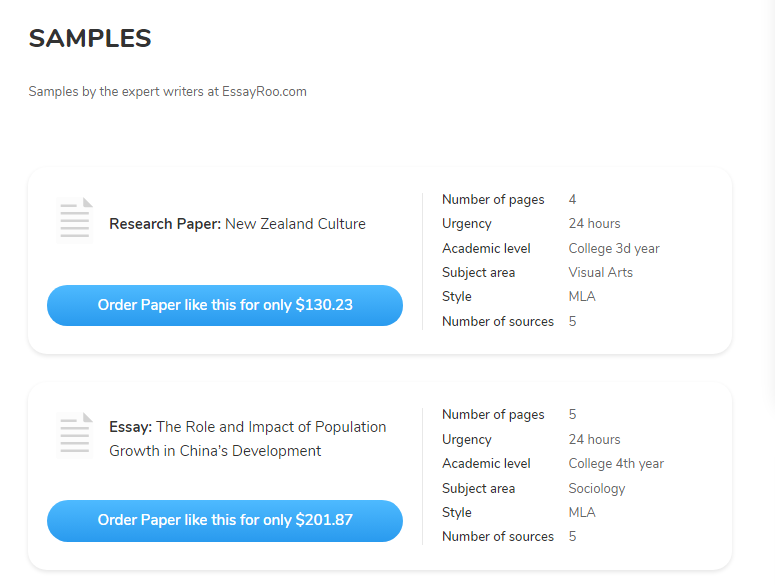 How To Place An Order
As stated above, placing an order is an easy task that takes several minutes. All that users should do is to fill in 3 pages.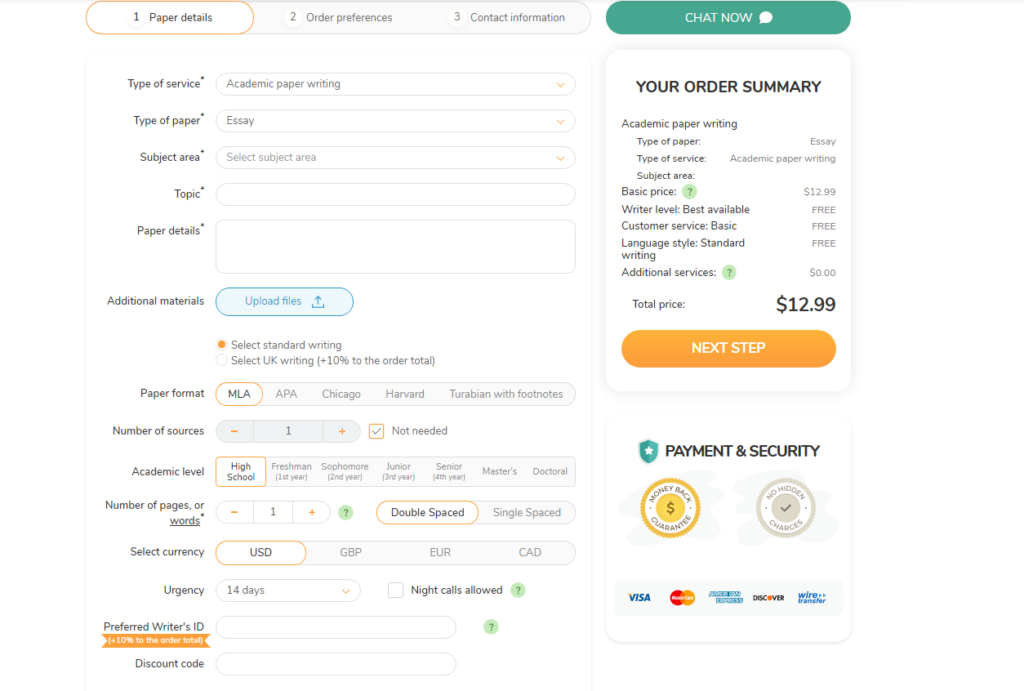 The thing I've noticed is that there are 2 variants of choosing a writer: standart writing and choosing the UK writer. So now we can be sure that most of the writers on EssayRoo are ESL. 
Customer Reviews
The service has many reviews on the website and only a few on trusted sources such as SiteJabber. Still, the majority of feedback on their page are positive and don't seem to be real: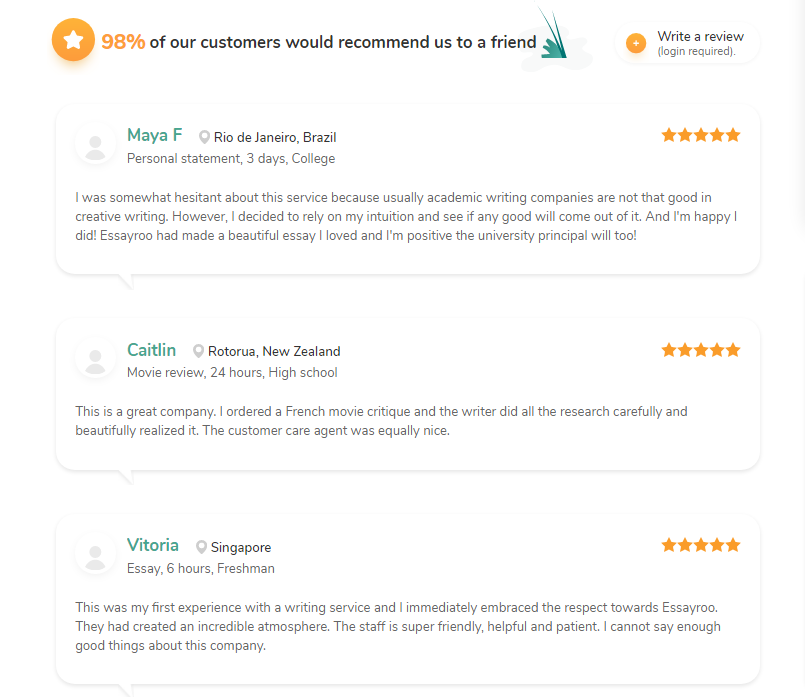 When it comes to trustable sources, we can see an absolute lack of reviews. Besides, the TrustPilot account is blocked.
There are only 4 reviews on SiteJabber, and the rating is really low.

Social Media
As aforementioned, the service doesn't have any social media pages. Indeed, it is also a drawback as the majority of writing companies pay attention to their accounts. 
Verdict
All in all, EssayRoo.com isn't a scam, but it is still not the service that I'd recommend to work with. First of all, it lies to the users by saying that it is owned by an Australian company. Also, the company doesn't provide plagiarism-free guarantees. On top of that, it mainly cooperates with non-native English-speaking writers. It means that the quality of papers will surely leave much to be desired.
There aren't any social media pages and the lack of reviews on trusted sources. The feedback that users may find on the main page seems to be fake.
The good thing is that the prices are affordable and the company suggests a nice discount system. So, if you are the one who looks for cheap service, this is an option. EssayRoo.com also has a money-back policy that lets customers ask for a 100% refund. If you are ready to close your eyes to drawbacks, you can give it a try. But, if you need high-quality service and professional writers, EssayRoo.com shouldn't be your choice.
This blog contains the author's views and reflections on topics about which he chooses to write. The author reserves the right to express his subjective opinion and is not responsible for the quality of services provided by the overviewed sites.