Overview
I've heard a lot about Nerdify, so at some point, I decided to try this service to see what makes it so popular. Seth Rosenberg, Facebook Messenger PM called Nerdify "the coolest startup in edu tech world," and many students talk about this service, discussing the differences between Nerdify and other custom writing services. This service is indeed different from many others because it works with freelance writers.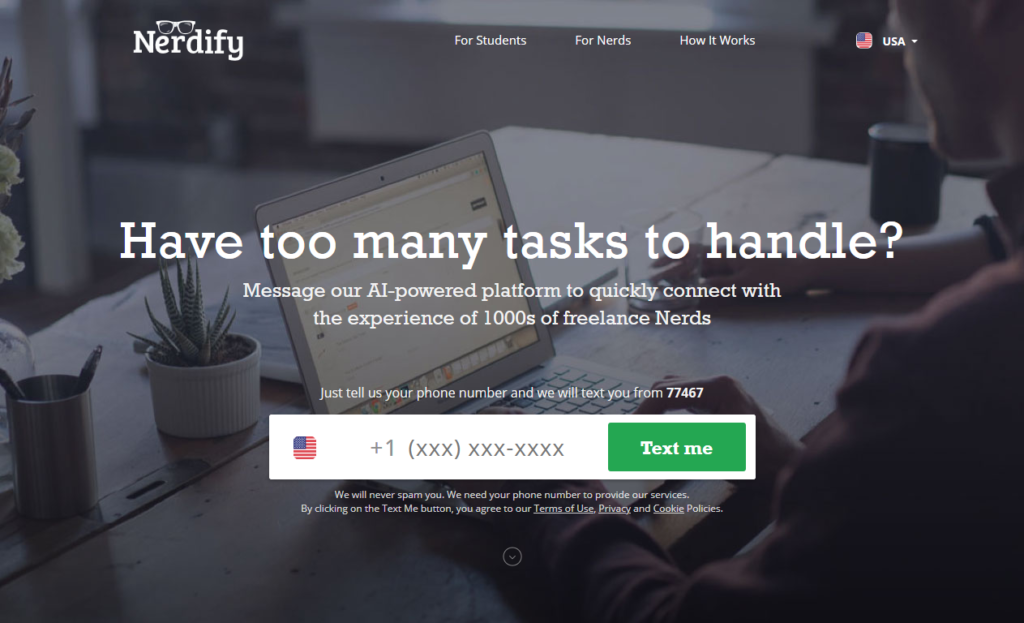 Usually, when dealing with online writing services, you have strict deadline limits, and the price of your order also cannot be lower than a certain figure. This is not the case with Nerdify, since you're getting connected with a freelance writer. Every writer works on their own terms so you get a chance to get your paper quicker or to pay less. As for the quality of writing, it also depends on a particular writer's experience and level of professionalism.
To understand whether Nerdify is legit, I decided to check some background information. On the website, they say that their company has been in this business since 2015. To check it, I went on web.archive.org. The website was created in 2015, so the information is correct. This company was founded by two LSE graduates as a project for their classmates. Today, Nerdify is a well-known service with thousands of customers.
A good thing about this company is that it has offices in San Francisco and London. Sometimes, students have to deal with writing services from Asia, Africa, and Eastern Europe. In this case, writers are not even native English speakers, and the quality of writing is far from perfect. This is not the case with Nerdify. American and British freelance writers have degrees in their disciplines so the quality is good.
The company offers a whole range of academic assistance. Here you can order essays and research papers, ask for help with your homework, or hire a tutor who will explain some complex subjects. Therefore, one of the main advantages of this platform is that you can always get help, no matter what exactly you need.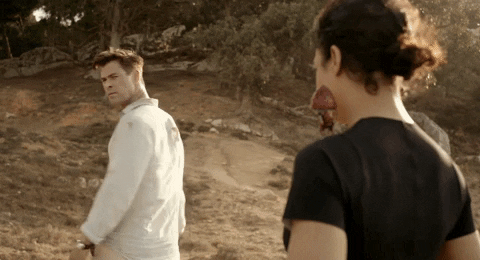 The variety of services, however, is also a reason why it would be difficult for Nerdify to provide a clear table with prices. Some orders, such as online tutoring, are priced on an hourly basis, while if you order an essay or research paper, the price will depend on the deadline and the number of pages. I've checked customers' reviews, and it seems that Nerdify isn't the cheapest service out there, neither is it too expensive.
Nerdify doesn't have a mobile app. Instead, the company has chosen another approach — customers can make orders and communicate with writers or support service via Facebook Messenger. Therefore, the ordering process is pretty straightforward and convenient.
Story
I've heard about the GoNerdify website from many students, and most of them pointed out that their experience was quite different than when using other writing services. I decided to review this service and ordered content for my friend's website. My experience was good. I was quickly matched with a writer, the content was neat and original. Perhaps, the only thing that made my experience different from that when dealing with other legit services, is that the writer was selected by an AI algorithm, and he contacted me immediately.
Pros and Cons
Pros
You can make an order through Facebook Messenger. The whole ordering process is simple and fast.
The range of services is huge: essays, research papers, homework, lab reports, tutoring, you name it. If you have a complex assignment, this platform is a great choice because of the simple communication process.
Timely support. The support service team does its best to help customers in any situation.
Cons
The pricing scheme is unclear. This is a legit service, and you're not going to get ripped off. However, it will be hard for you to evaluate the costs of your order before talking to your writer.
The company allows you to get a refund if you're not satisfied with your order. However, many customers note that getting a refund may take a lot of time.
Types of Services
Nerdify works with different customers, including students, businesses, and even universities. Students can order their papers or find a tutor that will explain the necessary material. You can also use Nerdify when writing because this service helps students choose the right books and other materials for their work. Obviously, you can also order editing and proofreading.
Business clients can find business consultants and get help with presentations. This service will also help you develop a business or marketing plan. This also a good place to look for potential interns. As for the universities, they can use Nerdify to create tests, to find internships for students, and to get help with talent scouting.
Customer Reviews
I believe that the best way to determine whether or not you're dealing with a legit writing service is to check customers' reviews. I've checked GoNerdify reviews on different review platforms and I can say that customers are generally happy about their experience. Most customers point out that they've received their orders quickly, and that the quality of papers is good.
However, not all of the reviews are great. Given that this company collaborates with many freelancers, your customer experience to a large extent depends on a particular writer. There are more or less professional writers who can deliver you papers of different quality. The company representatives, however, are very friendly and the support service works great. Almost all people who had any sort of negative experience received a refund, which means that Nerdify is legit and it cares about its reputation.
When I see a company that doesn't have negative reviews, I immediately understand that it's a scam. Even the best writing services always have a certain percentage of unsatisfied customers, and in the case of GoNerdify.com, positive five-star reviews certainly outweigh the negative ones. Customer service is one of the main selling points of this service, so I think you don't need to worry when ordering your papers here.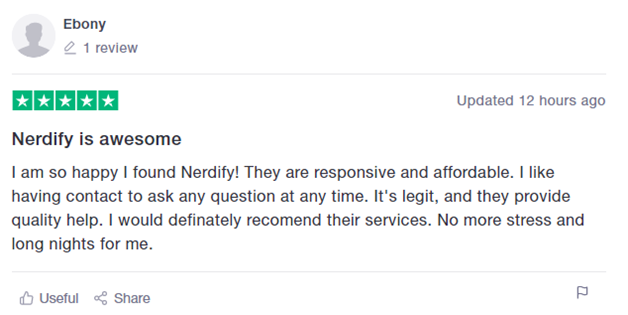 Prices
As I've already mentioned above, there is no clear pricing table on the website because there are too many services so it would be hard for the company to come up with a general pricing policy for all kinds of orders. For example, if you order online tutoring, you will have to pay a certain hourly rate, while the cost of academic papers or business content depends on the number of pages and the overall complexity of the task.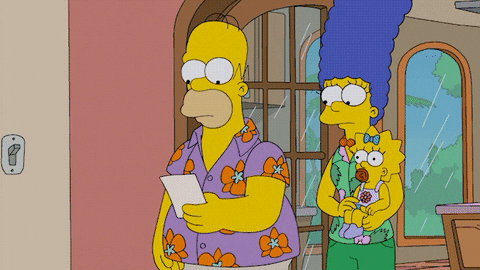 You should also keep in mind that the price depends on a particular expert because Nerdify is just a platform that connects clients with freelancers. Technically, clients use this platform for free. However, writers pay an 11% fee for each order so this money is also included in the price of your order. A few pages of website content cost me $40. I must say that I was impressed by how quickly my writer completed the task and how good the quality was. Therefore, Nerdify certainly maintains a good quality-price balance.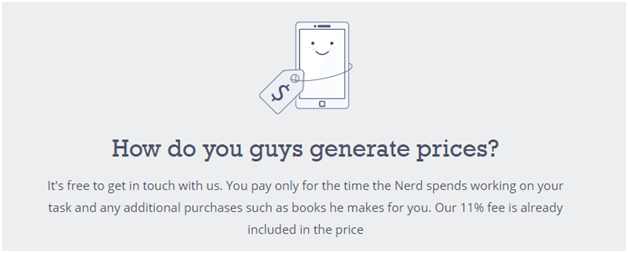 Quality
I've seen many Nerdify reviews, and most customers note that the quality of papers here is great. There are many professional, experienced writers and tutors who need to go through the Nerdify examination process to prove their ability to work on a certain type of order. The AI algorithm analyzes profiles of different experts and connects you with the one who has the necessary experience and academic background in your field. Therefore, there's no surprise that most students get impressed by the quality of their papers.
The overall customer experience is also great because of the effective and quick communication. If you have any questions or any help, the customer service won't let you down. Besides, you can get a refund if you're not satisfied with a certain writer's work.

Customer Support
I've already mentioned that customer support is one of the best things about Nerdify. You can leave your phone number on the website, and support service representatives will contact you. You can also send an email to [email protected]. However, the best way to communicate with customer support is by using Facebook Messenger. I and many other clients were completely satisfied with the customer service team because it responds quickly.
If you leave your phone number, they will probably text you in about 20 minutes, and if you use Messenger, the response will be even quicker.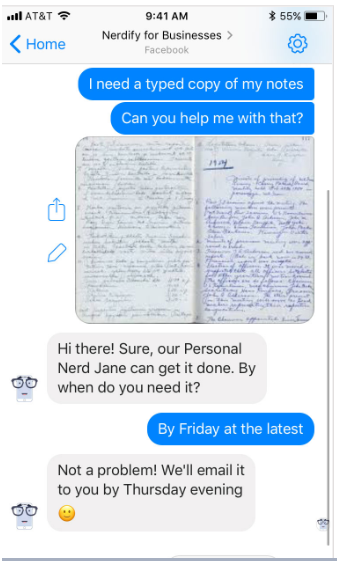 Payment Methods
Another good thing about this company is that it supports different payment methods, including
PayPal
Stripe
Visa
MasterCard
American Express
Discover
The website uses a 128-bit encrypted HTTPS page for online payments. This page is hosted and secured by PayPal so you don't need to worry about the safety of your personal data.
Guarantees
This company offers a money-back guarantee so if you've ordered a paper here and it doesn't meet your expectations, don't hesitate to contact the support service and to request a refund. If you want to request a refund, you should do it within 30 days after your order was completed. You may get a partial or full refund, depending on your problem, and you may also get your order completed by another freelancer for free. To learn more about the refund policy, read Nerdify's Terms and Conditions.
The company also doesn't tolerate plagiarism of any kind. Plagiarizing someone else's content goes against the Nerdify's Honor Code. I've seen a few reviews from clients who found some plagiarized elements in their materials, and all of them received a refund. Therefore, if you find out that your paper is plagiarized, which is unlikely, you know what to do.
How to Make an Order
The ordering process is simple, fast, and convenient. Just contact the company via Facebook Messenger and describe your task. I recommend that you provide as many details as possible to make sure that the writer will be able to fulfill your expectations. Once you've explained what you need help with, the system will match you with a writer, and you'll get the price of your order. Pay for it, and wait — that's it!
Loyalty Program
Basically, there's no information regarding any discount program on their website. And for your first order you might not get a discount, depends on your case, but once you become their user after paying your first order you can count on getting better and consistent discounts for sure.
Verdict
If you're asking yourself, "is Nerdify legit?" the answer is yes. This is a company with a good reputation. I've checked many Go Nerdify reviews, and this service seems to be reliable. It works with many freelance experts in different areas, and you can get all kinds of academic help here. The customer support service is especially good, and the ordering process is simple. If you like a personal approach, Nerdify will certainly be the best option.
Also, feel free to check out other essay services reviews, in case GoNerdify is not something you are looking for.
This blog contains the author's views and reflections on topics about which he chooses to write. The author reserves the right to express his subjective opinion and is not responsible for the quality of services provided by the overviewed sites.