Overview
Recently, I met the man who was my kemosabe at the university. For many years now, he has been teaching literature in college and working as a tutor. While we were in a pub, he told me about essay topics his students choose and how they argue their point of view. We had a rather interesting conversation indeed. I asked him how he felt about the custom essays that students are resorting to more and more often. My friend replied that it did not matter to him at all. He believes that if a student could answer all his questions on the essay, then he coped with the task. As a teacher, he needs the student to delve deeply into the essay topic, form his opinion on the problem, and argue it. Later in the conversation, he mentioned Grab My Essay, a writing service that one of his students used. My ears perked up when I heard about it, literally! I had never met that company before. Therefore, today we will talk about GrabMyEssay.com. Let's go!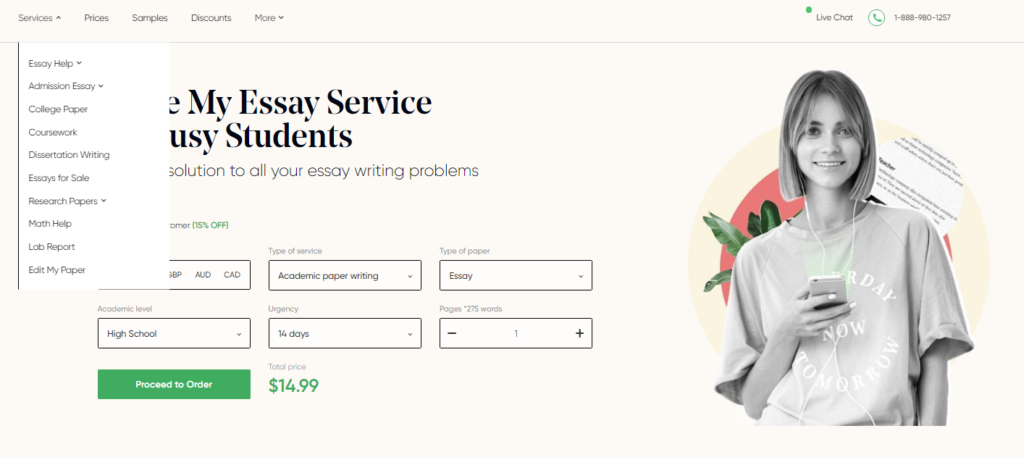 Story
During my work, I have met numerous essay writing services which devote two or more site pages to information about the company. Frankly, it's a good move if you know when enough is enough. Some writing services, in turn, prefer not to publish longreads and do not talk about themselves. There are even those who do not post the establishment date. As you might have guessed, Grab My Essay belongs to the latter. I didn't find a single mention of the site's origin, let alone its history. That's the reason why I resolved to use Web Archive. It stated that Grab My Essay was established in 2014.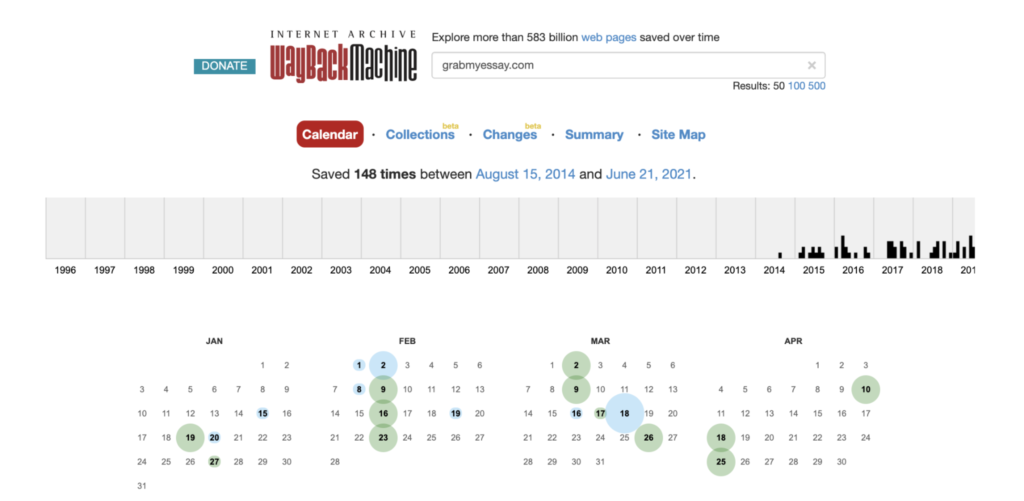 And this is how it looked like that time.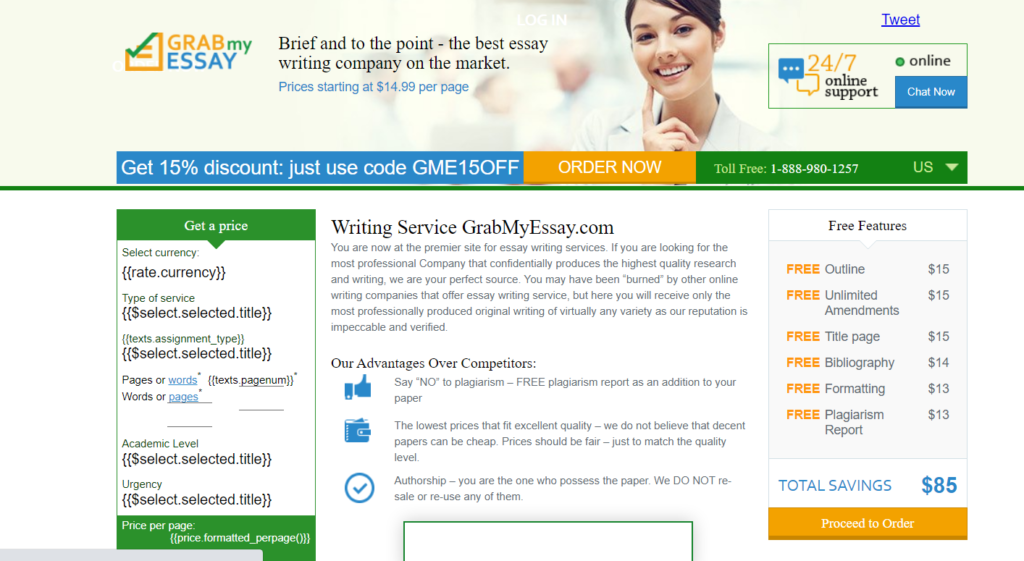 Then I decided to read the Terms & Conditions thoroughly. My goal was to find information about the company's location or anything else that would be useful. And this is what I got.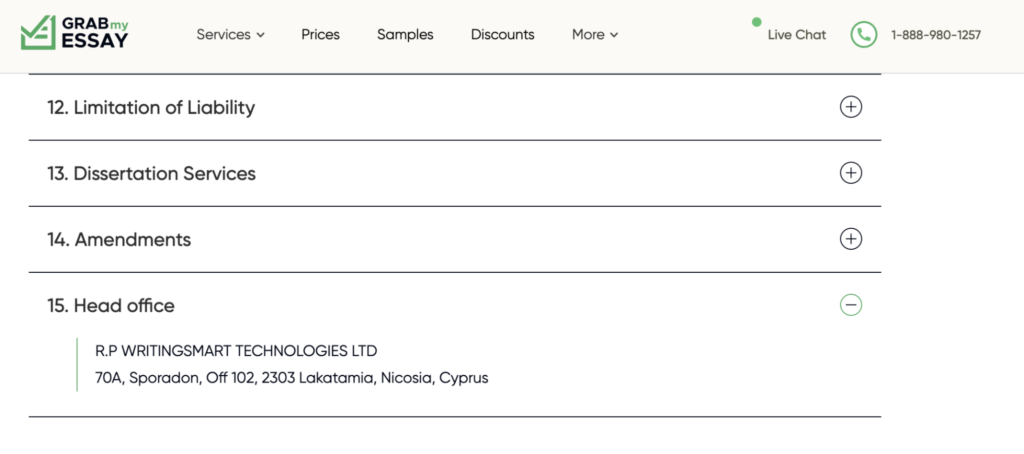 Grab My Essay belongs to R.P WRITINGSMART TECHNOLOGIES LTD with a headquarter in Cyprus. This company owns Academized.com, which I have already reviewed earlier, and several local essay writing services.
Pros and Cons
Pros
First of all, I'd like to point out that the company has been present on the market for more than seven years. If Grab My Essay was a scam writing service, it would be already canceled by students.
On the website, you can find a clear Money-Back policy. In my humble opinion, it already brings Grab My Essay a point. It's been a while since I saw detailed terms and conditions for a refund.
While we are on the subject, I want to mention the presence of the Privacy Policy as well. No one wants data to become available to third parties. What's more, we all want to keep our cooperation with a writing service a secret.
The process of placing an order takes three steps. Even though there is no video guide or text hints, I managed to do it in 5 minutes.
The customer support team is good! I managed to talk to managers via online chat. Speaking with a real person truly was a gift. Frankly, more and more services prefer to implement technologies and replace human resources with bots.
Among the benefits, I would like to mention the discount system. Get 15% off your first order. Take advantage of the loyalty program, where you can also save from 5% to 15% of the price.
The accounts on social media deserve praise. You can either read posts on Facebook or follow Grab My Essay on Twitter.
Cons
The list of paper types is modest, even though Grab My Essay does offer editing and proofreading. Those who are searching for a good thesis writing service should look elsewhere!
I got all tense when I saw that Grab My Essay offers a rewriting service. Oh, come on! You state yourself as a company that does not fall back on spinning or copying. How is it possible that you promise to provide a 100% unique paper while offering copywriting? It completely blows my mind.
Another disadvantage is lots of negative reviews on trustable sites. Clients complain of terrible customer support service, constant schedule overrun, and poor quality. That's only the top of the icing!
Speaking of quality, you won't find any detailed information about the pull of the Grab My Essay writers. Managers once stated that they hire only native English speakers, and that's it. Do authors have any degrees? Are they students, graduates, or teachers? Do they have any certificates confirming their writing skills? There are so many questions and so few answers.
Are you ready for the last drawback? Grab My Essay gives discounts for positive reviews on SiteJabber. I think I'm going off my rocker! Why on Earth would I leave a negative comment if these guys give discounts only for the positive ones? Anyway, this essay writing service has a rating of 3.83 stars. I guess the special offer didn't work out.
Types of Services
On Grab My Essay, you won't find an impressive list of writing services. It offers a standard package of papers, including:
Essay
Term Paper
Research Paper
Coursework
Lab report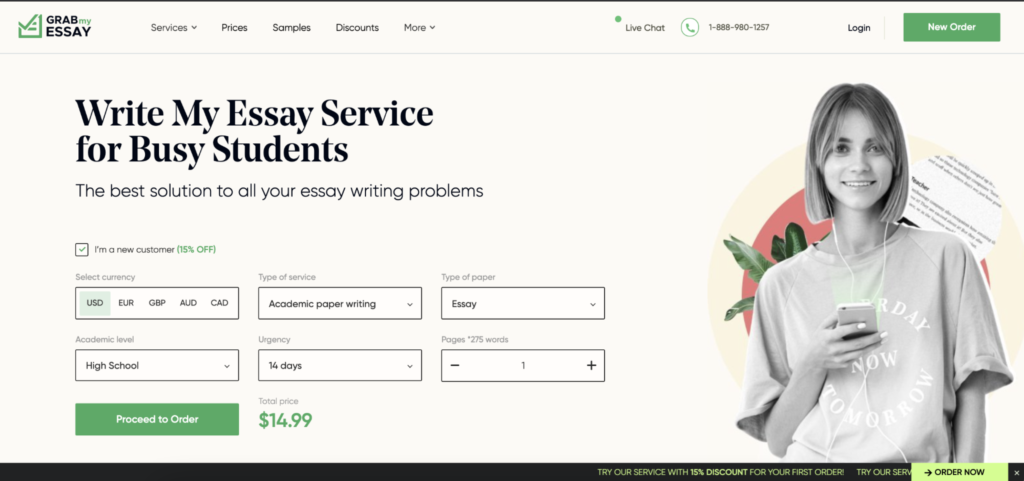 Besides academic writing, there are proofreading, editing, copywriting, and problem solving services.
Price
Well, this time we have a writing service with rather high prices. I mean it! For me, paying $14.99 for one page of a high-school essay is too much. With the help of promo codes, you can cut 15% off the price. But still, it would be $12.75 per page.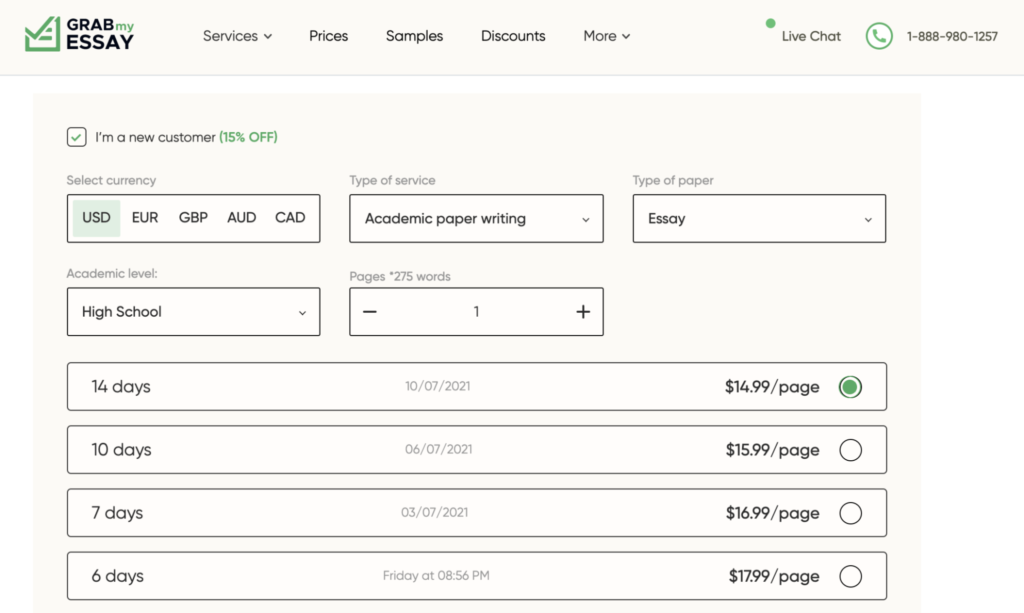 If you are a regular customer, you can take part in the loyalty program. You get 5% off when ordering 15 pages, 10% off when ordering 50 pages, and 15% off when ordering 100 pages. Fair enough!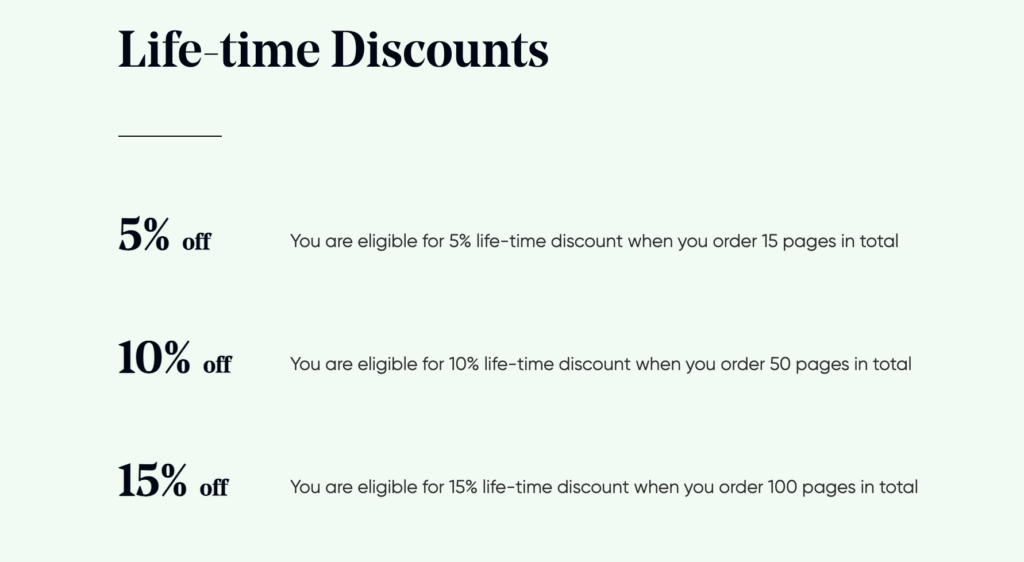 Customer Support
In case of need, you can contact the Grab My essay customer service at any time. Managers work 24/7 and provide full support to all students. You can:
Call them on 1-888-980-1257
Send them an email to [email protected]
Drop a text message in the online chat.

I'm fond of chatting, that's why I chose the latter. It's worth mentioning that Bill, the customer support manager, sorted out my issue in a minute. The good news is that, from the very beginning, I was talking with a real man, not a bot.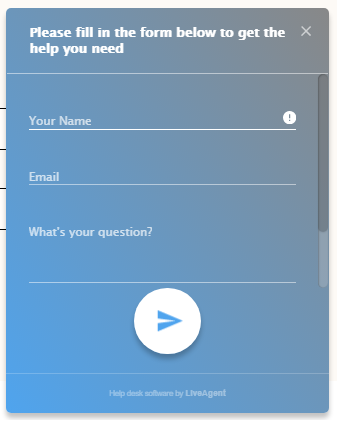 Quality of Service
When I assess the quality of a writing service, I take into consideration the presence of the Money-Back Policy, Privacy Policy, and samples. Let me elaborate on each of them in more detail.
Money-Back Policy
When transferring money to a third party, we have to ensure we can get them back. This is where Money-Back guarantees come in handy! I guess I spent an hour reading the one published on GrabMyEssay.com.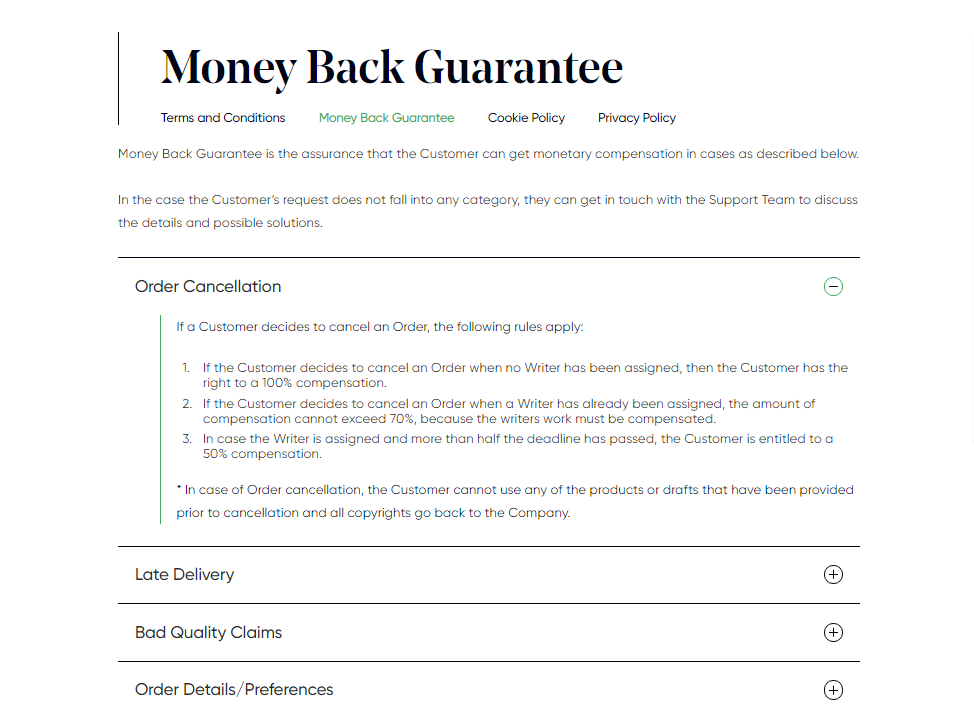 One point got my attention. If you are not satisfied with your completed paper, you can always send it back for revision. However, if you want to get a 100% refund, you must not ask the writer to make amendments or edits. As soon as you understand that the essay is a disaster, you should notify the customer support team directly. Otherwise, you then get 70% of the total sum (or even less).
Privacy Policy
The Privacy Policy is so immaculate! I was pleasantly surprised at how managers have worked it out. You can even adjust your communication preferences in the account.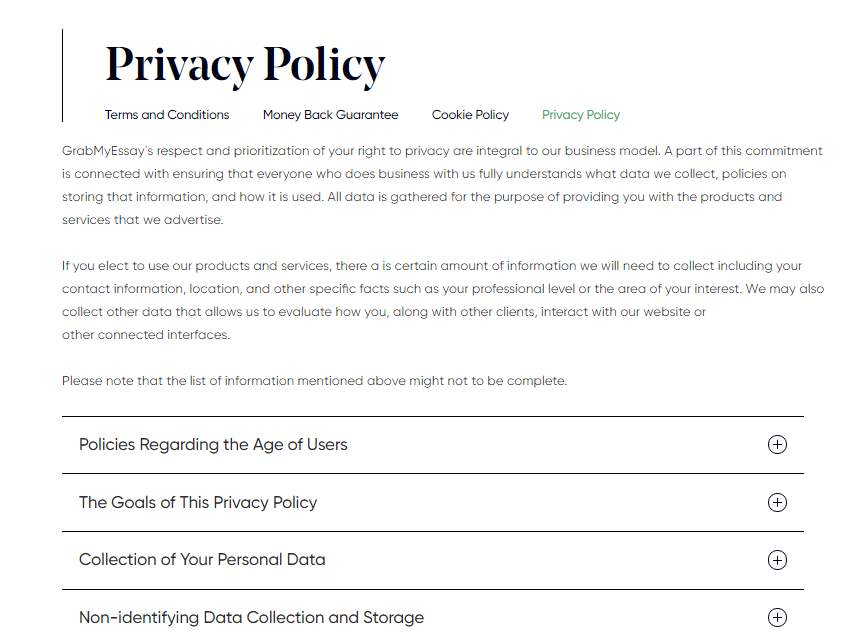 Samples
I know it's hard to entrust a stranger with your essay. There are writing services that give you access to the author database, where you can check their work examples, ratings, and short bios. In the case of Grab My Essay, we have only a list of essay samples.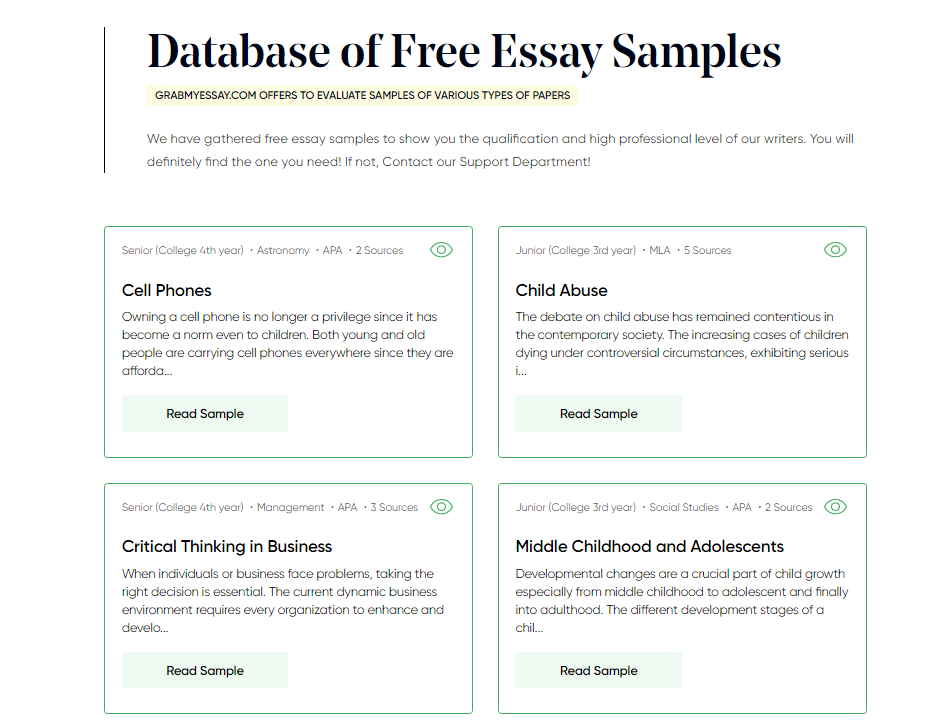 How to Place an Order
So many writing services, so many order forms. I find this one very nice and easy to fill in. On the first step, you have to specify:
Type of service
Type of paper
Subject
Topic
Style
Number of sources
Academic level
Volume
Spacing
Urgency
Also, you should upload files with instructions in any of the available formats.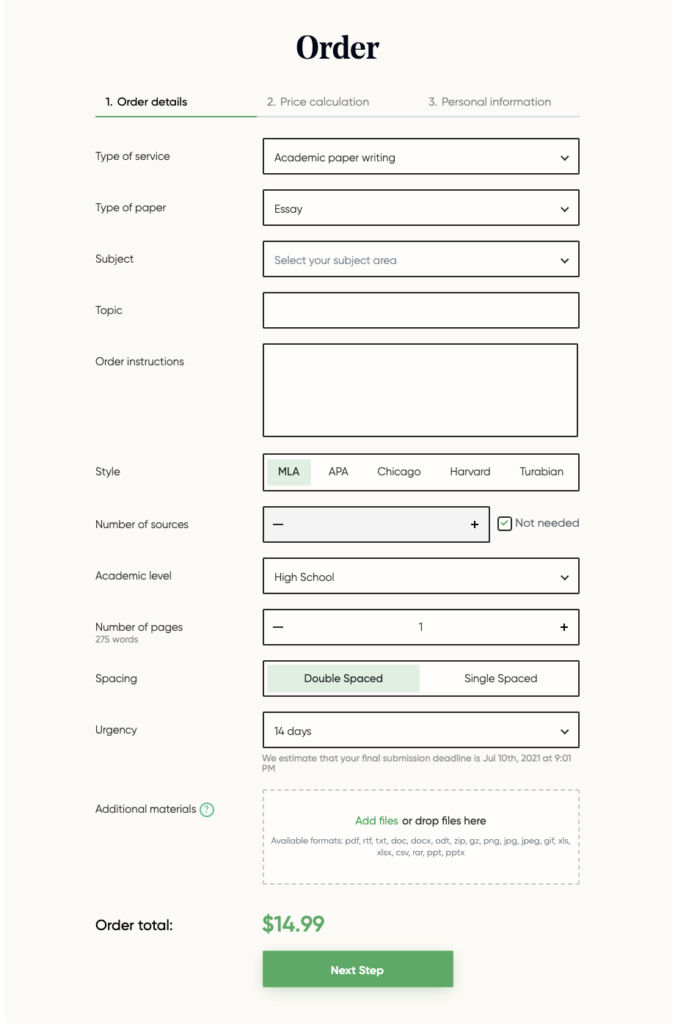 The second step is devoted to price calculation. Here, you can add one or several extras to your cart. I must admit that the plagiarism report is overpriced. Competitors offer it either for free or for approximately $10. If you want to work with one of the TOP 10 writers, be ready to splash out!
On the third step, you are encouraged to sign up / log in and proceed to checkout.
Reviews
As I have already mentioned earlier, feedback on the Grab My Essay services raises questions. When I found out that positive reviews on Sitejabber automatically earn you a discount, I thought that there would be tons of them. But folks, was I wrong.
Sitejabber

On Sitejabber, GrabMyEssay has a consumer rating of 3.83 stars. In total, there are 217 reviews, with only 134 of them positive. They praise this customer essay writing service for its team of experts, sweet discounts, and good paper quality.
Trustpilot
When I first opened Trustpilot, I thought things would get even worse. However, I was mistaken again. This essay writing service has 352 reviews, only 16% of which are negative. According to Trustpilot users, GrabMyEssay provides quality and timely help.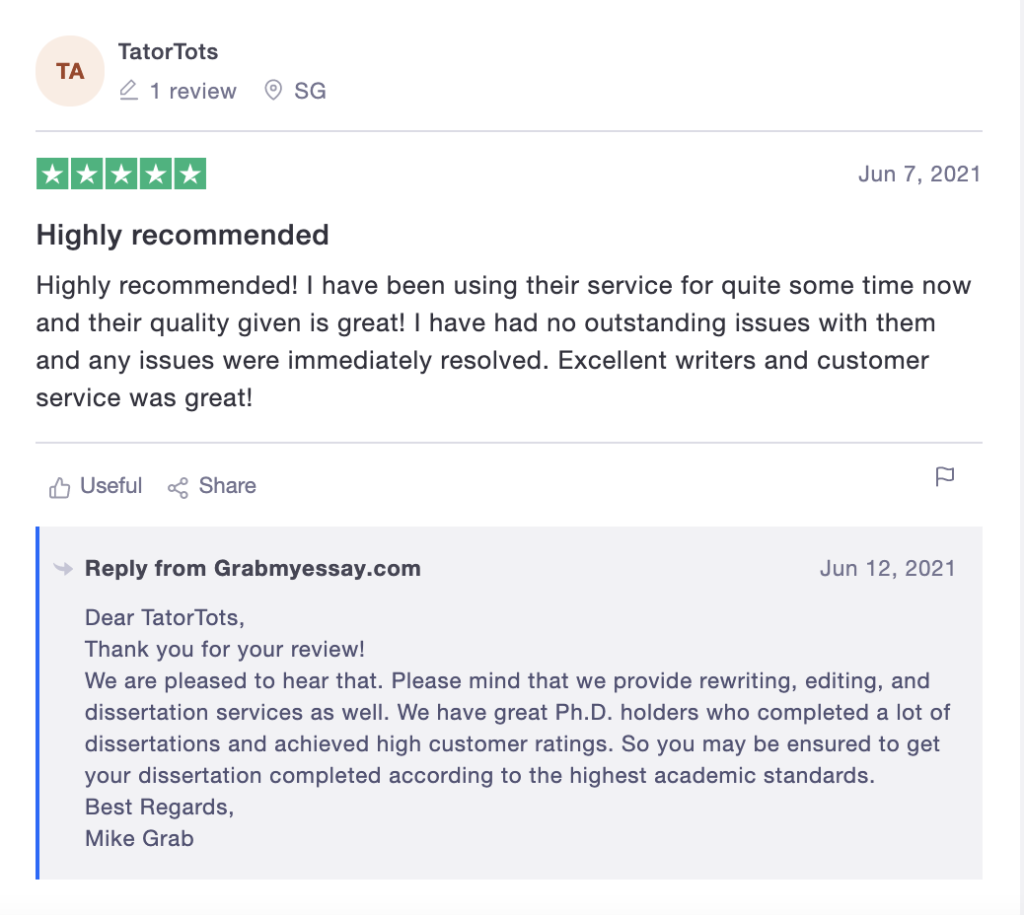 Social Media
Grab My Essay got one point extra for social media. The company shares links to its Facebook and Twitter accounts on the main page.

Actually, I spend hours on Twitter and now I have one more account to follow! Grab My Essay posts a lot of educational content. Highly recommend it!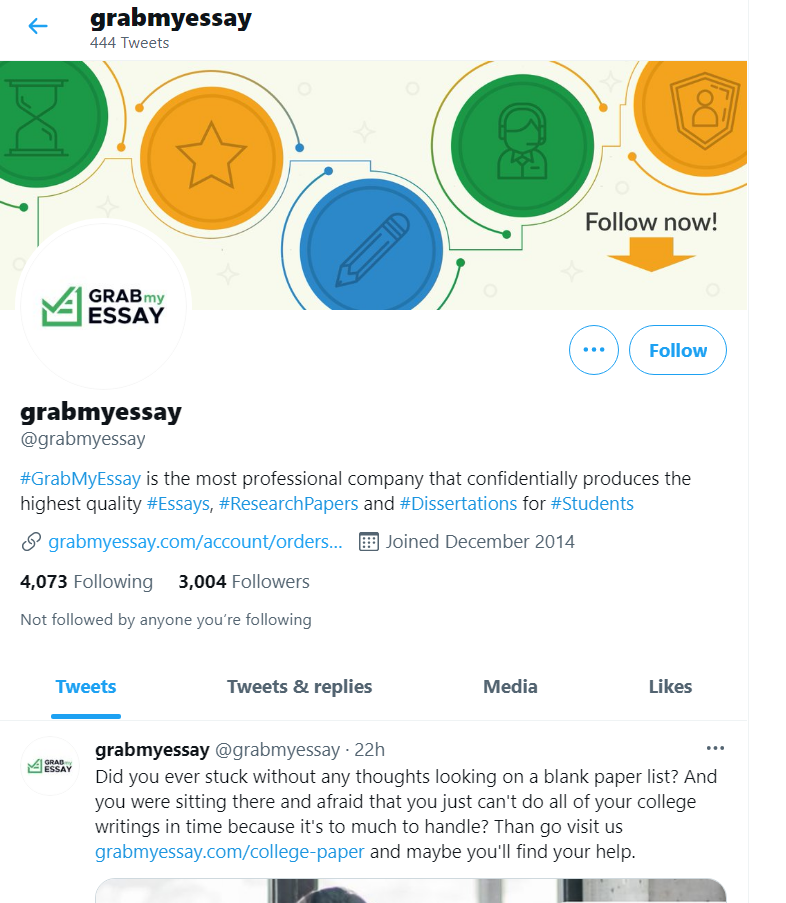 Verdict
A new day, a new review of a writing service. In years of work, I have never seen two absolutely identical sites. Each of them has not only its strengths and weaknesses but also a zest. In the case of Grab My Essay, I didn't have high expectations. It's fair to say that this company did not even try to surpass them! For seven years of operation, it found its customer. Despite the rather high cost per page, many students order their essays here. It's proved by a large number of reviews on Sitejabber and Trustpilot. The company has lots of advantages, including discounts and a loyalty program. You can solve any problem by contacting the support service, which works around the clock. You can be sure of the paper quality, as the company offers a detailed Money-Back Policy.
All in all, this writing service is mediocre. Frankly, there are lots of competitors with lower prices and higher quality. But the choice is all yours!
This blog contains the author's views and reflections on topics about which he chooses to write. The author reserves the right to express his subjective opinion and is not responsible for the quality of services provided by the overviewed sites.