Overview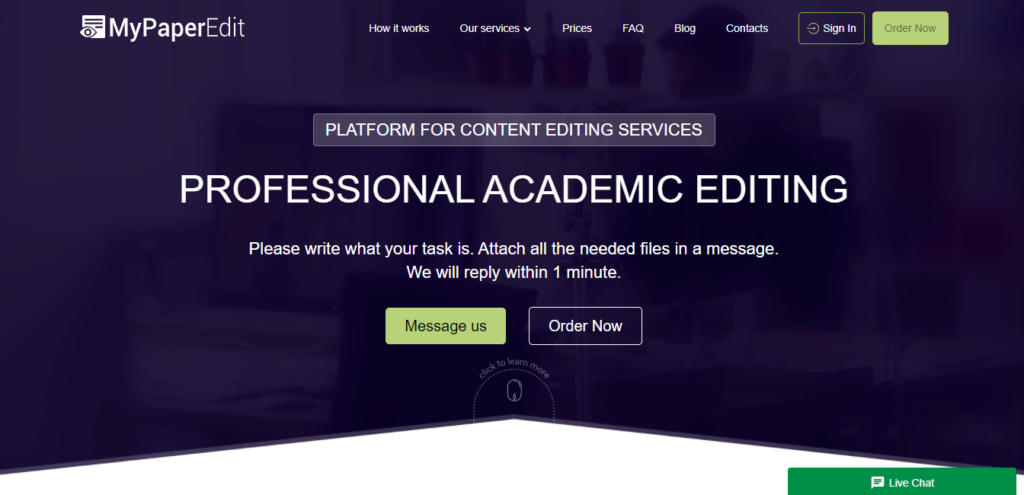 At first glance, MyPaperEdit appears to be a trustworthy platform. However, don't be misled by a well-designed website. As soon as you visit it, you will be showered with benefits. The platform aspires to earn your trust based on its convenient payment model, the lack of a necessity to sign up, the ability to place an order via messenger, and guarantees. But should you really trust them? Are there enough reasons for doing so? The company positions itself as the best proofreading and editing service. But how close is it to the truth? Let's figure it out!
This service is fairly distinguishing for its non-typical payment model and strong social media presence. Overall, the fact of its existence is a great illustration of how you can delegate your routine paper-writing tasks to professionals for a reasonable price. Although the prices themselves are slightly above the average, the platform has a great deal to offer.
My Paper Edit is quite straightforward while telling about its services and competitive advantages, trying to convince the user it is the best choice. On the other hand, it scrimps words when it comes to revealing details about the company. When was it established? Where does it operate from? What is its legal address? Who are its writers? You definitely will not find sufficient information about it on the website. Surprisingly, the "About Us" section comes down to puffing themselves up and that's it. Although you can find some additional details in the Terms & Conditions section, it raises some doubts when the company conceals information that is vital to earn the trust of users. By the way, it operates from the US but provides its services to customers all over the world.
Paying attention to positive aspects, MyPaperEdit knows how to reach out to its audience, providing multiple communication channels that include social media accounts (Facebook, Twitter), Facebook Messenger, live chat, e-mail, and phone. The ordering process is quick but not without drawbacks. The company provides all essential guarantees covered on the main page (and other pages of the website), free revisions, and transparent interaction. It encompasses a plethora of proofreading and editing services to meet your every need. And, upon a closer view, the refund policy is one of the strongest I have ever seen. Yet, first things first – let's look into the story.
Story
Frankly speaking, if you visit the My Paper Edit website, you will not find anything special there. Yes, it is quite user-friendly but it also lacks such an important element as a pricing calculator. Yet, you can find dozens of identical sites on the web, so the interface is definitely not a thing that can catch the eye. Well, the website is decent but not a perfect match for a business that aspires to take the lead among proofreading and editing services. So, what's the point? I checked the website via Internet Archive and here is the answer:

The platform was launched a year ago, so it is not really popular now. And that is why the company does not share any statistics – there should be nothing to boast about yet. The concept of the website should also be improved in order to earn trust and attract a loyal customer base.
Digging deeper, I observed the Terms and Conditions and fell under the impression that they were copied from other websites and negligently recycled. Some inconsistencies are to be highlighted. For example, first, they claim that they do not provide any writing from scratch services. And then, I happen across the following information:
"You also acknowledge that if the Company suspects that the editor's work or ideas has been distributed or has been used by You in any form of plagiarism, the Company reserves the right to refuse to carry out any further work and services for You and subject You to criminal or civil penalties." – Terms and Conditions
Sorry, but what does "editor's ideas" mean? If a person provides any original ideas, including them in the document, they alter it. This fact contradicts the content posted on the main page as well as the concept of proofreading and editing. Plus, they describe their "Products" as writing from scratch services (what they are not). I will return to such crappy examples later. And now, we will consider the pros and cons.
Pros and Cons:
Pros:
The extraordinary for the industry payment model makes the company stands out from the competitors. According to the website, if you cannot afford to proofread or edit your assignment now, you can opt for partial payments that mean you do not have to pay the full price of your paper right away.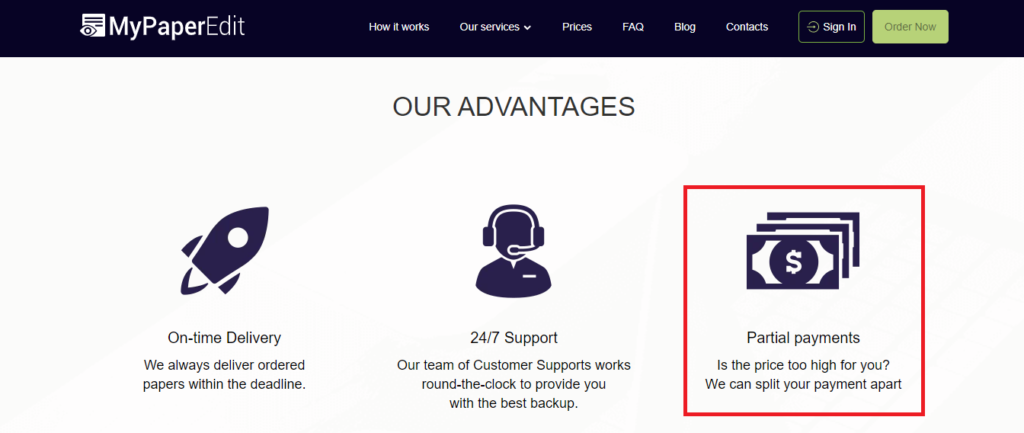 A possibility to make an order via messenger
Multiple channels are essential to keep in touch with the audience of students. And communication via messenger is a great example of how companies can interact with customers in the most effective and easy way. My Paper Edit allows making an order via messenger apart from traditional ways. It is a nice touch for those who seek customer-oriented solutions.
No obligatory registration
You do not even need to sign up to use My Paper Edit services. For some, it might be a real benefit as it helps to save time by shortcutting the way between the order itself and the result.
Placing an order is simple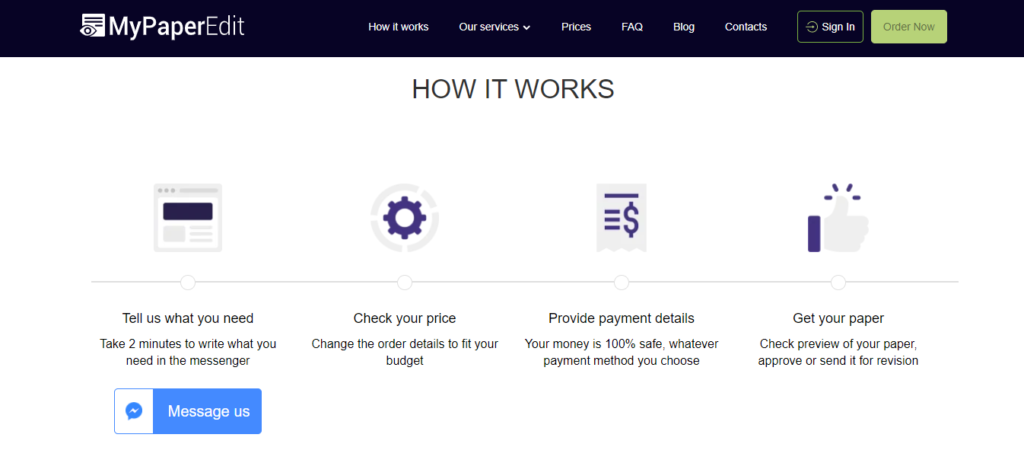 It takes no more than two steps to make an order. The system is crystal clear and it is not a big deal to figure out how to customize your order. Although services and extras are not that numerous, you can even shortcut the ordering process by using a messenger.
The support managers are prompt to react when you try to contact them. The fastest way of doing this is by texting them via live chat or messenger. In this case, it takes 1-4 minutes to get a reply. Other channels are also available, although the reply can take a bit longer (up to 5-7 minutes). The support team is always polite and there to address any of your questions. Plus, there are a lot of articles and educational materials on the website blog.
Cons
No pricing calculator on the main page
It is impossible to find out the final price of their services before you have actually placed an order. The absence of this important widget makes the overall interaction with the platform uneasy and less satisfying. As result, customers have to guess how much it will cost.
On the one hand, the privacy policy is quite comprehensive and detailed. But on the other hand, it claims that the company can share your information with third parties:
"4.1 We may disclose your personal data to any member of our group of companies (this means our subsidiaries, our ultimate holding company and all its subsidiaries) insofar as reasonably necessary for the purposes, and on the legal bases, set out in this policy.
4.2 We may disclose your personal data to our insurers and/or professional advisers…
4.5 In addition to the specific disclosures of personal data set out in this Section 4, we may disclose your personal data where such disclosure is necessary for compliance with a legal obligation to which we are subject…" – Terms and Conditions
Although these third parties are the subsidiaries and the holding company as well as insurers, advisers, and law enforcement agencies, it does not seem to be fair to share all of your personal data with them. Isn't it too much? For me, the answer is "yes". I would not trust a company that is so careless with disclosing your personal information. Herewith, they do not ensure that they will remove your data from their database after your contract with the service is over.
No clear information about the company and its editors
As mentioned above, the "About Us" section is all about how good they are. No legal information (an address, date of establishment, etc.), only abstract details about writers (Who they are? Where are they from? Are they actually native?), no story. As a result, there is no reason to trust them.
Fake review on Sitejabber
As the service is new, there are no reviews on popular platforms except for the one on Sitejabber that is obviously fake. It looks like the company's representative attempted to promote it by telling a story about its ultimate advantages. Surprisingly, it appears to be an inferior PR. So, I will return to this issue later.
The prices are higher while comparing with the market average. Herewith, the service does not even provide any discounts, promo codes, or a loyalty program. Here arises the question – why should I pay someone more than the average price if I literally have no reason for this?
Types of Services

The platform provides three main types of services. The first one implies only proofreading that includes correction of grammatical, spelling, and punctuation errors, improving sentence structure, word choice, eliminating problems in conjunctions, tense, and improper language. You can also rely on adjusting your text in accordance with standards of British or American English. The second service covers formatting along with proofreading which means the document's format will meet particular style requirements. The last service is known as "heavy editing". It is perfect for those who lack English proficiency. In case of heavy editing, the sentence structure will be corrected and recommendations on style and grammar will be given.
As for formatting, you can choose any style, including APA, OSCOLA, MLA, Chicago, Harvard, etc. On the other hand, the platform clearly identifies what you should not expect from their services. For example, they will not alter the content, verify the references included in the text, etc. This information is available on the main page of the website.
Price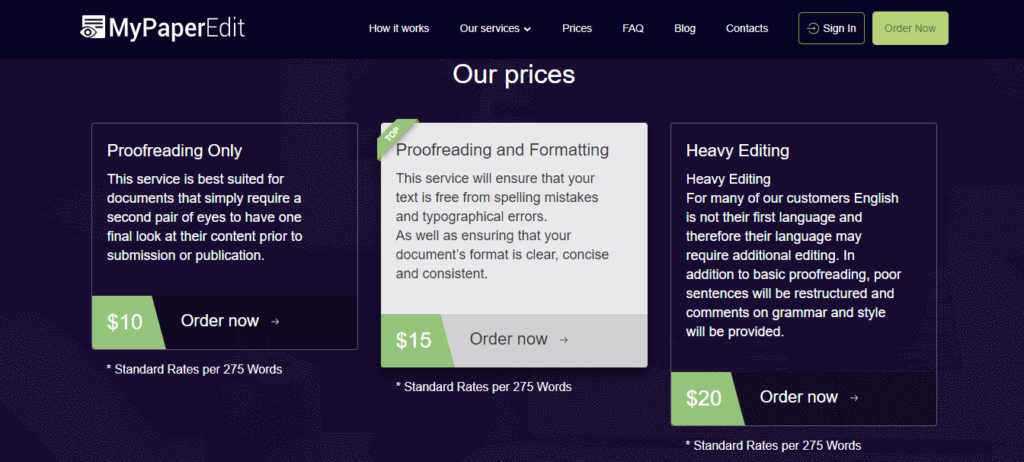 Despite the distinguishing payment model, the service is not one of the most affordable ones. The prices for basic proofreading start at $10 per page for undergraduate students. I have already reviewed some decent essay writing services where the price of writing started at this level. On the other hand, the cost of work for high school students starts at $8 per page that is also a bit higher in comparison with the market average.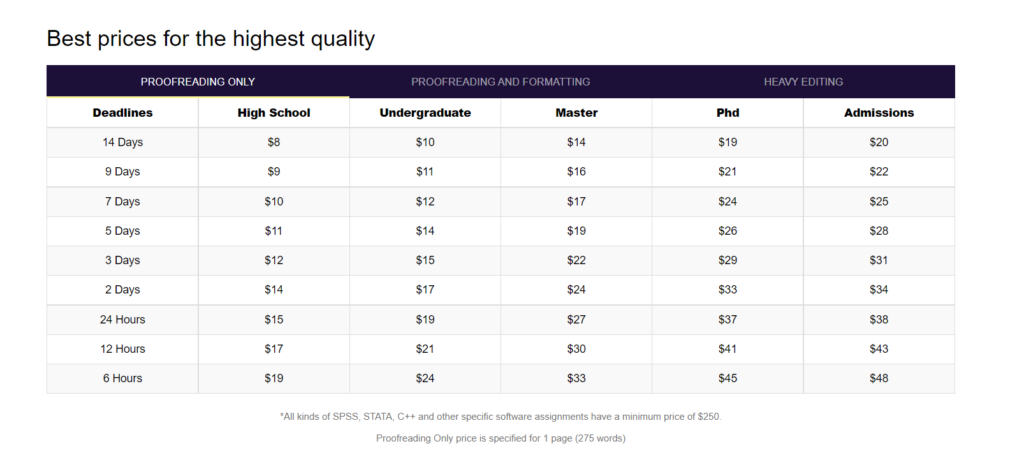 Proofreading and formatting will cost you $11 per page (high school), $15 per page (undergraduate), $20 per page (MA), etc. The price of heavy editing starts at $15 per page (high school) and reaches $38 (admissions).
The most significant drawback of the platform is that it does not provide any discounts or a loyalty program. It means that no matter how long you collaborate with the service, you will always pay the full price. Otherwise speaking, the company does nothing to cultivate the loyal customer base that speaks for its immaturity.

The platform offers basic payment options such as Visa, MasterCard, Discover, and American Express. Unfortunately, My Paper Edit does not deal with PayPal or other online wallets. Plus, I did not find any information on the possibility to pay by bank transfer.
Customer Support
The quality of customer service is to be highlighted. The support manager replied to me within two minutes via live chat that is a great marker. Plus, I checked feedback via messenger and email. The reply on the latter was as quick as via live chat. On the other hand, it took a bit longer (about 6 minutes) to get a reply via email that is also great.
Quality of Service
I could not draw any conclusions about the quality of service due to the absence of genuine reviews. So, the only way to find it out was placing an order like I always do. Well, I opted for basic proofreading of a 2-page essay in Philosophy. I intentionally made some grammatical and punctuation mistakes that were not too critical to be able to evaluate the expertise and proficiency of the average editor.
The result was quite impressive. They succeeded to detect all my mistakes including those I did not notice. Plus, they made my formatting more correct. So, there is no reason to criticize the quality of the service. If you have used this service, share your experience as one feedback is not enough to draw a meaningful conclusion on the platform.
As for additional details, the paper was delivered on time (even earlier) and I had no reason to ask for a revision. Talking about the revision policy, the company provides 3 free revisions within 7 days after you have received your paper. If you do not approve it during 7 days, by the end of this period it is approved automatically (and you cannot ask for revisions).
If the publisher rejected your paper after it was edited via the platform, you can ask for free revisions. On the other hand, My Paper Edit has a comprehensive refund policy that theoretically makes it possible to get a refund with ease. However, after you have approved your assignment (even by mistake), you cannot ask for free revisions. So, be careful with buttons.
There are some cases when you can get a refund. 100% compensation is possible in the following situations:
Payment mistake;
The platform cannot provide a suitable editor;
The deadline has passed but the paper is not delivered.
90% refund is possible when:
The editor has not been assigned to your task, and less than a half of the deadline passed.
If the editor has been assigned, started handling your task and less than a half of the deadline passed, you are eligible for 70% compensation. Moreover, if more than half of the deadline passed, you can get a 50% refund. As you can see, there are numerous situations when you can get compensation.
As already mentioned, the Privacy Policy is comprehensive but ambiguous and, therefore, leaves much to be desired. Besides, you will not find samples of their works on the website as well as sufficient information about their writers.
How to Place an Order
The process of placing an order takes just three steps, which is great as I dislike platforms making you undertake too many actions to access the service.
Step 1: Identify the type of work and all essential details, guidelines, and a formatting style.
Step 2: Find out the price of your work.
Step 3: Select extra features and complete the order.
Reviews
There is no sufficient feedback about the company on the Internet. I have actually found two identical reviews on two websites one of which was Sitejabber. By observing this review, you can easily figure out that it was written by a company representative: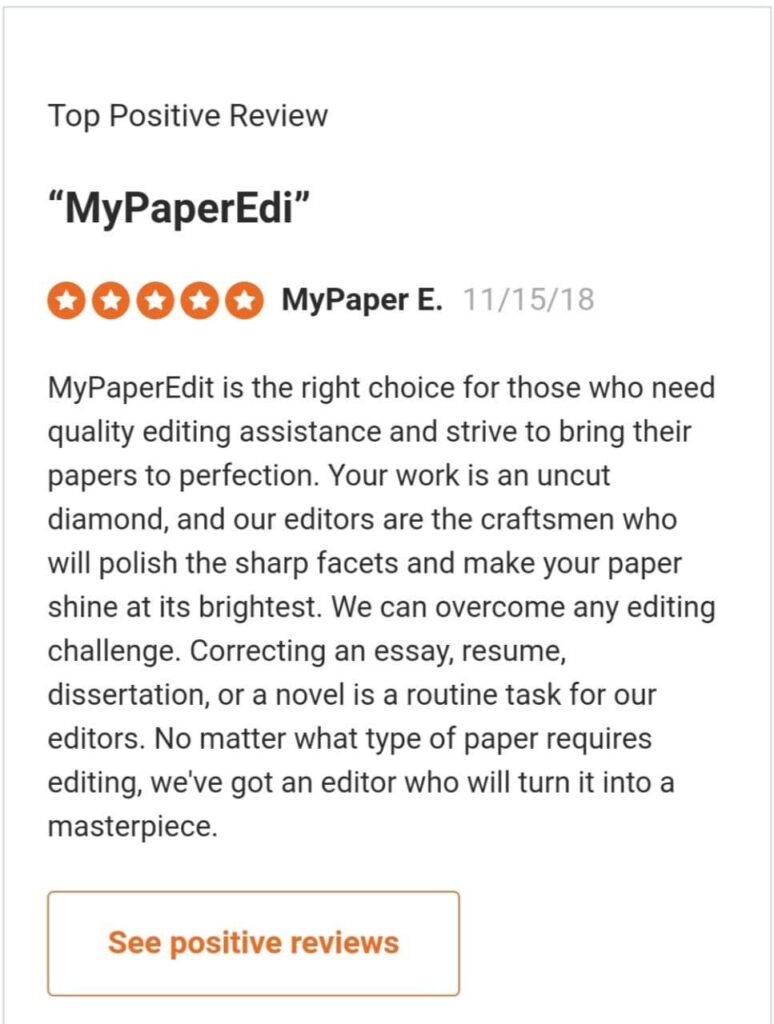 I strongly disapprove of such crappy marketing. It looks ridiculous and unprofessional. However, the platform is relatively new, so I'd rather let it off the hook.
Social Media
My Paper Edit has Twitter and Facebook accounts where you can also contact them. Although Twitter does not seem to be really active, the Facebook account is quite alive. They post memes, try to interact with the audience, and clearly illustrate who they target. However, you will not find the engaged community, discounts, or special offers there. So, I do not even see the reason to subscribe.
Verdict
Overall, My Paper Edit is new and ambitious proofreading and editing service. The website is quite satisfying, so is the quality of their services. Although the quality is ultimately good, I do not stop asking myself if it is worth it. I mean there are a lot of more affordable proofreading and editing services with the same quality of work such as PaperHelp or EvolutionWriters. The progressive payment model is a great pro, but the lack of a loyalty program or discounts offsets the incentives to collaborate with them on a long-term basis. The customer support is great, but the ambiguous Privacy policy made me think twice about whether to use this service or not.
To sum up, it is the average proofreading and editing service with unreasonably high prices. It is safe for use but you can find more affordable alternatives.
This blog contains the author's views and reflections on topics about which he chooses to write. The author reserves the right to express his subjective opinion and is not responsible for the quality of services provided by the overviewed sites.