Overview
I'm keen on writing reviews. Do you know why? I just love making things as clear as a bell. Besides, I know that it brings benefits. There are so many scammers in the world that I try my best to protect students from them. With each new review, I help you get the desired result while not spending a single extra cent.
Recently, one of my friends invited me to a lecture on the use of information technologies in the educational process. During the discussion, we touched on the topic of writing services that students use. I realized that the world is moving forward! Most of the teachers who attended the lecture talked about the benefits of such Internet resources. Just imagine! Even if a student orders his essay on any of the sites, he should still know the topic well. The answers to the questions should not be superficial. The student should be able to conduct an in-depth analysis of the work done. Sounds fair enough.
After the lecture, my friend and I discussed the topic of writing services for a long time. During the conversation, she mentioned Paper Coach, a website that she came across in targeted advertising. Since I have never met it before, I decided to find out what is it. So, dear friends, today we are going to talk about papercoach.co.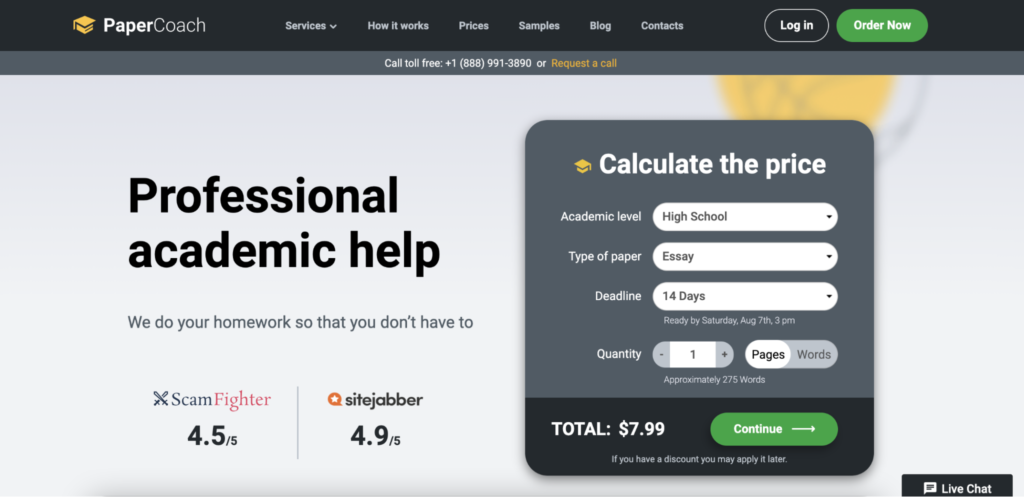 Story
I haven't had any luck lately! Writing services have completely stopped telling people about themselves. To me, it is important to know in what year the company was founded, how many students have already used it, and where its head office is located. When this information is not available on the site, I open and thoroughly study the Terms&Conditions. Usually, there you can find the company's legal name and other details. Unfortunately, not this time!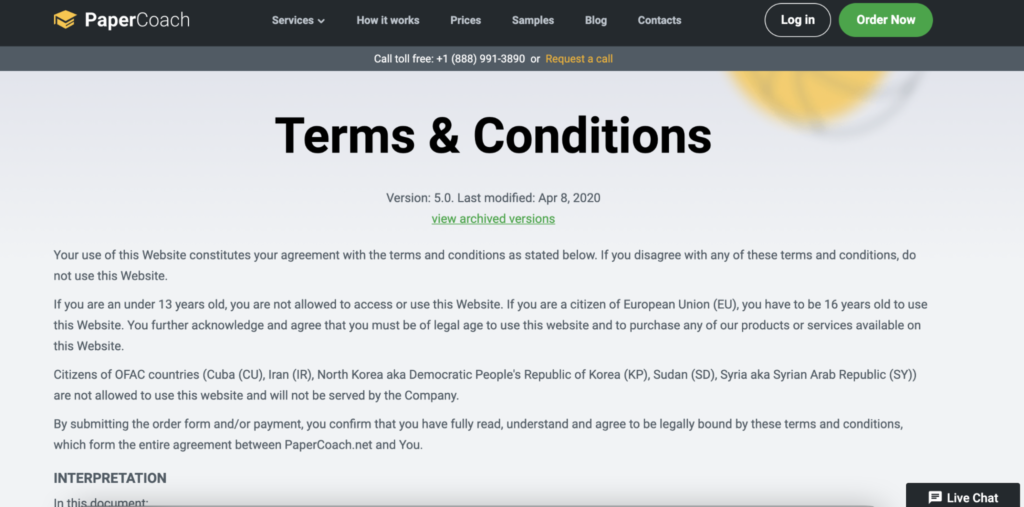 Again, my good old friend Web.Archive came in handy. According to it, Paper Coach was founded in 2018.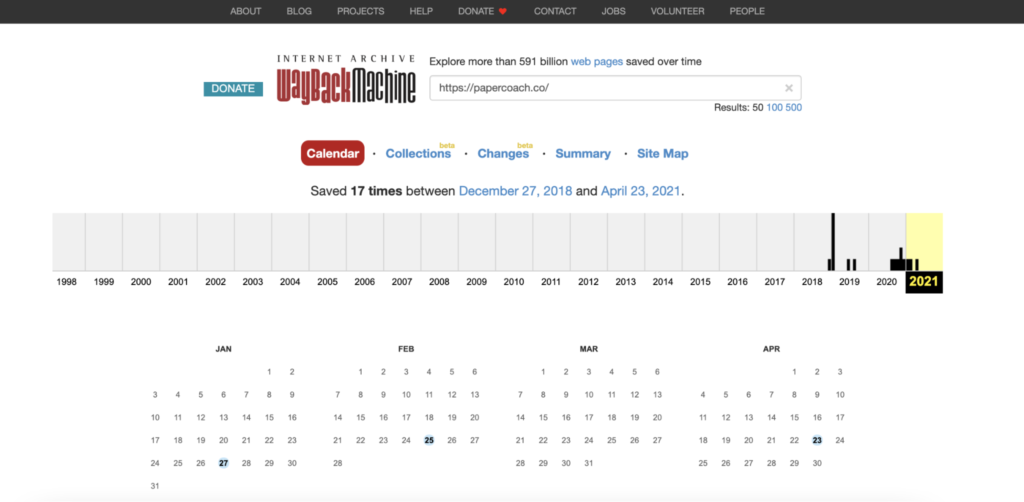 Even though it had a different design at that time, the logo remained the same! Pretty recognizable, isn't it?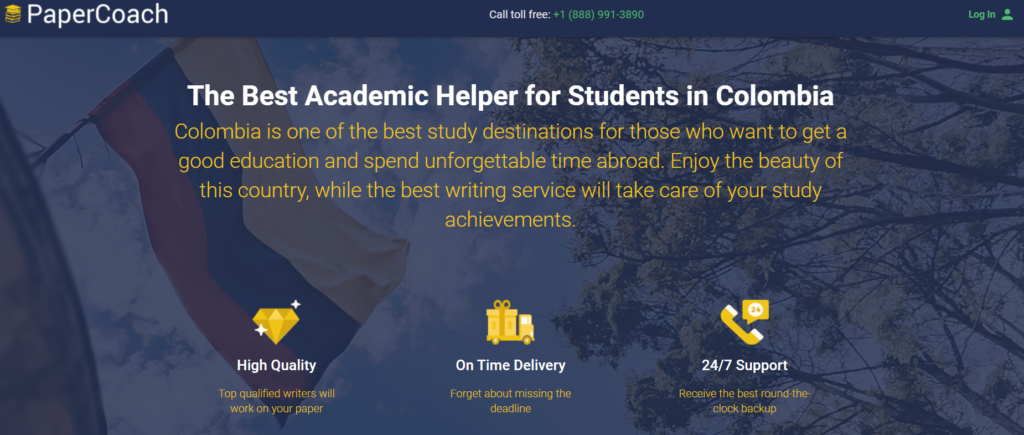 Pros and Cons
Pros:
Are you afraid of entrusting your paper to strangers? I can relate! Paper Coach has detailed Terms&Conditions, Revision Policy, and Money-Back guarantee. Be sure you will get your money back if anything goes wrong.
Also, the process of placing an order is easy peasy. Spend a couple of minutes on filling in a short form and have a rest.
On PaperCoach.co, you can order any type of work – from writing an admission essay to a CV. That is great! Buy everything in one place!
This writing service has truly favorable prices. Order a high-school 2-page essay for $16. If the deadline is tight, you won't go bankrupt!
How to attract students? Give them discounts! Paper Coach has numerous offers for both newcomers and regular customers. Besides, it has a referral program. Invite friends, earn money, and spend them on your essays.
Get acquainted with the writing style of the Paper Coach authors. Check out the samples! It's a pity that there are not as many as I'd like.
The company has a blog with educational articles. Even if you decide to write a paper yourself, you can read its guides and tips for nailing it! How to Distinguish Dissertation Writing Styles? How to Write an Explanatory Essay? How to Write a Research Paper Find the answers to these and other questions on the site!
Well, this writing service knows the importance of social media. I couldn't help but subscribe to the company's Facebook account! Become a follower yourself and receive memes, links to blog articles, and constant special offers regularly.
Cons:
To my regret, there is no information about the company on the site. Although there is the `About Us` page, I did not learn anything new from it. Neither you have the year of the Paper Coach foundation nor its address.
Besides, the customer support team is gross! Managers ignore messages, calls, and emails.
On top of that, there is no feedback on trusted websites, such as Trustpilot or Sitejabber. There is a dark chapter in the Paper Coach history. The company has a twin! Learn more about it later in the review.
Types of Services
Like any other writing service, Paper Coach offers a standard package of students' papers, namely:
Essay (any type);
Dissertation;
Research paper;
Application letter;
Case study;
Book review;
Term paper;
Problem-solving;
Coursework;
Personal statement.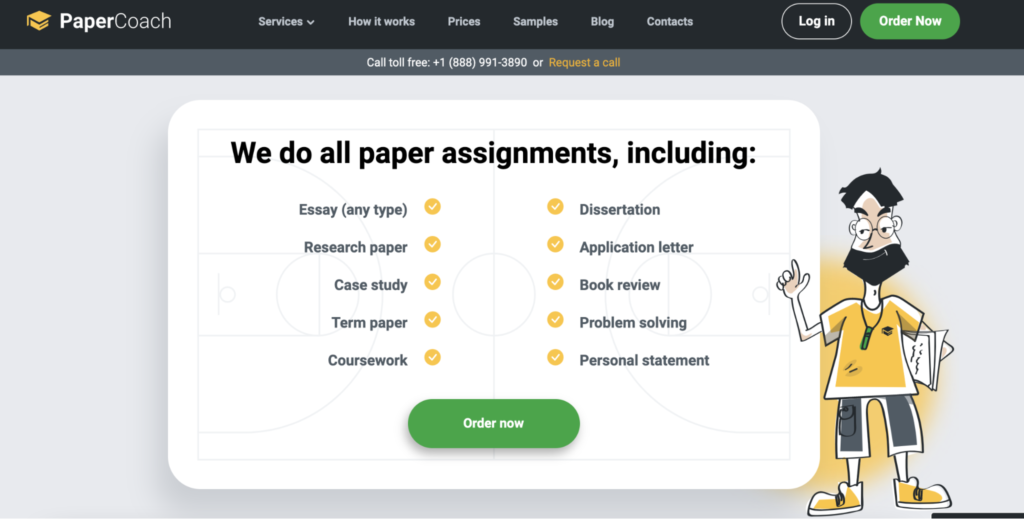 Besides writing from scratch, you can order:
editing/proofreading;
problem-solving;
paraphrasing/rewriting;
multiple-choice questions.
Frankly, I doubt the legal side of rewriting. The company boasts of 100% originality of its papers and zero tolerance for plagiarism. Offering a rewriting service is contrary to its policy. But maybe I'm just being picky.
Price
I am glad to inform you that the Paper Coach prices are very tempting! One page of a high-school essay with a deadline of 2 weeks costs $ 7.99. You will spend about $12 for the same paper by ordering it from competitors. That is one of the lowest prices I have ever seen on the market!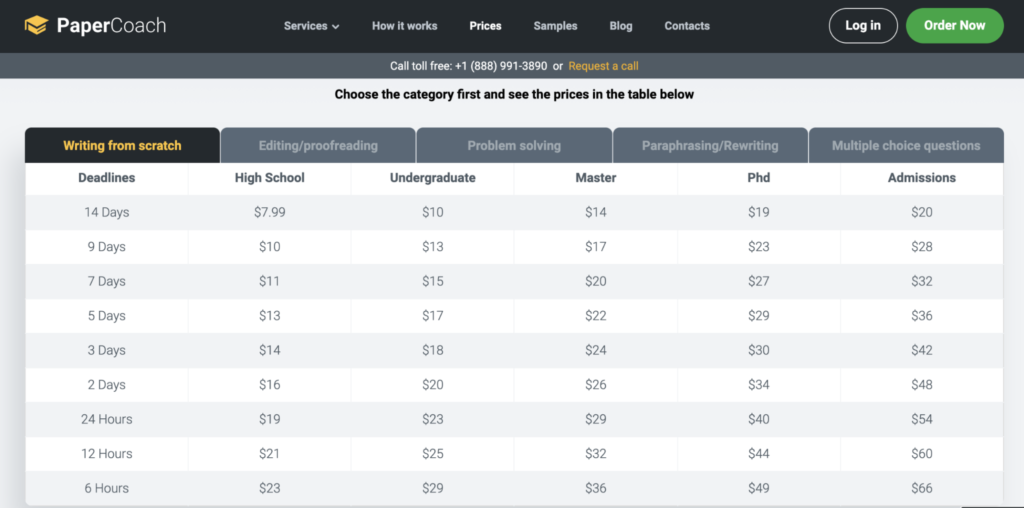 One page of a proofread essay, in turn, will cost you only $5.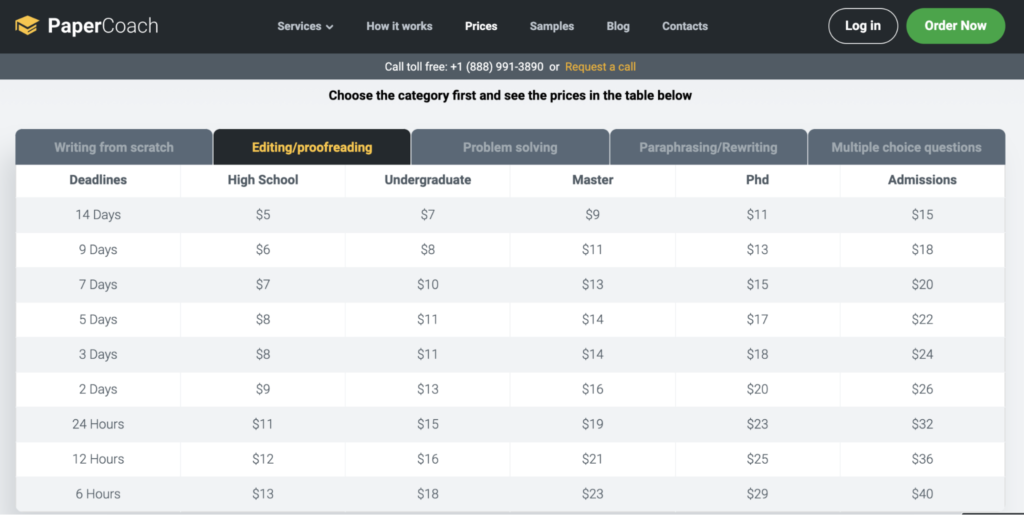 The prices for extra features are moderate. A plagiarism report costs $9,99, a Grammarly report – $2,49. By the way, I appreciated the availability to receive your paper part by part. Pay an additional 10% and monitor the writing process.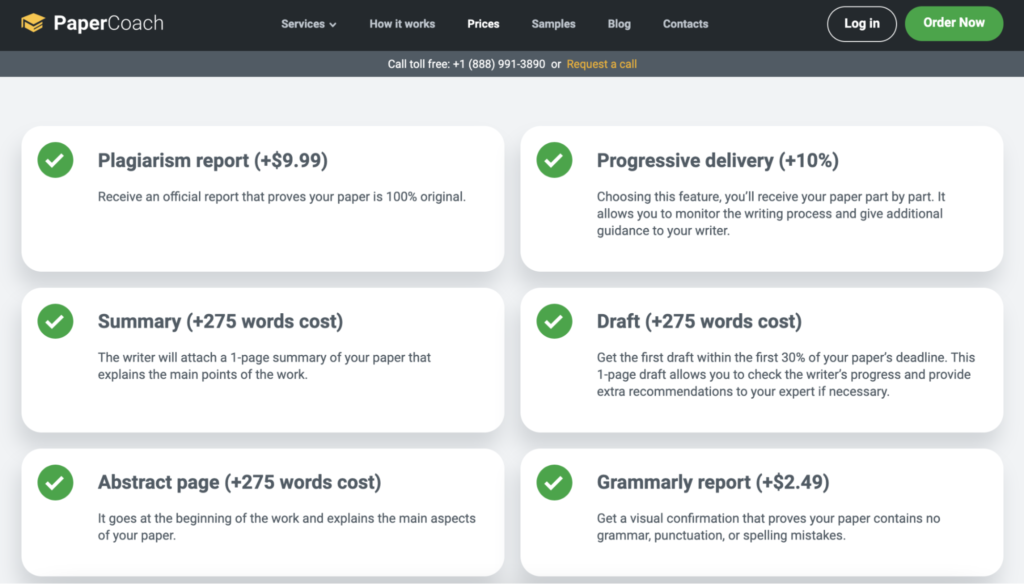 A pleasant surprise awaits the newcomers, namely an 11% discount on the first order. Regular customers can also save money! The Paper Coach managers publish special offers every week! Lastly, they celebrated National Respect Canada Day by giving 10% off all orders.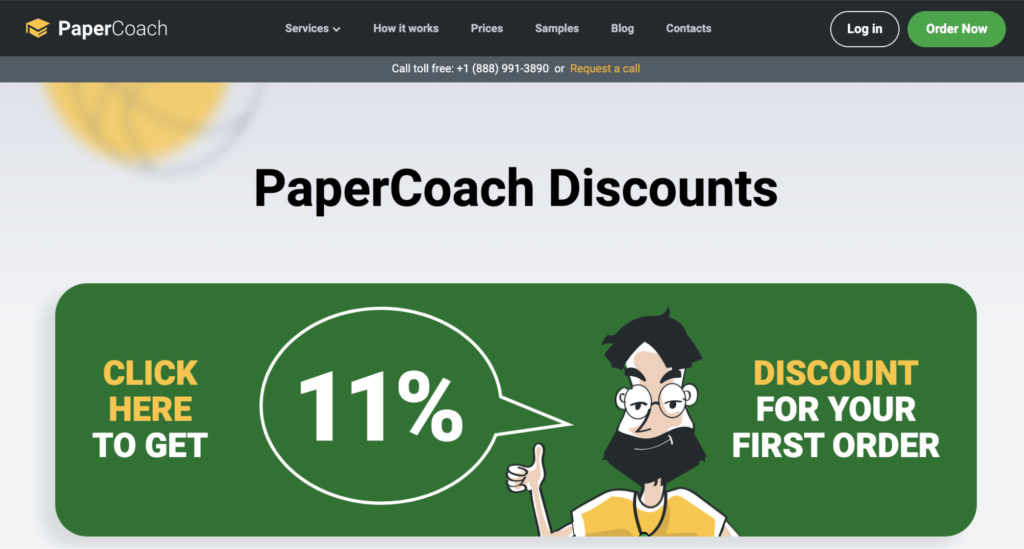 What's more, Paper Coach has a referral program. Invite your friend and get 10% of the order sum to your account balance. Then you can withdraw your money via PayPal.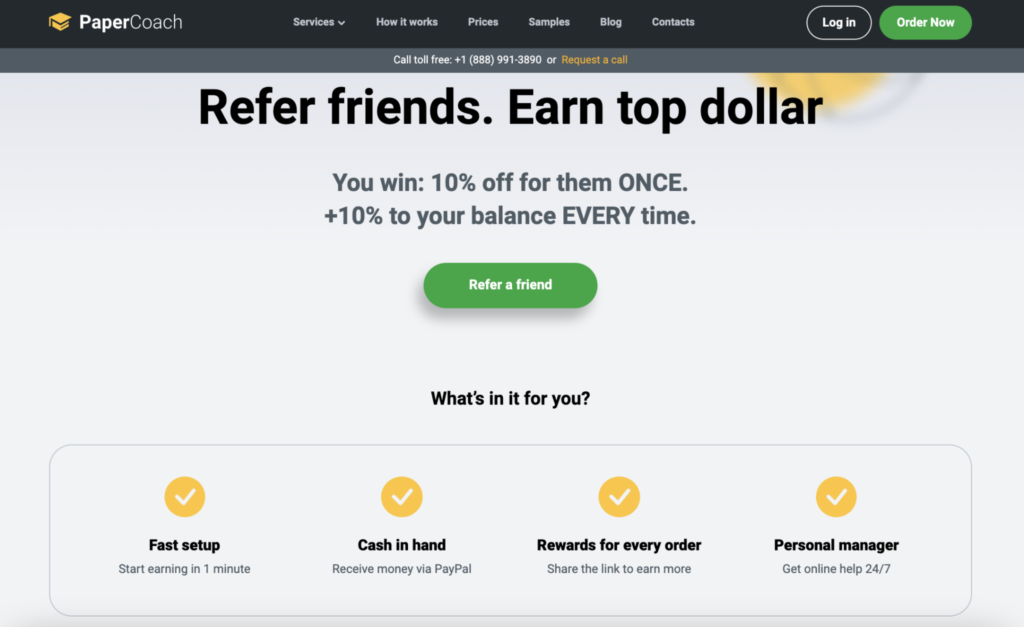 Customer Support
To get in touch with the customer support service, you can use one of the methods:
+1 (888) 991-3890
Besides, you can send a message via Facebook. These guys are very responsive.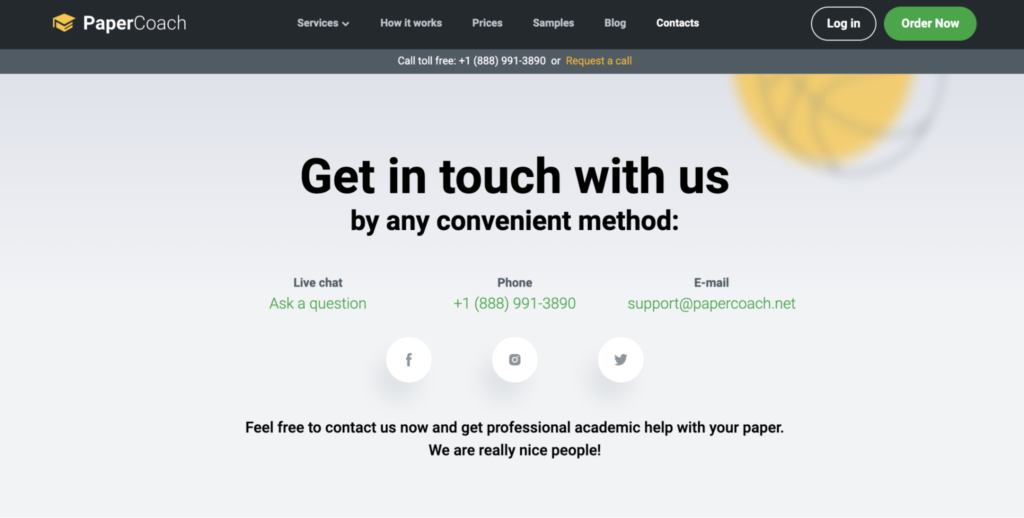 I give an online chat a try. Unfortunately, I was the only one who was interested in the dialogue. Shannon, the support manager, left my question without a reply and closed the chat. What a customer-oriented approach!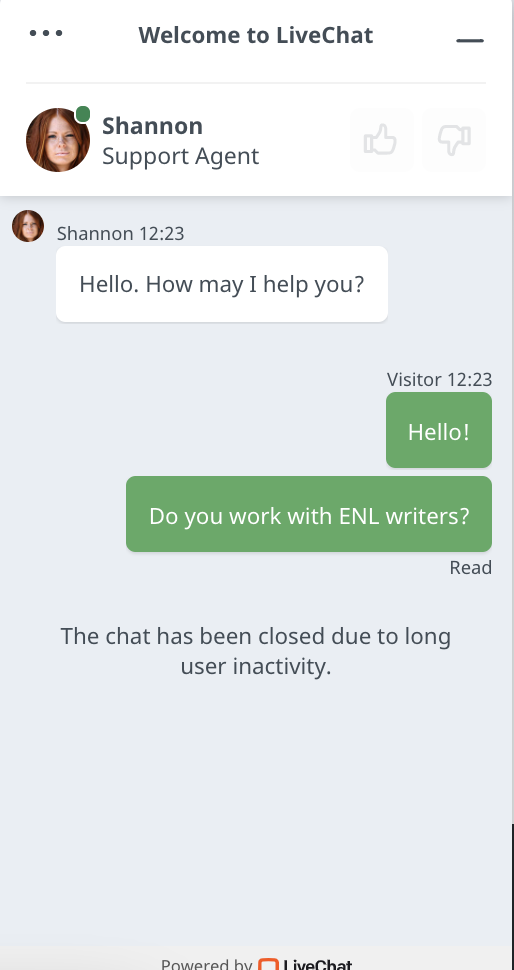 Quality of Service
When I evaluate the quality of a writing service, I pay attention not only to compliance with the English Grammar but also to the work of the site as a whole. What guarantees are provided to me? What should I do if I am not satisfied with the quality of the completed essay? Who should I contact if the author has missed the deadline for my order? I think that I'm not the only one who cares about that. When I started writing reviews, I took on the responsibility. After all, you, my readers, will base your choice on my recommendations. Therefore, I must tell you about all the pros and cons of each of the companies in detail. A high-quality writing service should at least provide guarantees, as well as samples of the authors' work. Besides, customers should have a chance to get acquainted with their qualifications and to ask them questions.
The Paper Coach legal component is flawless.

When was the last time you saw the abuse form? Managers pay great attention to the client. That is manifested not only in the competent interface and company's tone of voice but also in minor details. If suddenly your name got on the site against your will, you can submit a report. Of course, there are several other reasons, but I wanted to give an example of this particular case. Not so long ago, I came across a website that published customer reviews with their names and surnames. If anyone needs to submit such a report, it is these guys!
Paper Coach has a detailed Money-Back policy. All customers have a chance to receive a full or partial refund, depending on the case. Besides, there is a Revision Policy. If there are any mistakes or shortcomings, you can ask for a free revision three times. Keep in mind that you can do that only within seven days after receiving the paper.
Furthermore, there is a Privacy Policy. Customers have a right to request the erasure of their data. If you still have questions regarding your confidentiality, you can contact [email protected].
The site presents five samples of work, namely:
Book review;
Research Paper;
Resume;
Report;
Coursework.
To me, it is unclear why an essay is missing from the list. It seems to me that this is the most popular option among all students! Was it really important to show how well the authors cope with writing book reviews? I believe that you are doing it well, but what about the essay?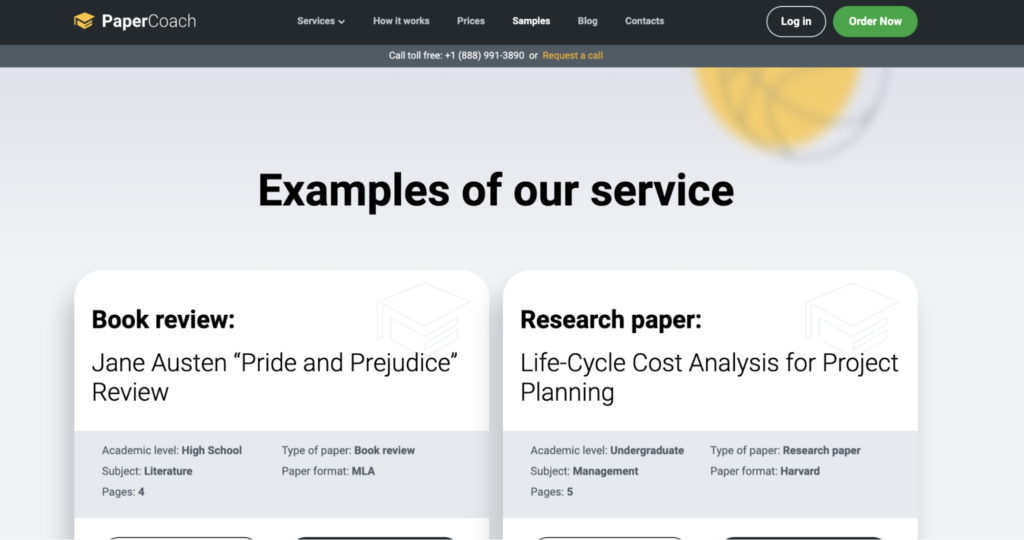 Like most of the writing services, Paper Coach doesn't pay great attention to the pull of writers. Don't get me wrong, but it is necessary to talk about your team! Any writing service must highlight their qualifications, degrees, and achievements. In the case of Paper Coach, I found the list of its top 10 writers. Everyone can see their names, photos, number of completed orders, and success rate. On top of that, you can learn about their strengths from short bios. For example, Ian Whitehead is a kind of term paper and thesis. That is all very well and good, but there is not a single word about the writers' level of English proficiency.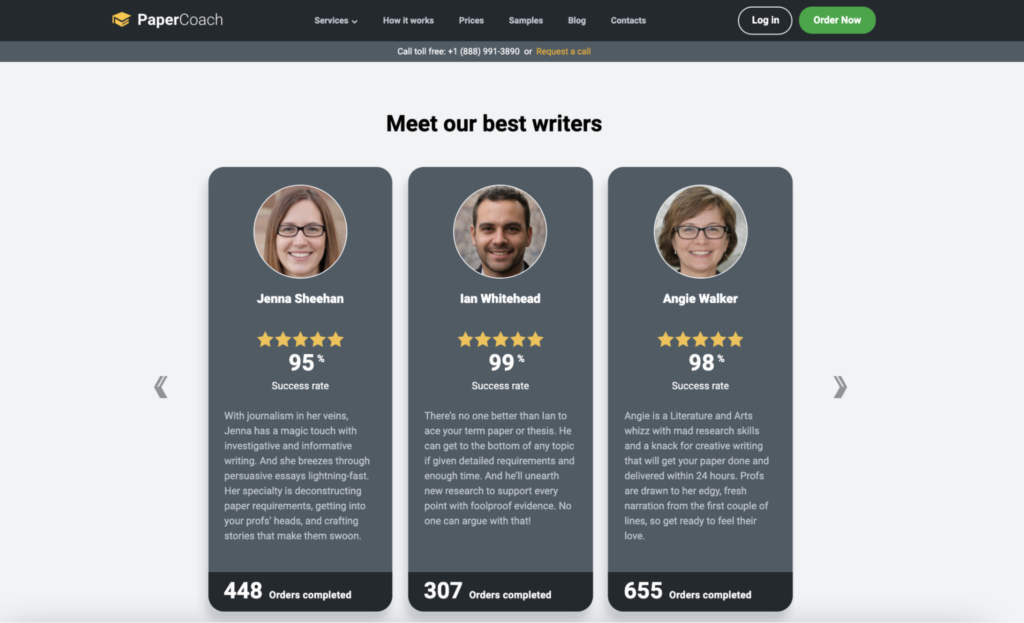 When I studied FAQ, I found out the requirements for the Paper Coach writers. A perfect candidate is the one who has scored at least 80% on the test and has:
a Bachelor, Master or Ph.D. degree;
a GPA of at least 3.0;
a sample of work that scored over 80 on grammarly.com.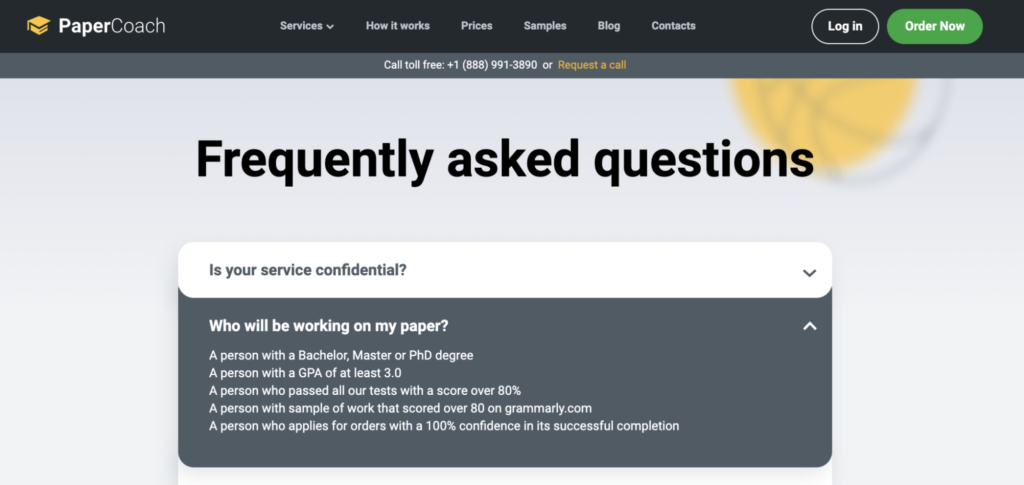 How to Place an Order
First, I'd like to express my gratitude to the web designers. Finally, I can register or log in to my account at the end of the order process! Lately, I have repeatedly faced the need to provide all my data before I specify my essay topic. At Paper Coach, you can place an order within a couple of minutes.
In the first stage, you provide the paper information, namely:
Type of paper;
Subject;
Topic;
Paper details;
Materials;
Paper format.
In the second stage, you have to specify:
Academic level;
Type of work;
Deadline (from 6 hours to 14 days);
Quantity of papers;
Spacing;
The number of slides;
The number of sources.
In the third stage, you can choose the writer's category. And this is where I want to pipe in. Paper Coach charges +45% for a TOP author. Can you believe that? To me, that's too much.
Also, you can choose one or several extra features, such as:
Plagiarism report;
Progressive delivery;
Summary of your paper;
Draft of your paper;
Abstract page;
Grammarly report.
Bibliography, outline, title page, and formatting are free of charge. 
As soon as you complete all of the abovementioned stages, you will proceed to payment. By the way, you can log in with Facebook. However, I do doubt the safety of this action.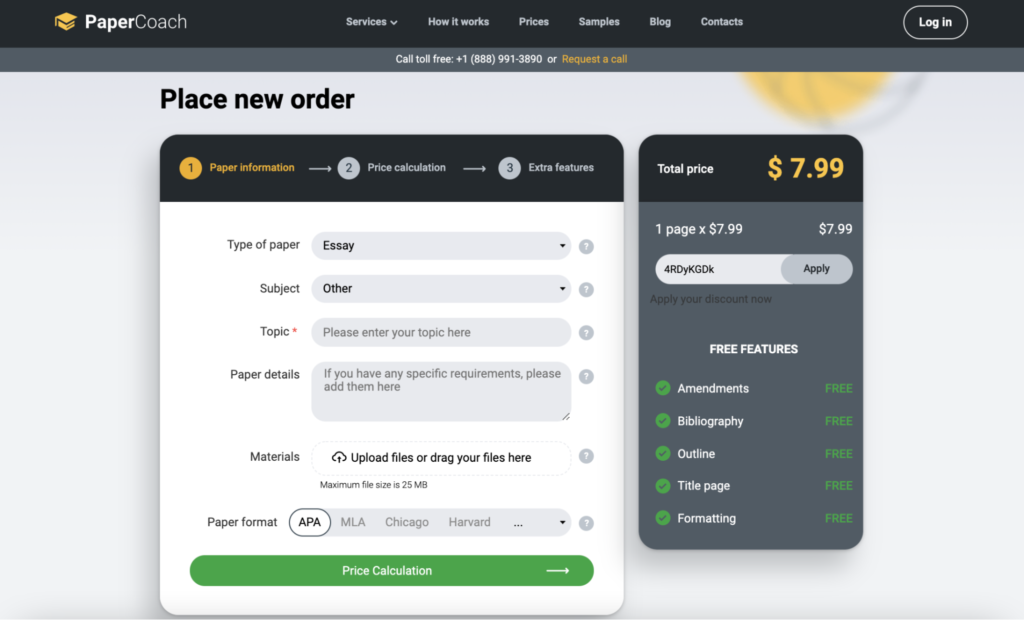 Reviews
You know, I started leaving reviews after every purchase. I'm serious! Whether it's new AirPods or a pack of cornflakes, I try to write a couple of lines about each product. I get stuck in sites like Trustpilot or Sitejabber and study the reviews of other customers. This pastime has one big drawback. Do you know which one? I spend more money! Sometimes people write such enthusiastic comments about the products they have purchased that I add the same one to my basket and pay for it. Thus, I now have a robot vacuum cleaner, an automatic dish dryer, and slippers! However, I wandered from the point. When I need to write a review for a writing service, I come to my beloved sites. Often you can find a lot of interesting things there. Although students write quite emotional reviews, you can conclude about one or another company at once. What conclusion will you come to if you see such a review: `Cheaters, swindlers, thieves! I placed an order, transferred money, and got a donut hole in return`? I think that you will at least suspect something is wrong.
But do not rush to conclude! Sometimes armies of bots or bribed users come to the services. They all leave negative feedback to spoil the site's rating. I urge you to approach reading reviews with all seriousness. Be sure to pay attention to the dates when the reviews were written, the details indicated in them, as well as the names of the senders. For example, if ten negative reviews were written within two days, it's definitely a sign of cheating. Speaking of Paper Coach, there are no reviews at all. I checked both of my favorite sites but in vain. That is strange, as the main page states the company has 4.9/5 stars on Sitejabber.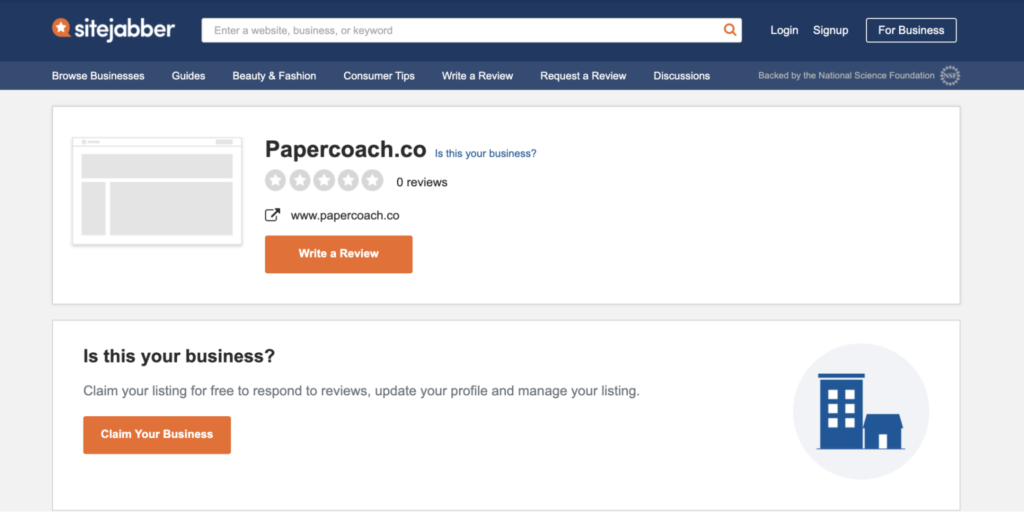 I decided to shed light on this story. Paper Coach loads reviews from third-party sites on its own. So, you can click on any of them, and you will be redirected to the source. It turned out that all the published reviews refer to PaperCoach.net instead of PaperCoach.co.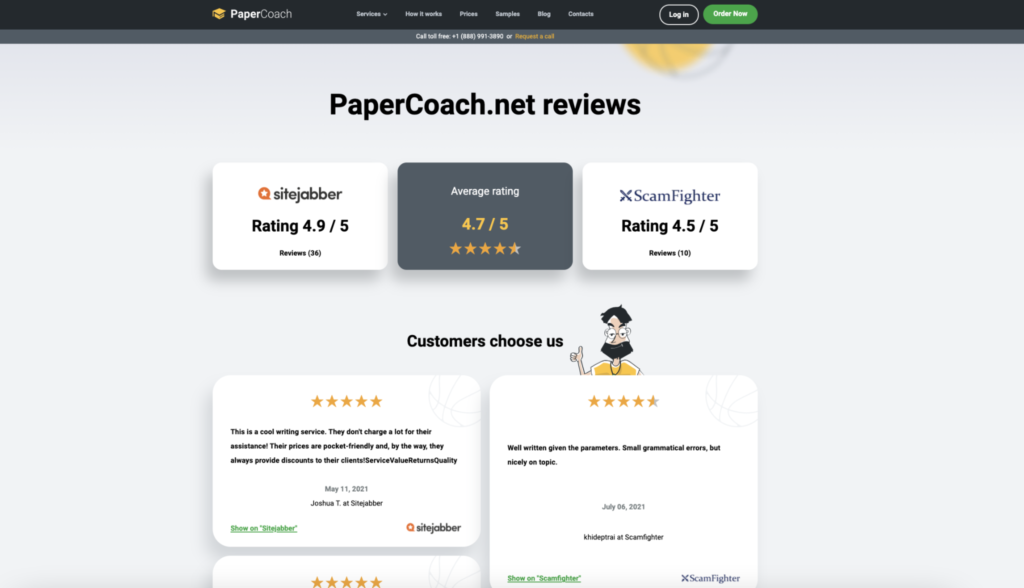 By the way, this writing service has the same design, contacts, and so on. Well, I have already heard that sometimes writing services use several domains. I wasn't ready to face it myself.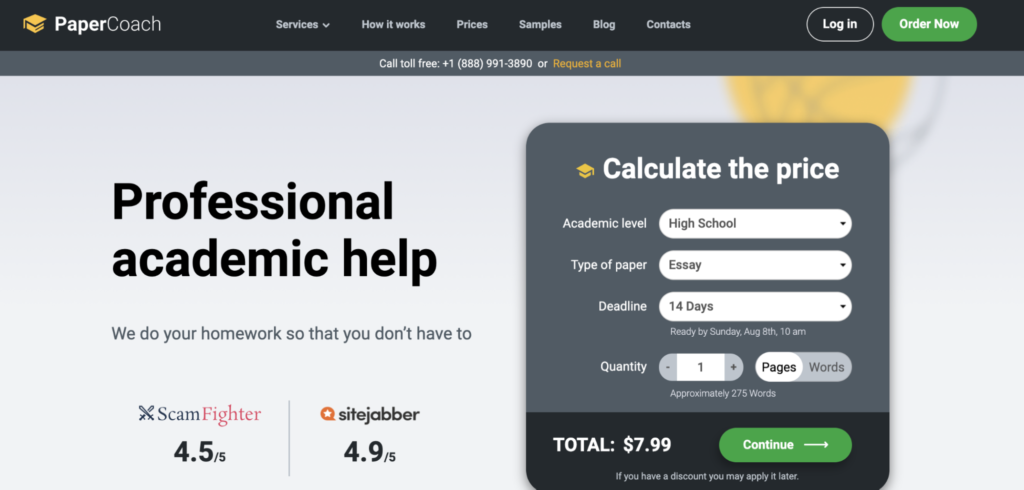 On the Paper Coach Instagram account, I found posts with positive feedback from satisfied customers. Frankly, I was hoping to find traces of holy wars instead!
Social Media
If you are going to order an essay from a writer's service, be sure to check out their social networks. I bet you know that devil is in the details. It is not enough for a writing service to have accounts in social networks. They must maintain them properly – publish posts, communicate with subscribers, analyze trends. You will be surprised, but Paper Coach does good in this regard. Only its Facebook account has more than 1,000 subscribers!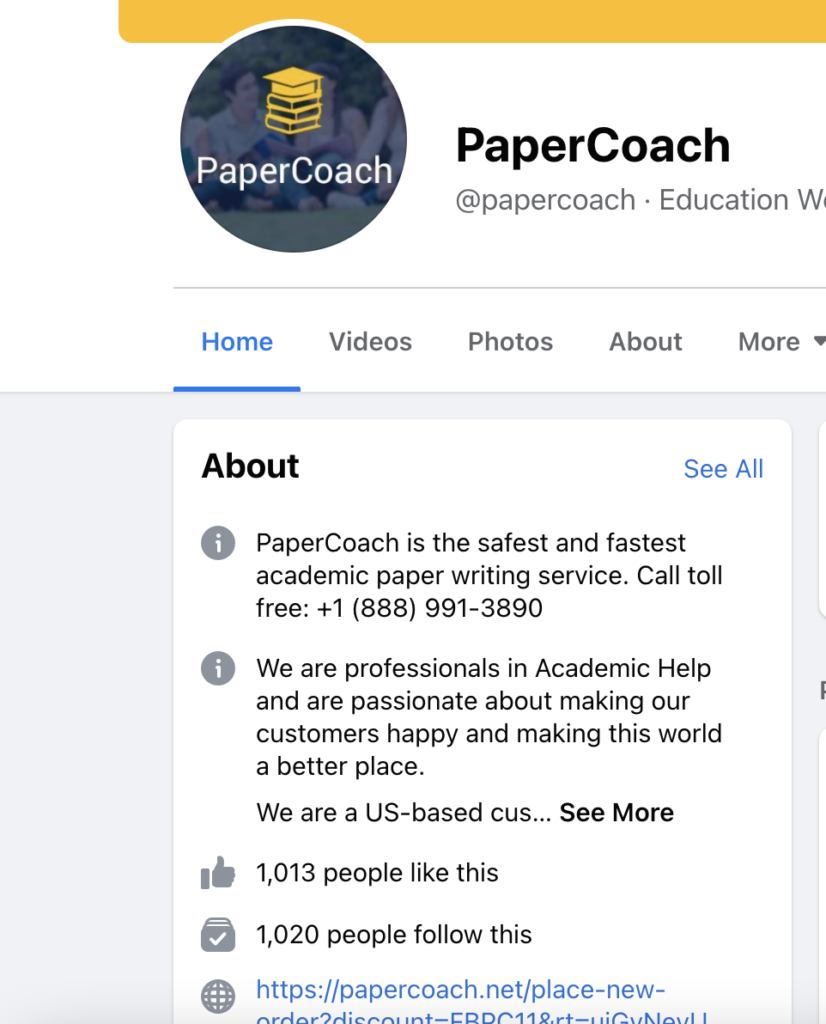 Users leave comments frequently, which already says a lot. It's worth noting that posts on Twitter also garner likes and reposts. Ace! 
Verdict
`We do your homework so that you don't have to`, says the Paper Coach main page. This writing service offers writing student papers from scratch, editing, and proofreading. If you are limited in funds, then Paper Coach is your solution! The company does everything to stand out among competitors in the market. That is why one of its strengths is low prices along with numerous discounts and special offers. Thanks to the referral program, you can even earn money. Get 10% of the order to your account and decide for yourself how to spend them.
The site is a good choice for not only those who want to entrust their essay to experts but also ordinary students. With the help of the Paper Coach blog, you can write a high-quality essay for admission or choose a topic for research work. Subscribe to the company's social media accounts and receive special offers daily.
However, it's not as colorful as it looks. There is neither information about the company's history nor the reviews. Furthermore, the customer support team is a disaster. Paper Coach will not take a place among the leaders in the top of the best writing services, but it still deserves a chance.
This blog contains the author's views and reflections on topics about which he chooses to write. The author reserves the right to express his subjective opinion and is not responsible for the quality of services provided by the overviewed sites.