Overview
PaperHelp.org is a professional custom writing service that offers paper writing services (sorry, if I sound like Captain Obvious!) – from essay to admission help and CVs! It is one of the many similar websites on the web, but there's definitely none with such a cosmic design. Literary cosmic, and I loved it from the first moment. "Their service might be of a high quality!", I thought.
Later, upon preparing this review I wondered how old the website was, so I turned to web.archive.org tool to check it.

Looks like PaperHelp was first seen there in 2001 but started off in 2008 (copyright on the website confirms it).

My jaw dropped! The design has been greatly upgraded since then. Here's how modestly it looked in 2013: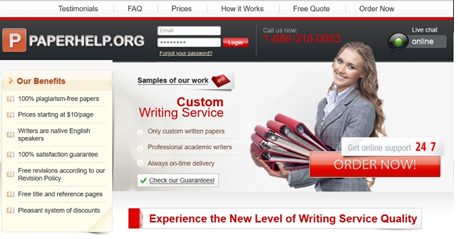 Now it has a brand new look. Their marketing strategies seem to be very client-oriented, as the website has become so user-friendly and convenient in use. Calculating the price at the front page is a nice job!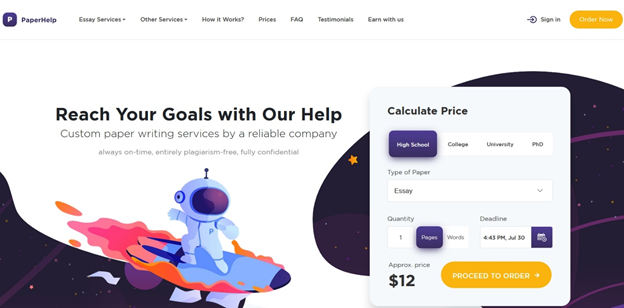 Thus, I hoped their Customer Support and writers to be friendly as well. Their main "Reach Your Goals with Our Help" message tells me a lot: should I place an order here, I can relax and expect that their professionals will take care of it while I'm busy with other important affairs in my life. After my first order, I made sure I was right!
They are up to date! The website offers using mobile applications! Well, Android users are luckier than Apple lovers like me. PaperHelp iOS app doesn't work at the moment but I hope they are about to relaunch it.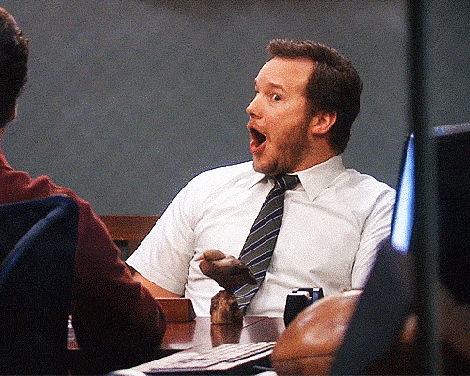 As for the pricing, it seemed a bit confusing to me. The ''Calculate price'' section shows $12 as a starting price, but when I headed to the Prices page (it includes a table with prices), there was a lower starting price – only $10. There was no mistake, though. It took me some time to find out that the price here and there has been set up for different academic levels and deadlines. Despite this tricky thing, the pricing table is clear and comprehensible. It shows prices for both all the types of works and deadlines.
At first, I didn't figure out what was meant by approximate price on the front page. Does it mean that I should pay any extra later? And why the price can go up? Again, upon scrolling down the Prices page I saw that they offer different writer's categories and some helpful extras (A-star services) to be added to my order if I want to. They cost additionally. That's the thing.
The name PaperHelp speaks for itself, they provide papers of all types and services for all cases students may have. Their strong side is writing from scratch, but they also do editing/proofreading, give admission help, create presentations, and… even competitive resumes!
Story
I've heard about the site for a little while now. And recently, one of the guys reached out to me and asked for an opinion about PaperHelp, as he was intended to use them for his dissertation, so I decided to do a full review and check out how good they and if it worth using their services.
Pros and cons in details
Pros:
As I've already mentioned – the website is so beautifully designed. Have no doubts they attracted many new customers since the last upgrade. It is a nice place to stay.
Apart from a good picture, it has very convenient usability. You can calculate approximate price once you get to the website, see what is offered and what problems you can solve here.
Friendly support agents – 24/7 online
Support is very important for me. Their 24/7 working regime becomes even more crucial when it comes to the assignments I've procrastinated or totally forgotten about. If I come up with an urgent unfinished assignment, they can easily process the order after midnight. At PaperHelp managers are very kind, attentive. I used chat to get all my questions answered. Also, they called me several times.
Quality papers (good English)
When I say "quality paper", I mean "good grammar, no typos, no plagiarized parts, and a proper structure". I got my first, and every next paper written up to these criteria. Plus, I could hire the same writer again to have all works done in the same manner – add any writer to favorites and find in seconds.
Foreign students can choose "Simple English" extra for free, so that the paper will live up to the simple level of language. They work with writers from different English speaking countries (USA, UK, Canada, Australia).
In my world, adhering to deadlines is a must. Glad to know we have the same values with PaperHelp. 11 out 15 order I placed here were delivered even before the deadline initially set by me. I had time to check them and send for revision (I asked for it only 2 times). Time-management is their strong side!
Cons:
Not all Support Agents are native speakers
Strange as it may seem, not all managers are native English speakers. From the other hand, they are more likely to be foreign students who partially work and earn.
I'm app-addicted, so using PaperHelp on the go would be a nice plus. Getting notifications without logging in my personal space on the website is just a practical thing of the 21st century. To my regret, their app for Apple doesn't work!
Types of Services
Mentioned on their Prices page are 3 main types of the services they offer. They are:
Writing from scratch
Editing/proofreading
Admission help
These are just general names. When I studied an order form, the drop-down showed me a more specific long list of the assignments (and subjects) they can do:
Essay
Research paper
Course work
Questions & Answer
Case study
Annotated bibliography
Argumentative essay
Article
Article review
Biography
Book review
Dissertation
Speech
Term paper
etc.

Customer Reviews
Yes, I would never tried any service without learning what other customers think of it. So, I asked Google to show me "paperhelp reviews".
Several pages with various review platforms are saying different things – from "I hate your service, all your friends, and your dog, too" to "Oh, my Gosh, I love you to the moon and back!". Just kidding, but in sum, it sounds like that.
Complaints and likes are about the same things as a whole – delivery, quality, writers… There are those who are totally satisfied with how the service provides it all. At the same time, there are those who are completely not.
Just take a look.
These are positive feedback from Trustpilot.com and Sitejabber.com: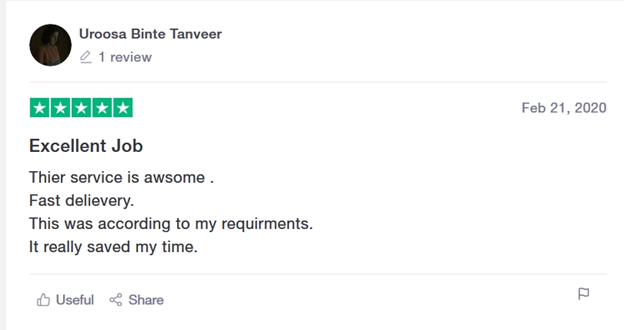 I want to say that you cannot rely on each feedback as a telling-the-truth-thing. First, opinion is usually a very subjective thing you can never check (unless you try the service). Second, reviews may be fake. As far as I see, the academic writing sphere is a highly competitive one, so there are lots of ''well-wishers'' to spoil other's reputations online.
To sum up, I would say that relying on several comments saying about negative experience doesn't mean the website is bad indeed. In most cases, all those CAPSLOCK-style feedbacks are just an emotional strain people tend to drain off!
In general, PaperHelp is assessed well both on Sitejabber (4.0 stars) and Trustpilot (4.3 stars), which are the most trusted review platforms among customers.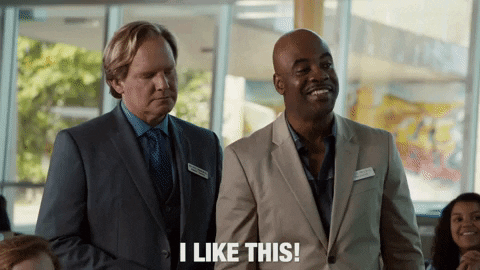 Plus!
What I loved about PaperHelp is that they never ignore reviews and complaints. They reply to EACH negative feedback, and some positive too. Online reputation communication is definitely their strong side!
And yes, they do give refunds as promised in their Money Back Guarantee policy. Take a look:

Prices
The price table is clear. You choose type of service on the top, deadline and academic level below, and see the price per page. Also, you can see the price in different currencies. However, it must be taken into account that the prices are specified without the VAT, which can be added to the price at the checkout (depending on the country you are in).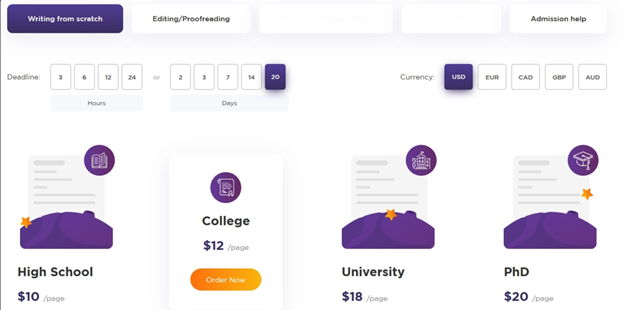 Since I'm in college, their College academic level is just perfect for me with the price of $12 for 20-days deadline. But the thing is that sometimes I need more urgent delivery – within 1 week, which is not offered here. 6 days would be a perfect option. So, I have to order 3 days sometimes and it costs significantly more.
P.S. If you cannot get an idea what level to choose, better chat with the manager at once. Otherwise, you may be asked to pay additionally if your level is higher indeed and the work is much more complicated for the writer than you think it is.
Quality
The website guarantees the following:
Plagiarism-free papers
On-time delivery
Total security
3 free revisions
Money back
24/7 online support
Short deadlines starting at just 3 hours
Native English-speaking writers with degrees
What's important. The website does not guarantee any mark or approximate grade you can get. They have a disclaimer saying that you can use the paper only as a sample and example to build your own work. They have a separate policy about it – Fair Use Policy.
Also, I must admit that Terms and Conditions make the website look legit. Each policy has its statements for a customer to rely upon. This way, as a customer I can get 3 types of refund according to the Money Back Guarantee policy or 3 free revisions as stated in their Revision policy. That's so cool!
But here's one thing I couldn't ignore – their VIP customer Support as one of the helpful services I can add to my order and upgrade my experience.

To tell the truth, I expect that they have such a number of managers that could cover the number of orders they get to be processed. Sure thing, they can have a lot more orders in high seasons. But I would want my order to be processed fast, no matter if I buy a VIP package or not. Wouldn't want to pay more for the things I should get by default.
In general, the website is a quality one for me. Why? It is easy to answer: they delivered all my 15 orders on time, I had no complaint about grammar or typos, plus they do format papers according to the citation styles specified in my requirements (usually MLA and APA), and write even more words per page.
What I see is that other customers share my opinion. Here's one of the feedback from their website, and I totally agree with it: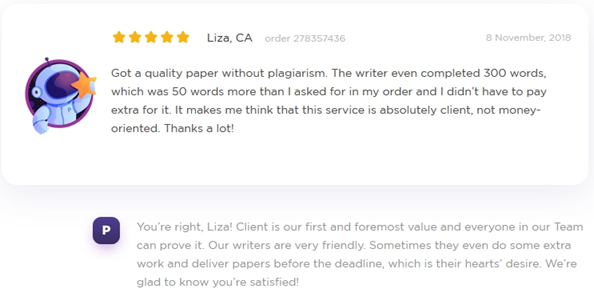 Customer Support
As I've said earlier, not all of their Support Agents are native English speakers. It is not the reason why I would quit ordering from here. But at some point, it is a bit strange practice. Support are the people who contact customers and are the first to introduce the service to the customers (apart from the website). Yes, they understand English well, they talk well, and they help well too. I understand that they do not write papers, but others may think that the writes are not native speakers as well.
The good thing about managers is that they are friendly and are available 24/7, you can get them:
on the phone – 1-888-318-0063 (US)
via online chat on the website or in your personal area (after you log in)
through messages in your personal area as well
at email (address depends on the purpose of your message, whether it is a question or a complaint).
Also, they have fun pages in social media showing that they are on the same page with students: Instagram, Facebook, Twitter, and LinkedIn.
The location of the company remains unclear to me though. On the website, they specify their location in the United States, while having a registered company in Cyprus.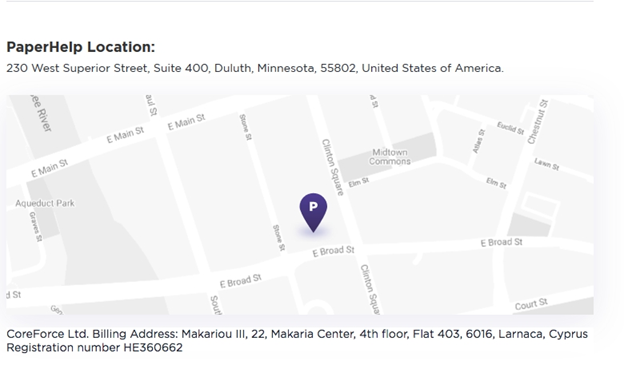 Daryl (manager) says they're located in London. She replied to me literary in seconds via chat on the website. Loved it, as I hate waiting for too long…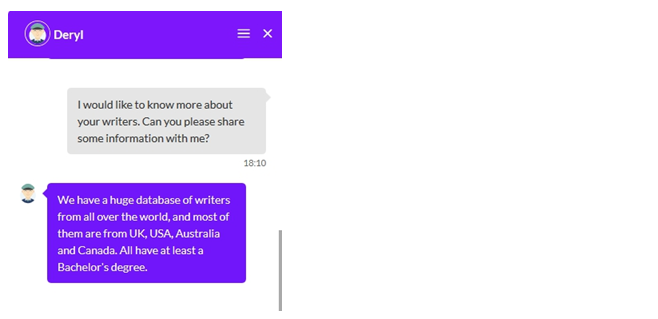 From the other hand. Does it really matter what their location is when I'm satisfied with the quality of the service? Neither me, nor a friend who recommended this website to me had troubles with it, be it payment or delivery. I think that they have two offices though: one with Support Agents and another one with financial, marketing, and other departments.
Payment Methods
PaperHelp offers 2 main payment methods. You can pay either with your card (Visa, MasterCard, Discover and JCB), or using another way of payment, which redirects you to the option of PayPal.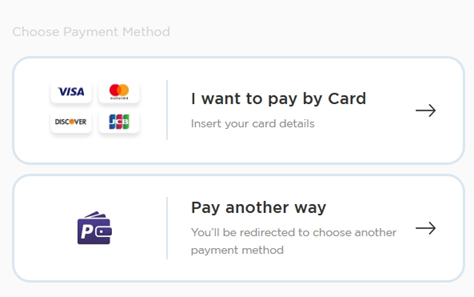 Guarantees
The guarantees the website offers are similar to those offered at other websites. Still, promising is a so fragile thing that needs proofs. As I got them while placing orders here for up to 15 times, I can state that they confirm the words they say:
Personal approach
Security
3-hour deadline
Refunds
Bonuses
No plagiarism
Writers with degrees

Their policies confirm some guarantees. For example, read about FREE revisions in the Revision policy as follows:

How to make an order
You can easily calculate the price on the front page. From there you will be redirected to the order page, where you can use 2 forms: Quick and Extended one.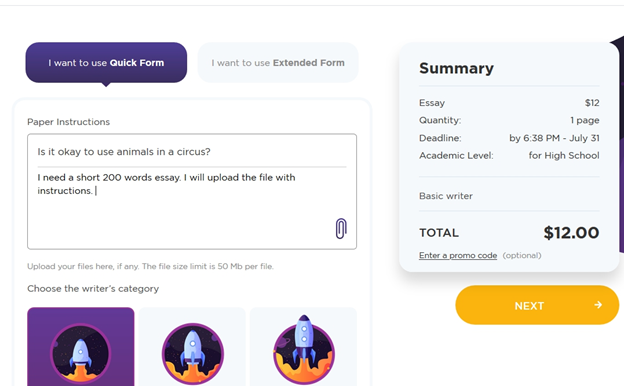 Both are so easy to use. You can choose additional options in each, choose the level of the writer, add helpful extras like Plagiarism report, Abstract page, etc. I used the quicker form, as I had instructions in Word document. So, I could easily upload them for the writer. However, the more details you provide, the clearer the assignment will be for the writer.
Loyalty Program
Not bad. I received their promotional code the other day and decided to use it for my summer course assignment. As you can see – I save 10% with the discount from their email campaign plus get over $3 to go with my next order (under their Loyalty program). Yes, it's not much but the price I paid is not too high either. But I didn't manage to come across any official information about the amount of bonus I get and based on what. My friend said that they had another loyalty conditions earlier and now they are having a temporary version of the program. Hope that soon there will be something to be excited about.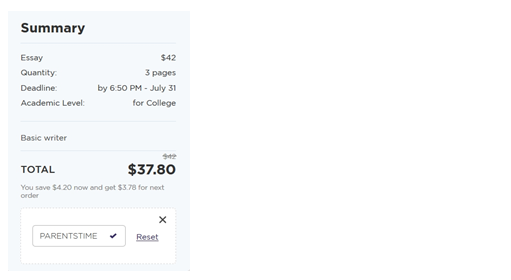 Also, cannot ignore this – referral program! As I've already said, I was invited by the personal referral link my friend shared with me. It is quite attracting – you save 10% on your first order, your friend gets 10% commission back.
And they offer another way to earn – become a reseller. I did not try it yet as I do not have so many friends to make a business offering "papers on sale'', but it is a nice idea for a start up as a part-time job for a student. Need to think it over!
Verdict
To sum up, I would highlight the following: the website looks soooo cool, and the usability is no less convenient. Also, I find it legit. The prices are medium. $10 per page – not cheap when choosing shorter deadline but the price is affordable for me.
I find it trustworthy because of my friend's one-year experience of ordering here. Now, I have my own experience too – a positive one! Although there are some things to be worked on, like "more information about the loyalty program to be placed on the website" or making Support native, I recommend using it. They have a big plus – they uphold their promises (despite paperhelp org reviews posted on the web)!
This blog contains the author's views and reflections on topics about which he chooses to write. The author reserves the right to express his subjective opinion and is not responsible for the quality of services provided by the overviewed sites.