PapersOwl.com Overview
The company was founded in 2012, after which it grew exponentially all over the world. Specializing in academic and research writing, the company has served thousands of students across the globe. Below is a screenshot taken from internet archives showing the first time the website was crawled on the internet.
Upon opening the site, I'm impressed by the professional look and layout the company has. Take a look at it.
Unlike many writing agencies, PapersOwl allows you to meet your writer even before you make an order. This looks friendly to me, and if I were looking for a professional site to seek writing services, the first thing I would look for would be the transparency of the company. The only identity that needs to stay anonymous in a writing agency is the clients. Look at the choice of their colors. Aren't they amazing? Well, I guess I'm just a lover of dull colors.
On the flip side, the company does not have a mobile application to allow mobile users to use their services easily. Considering the increasing number of mobile phone users, incorporating a mobile app would make it easier for clients to access their services.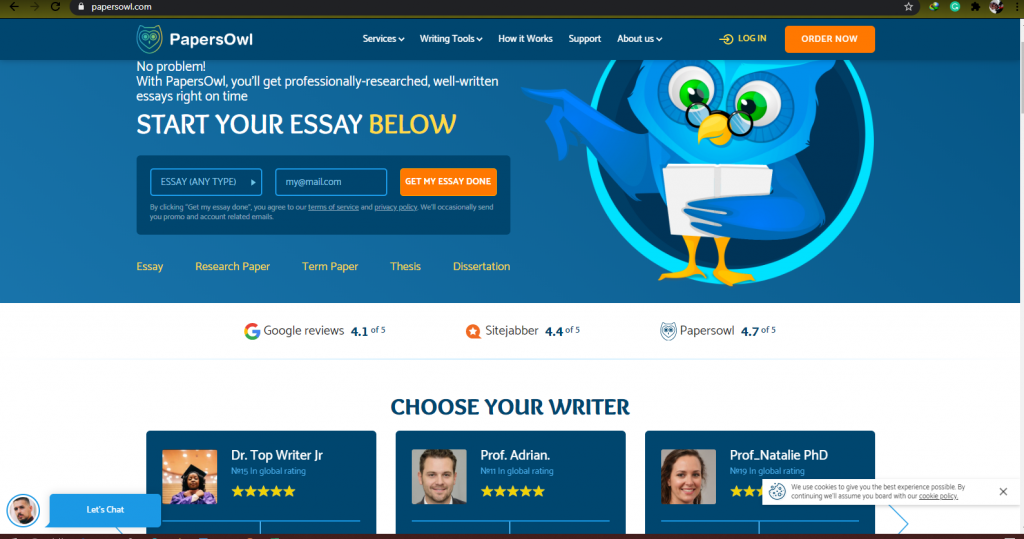 The main specialization of the company is academic writing dealing with all forms of writing, including but not limited to, the following:
Essay writing
Research Paper writing
Case study writing
Dissertation writing
Thesis writing
Editing and Proofreading
These are the primary areas the company specializes in. The company's strength lies in levels of higher learning- College and dissertation. However, it also offers services to highschool students.
Something else unusual about the company is that it has neither a price table nor a price calculator. This trait is quite unconventional as one may not be able to tell how much it would cost them if they were torn between the company and one of its competitors. For a stranger, they would opt to use a company's services depending on how cheap they are. In PapersOwl, in order to get a quotation, you are required to fill a form with your email.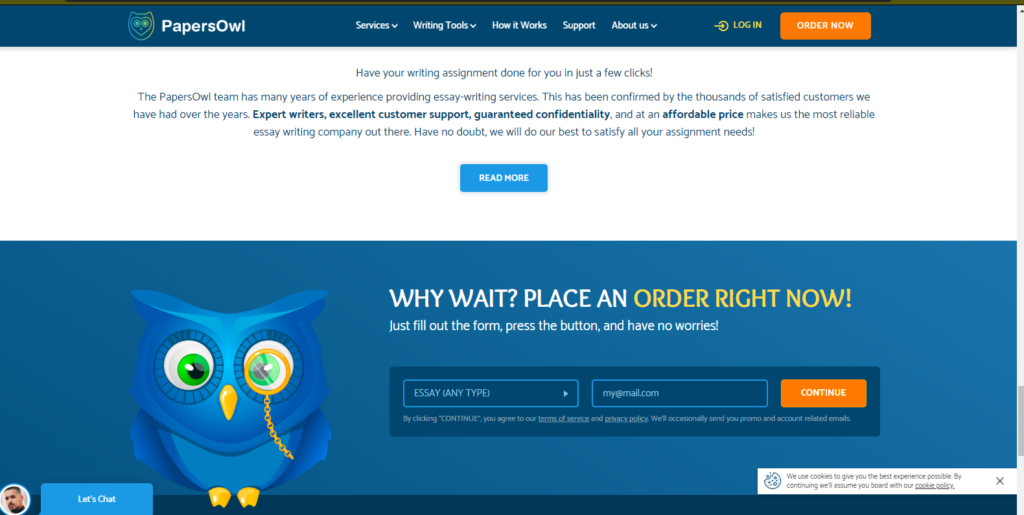 However, from the reviews from past clients, it is evident that charges acreage rates for the work done.
PapersOwl is widely known for the unique and original papers they produce. Its dedication to promoting and providing quality service has landed it the good books of many students. The key reason for the unmatched quality is their expert writers. PapersOwl is known to employ only top qualified writers with degrees and distinctions as well as well versed in the subject of specialization. As you can see in the second screenshot, their writers are highly educated.
Story
If it's not your first time on this site, then I bet you know me well, and if not, at least you know I am 0% tolerant of writing scams. I have been a scam reviewer for more than five years, and in my experience in reviewing sites, I have unveiled a lot of scam agencies posing as professionals helping students, whereas they are just cons. A lot of my subscribers have benefited from the reviews I write. Many have urged me to do a PapersOwl review, and due to unavoidable circumstances, I was not able to. However, with the accumulation of pressure and demand, I had to do this review to understand why so many people are into this company.
Pros and Cons
Pros
1. Quick turnaround.
From the customer reviews I have read so far, the company seems to have emphasized the timely delivery of all orders. The company promises a quick turnaround of work on their site. However, any company could guarantee that but not deliver. How they implement their promises can only be seen from the customer feedback.
2. Above-average quality papers.
It is obvious enough that only qualified and expert writers can script excellent essays. PapersOwl has a reputation for its professional writers. The quality of their work cannot go unnoticed, especially in customer reviews.
3. User-friendly interface.
The company has a simple front end that allows its users to hover through with minimum difficulties.
4. Affordable rates.
PapersOwl is not one of the cheapest essay writing agencies, but it certainly is affordable. Most of the clients that have used their services can attest to that readily.
5. Wide range of services.
PapersOwl offers a variety of services that regard writing. Therefore, the company can handle almost all the academic needs of a student.
Cons
1. The company doesn't have a pricing scheme.
How would it feel like going to a store to shop and come across a shelf without price tags? You would be disappointed, right? That is how the majority of people visiting the site feel because the company does not have a pricing table. To get your quotation, you will be required to fill a form with your email. For me, that sucks!
Types of Services
PapersOwl provides its services to high school, college, and university students online, writing all types of papers. The company's core services are:
Essay writing
Research Paper writing
Case study writing
Dissertation writing
Thesis writing
Editing and Proofreading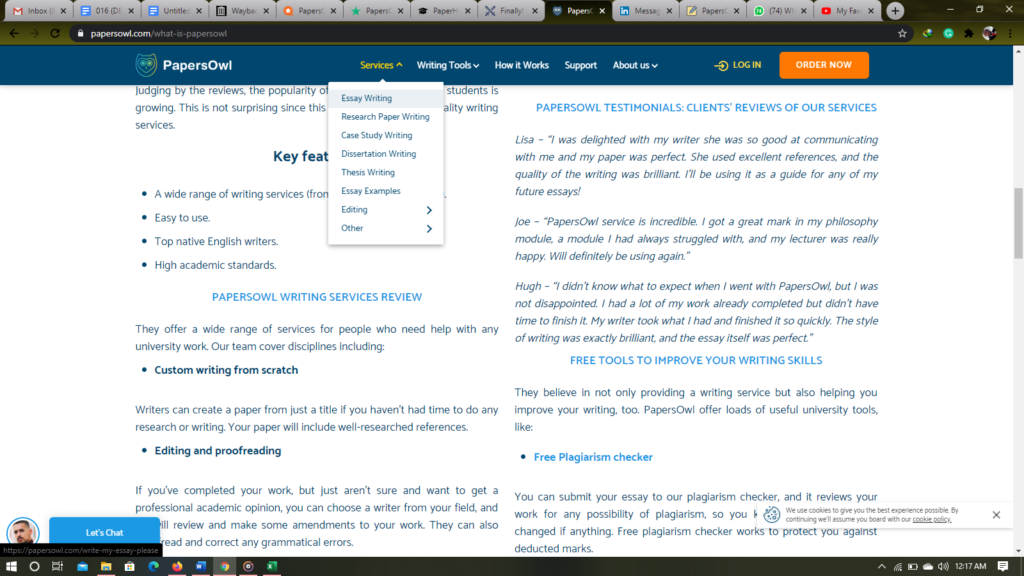 To fulfill the promise for unique and original papers, the company offers a plagiarism report should one request for it. How do you find that? That is fantastic, right?
Customer Reviews
Whenever I am doing any review, I always conduct thorough research on the details and facts of the company, taking a keen interest in both good and bad. I get into the details of the customer experience while using a particular service, not leaving any stones unturned. I try my best to find a negative review as much as I do for positive reviews.
For PapersOwl, most of the customer feedback was positive and satisfactory. Only a few were complaining about the incompetence of the customer service staff. However, from the reviews I found, PapersOwl really cares about its reputation. Even after a client has reviewed them negatively, the company checks on them to understand what the problem was and how they can help.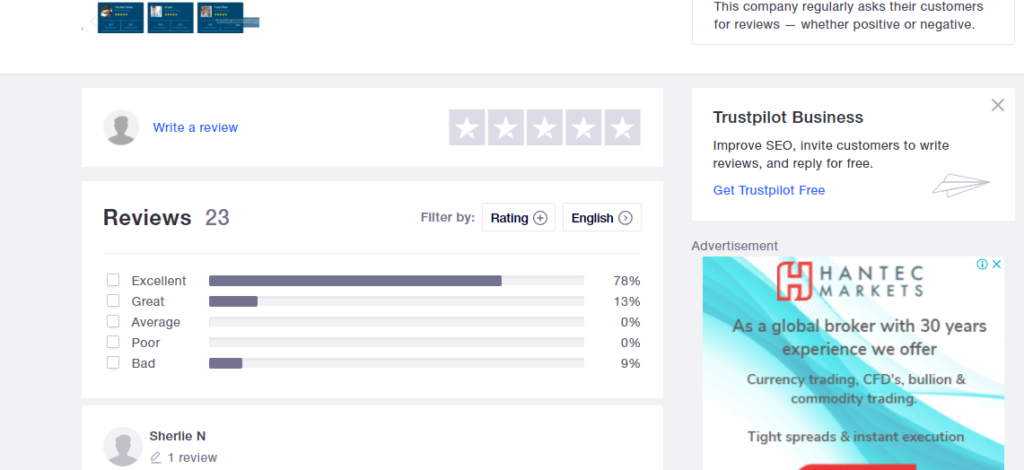 As it is my tradition, I went searching for both good and bad reviews. The above are just but a few reviews from Trustpilot. The majority of the customers seemed satisfied with the services the company offers. Let's take a look at a different review platform.
In Sitejabber, I could find only very few negative reviews with the positive ones taking the lead. Isn't that amazing? In my years of experience, I have not come to reviews close to the positive reviews by PapersOwl.
Should you consider hiring a professional to write your essay, ensure,, you read through the customer feedback to have an overview of what to expect. Often than not, you are most likely to get the same experience as the majority of the customers.
In the question of whether PapersOwl is legit or not, I bet you have your answer by now. The key contributor to the reliability of any institution is its ability to satisfy clients unconditionally. I believe that is PapersOwl's primary goal.
Prices
The issue of prices is one of the most critical drawbacks of the company. In other writing sites, you will undoubtedly come across a price table showing you their price range for different papers. In most, you will find an online calculator to help you calculate the cost of your paper. However, with PapersOwl, there is no price table displayed. Neither is there a price calculator in the display. To get a quotation for your paper, you will need to fill out a form with your email, and they will get back to you. That sucks, right? However, much of their services may be affordable, it would have been more compelling, adding the price table on the site for its customers.
However, from the reviews I got from the customers, the company seems to offer affordable rates.
Quality
The primary purpose of hiring a professional to write your essay is to get quality. That said, it is critical to choose a reputable site to be sure you get one of the best, if not the best writers. PapersOwl emphasizes the quality of its services in their guarantees.
The emphasis they put on quality is evident enough in the customer reviews most clients give. Many have branded the company reliable and friendly to students. The high quality of their papers cannot be praised without mentioning their proficient writers who are highly experienced and skilled. This has earned the company a great reputation all over the world.
Let us take a look at a few positive reviews.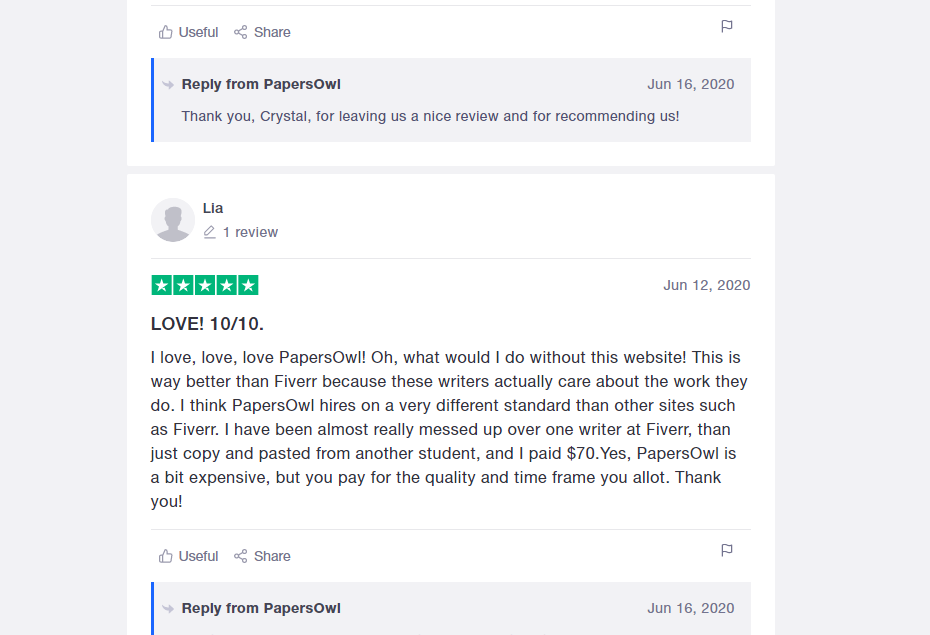 However, there was one client in Sitejabber who got my attention. The client was so bitter and disappointed about their experience with the site. In the rarest of situations, there could be an error. From what I understood, the Client's deadline could have been unrealistic, or else the instructions were not as clear. However, as you can see, PapersOwl followed up on the client to try and understand where the problem may have arisen.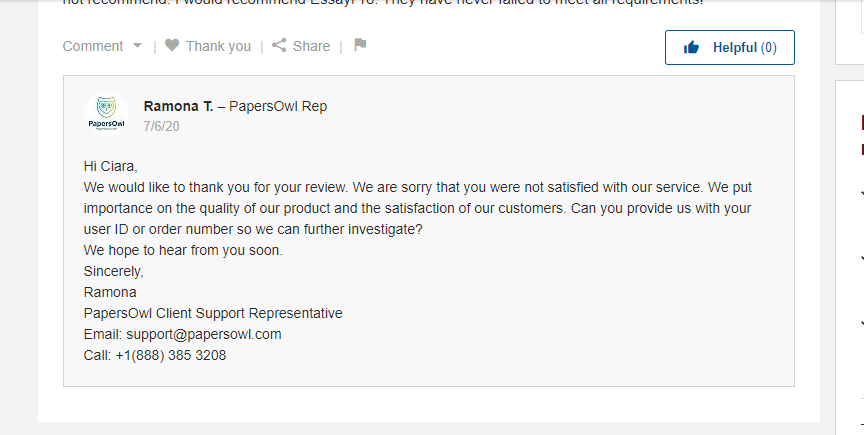 Before assigning any writer a paper anywhere, ensure you provide clear information and instructions regarding the essay.
Customer Support
PapersOwl has one of the most responsive customer support staff. The company employs email, online chats, as well as email channels to contact them. I went on and started on an online chat with one of their support staff who was very responsive. She responded to my message promptly- just in seconds. I found that super thrilling.
The key to retaining customers in any business is by being friendly and supportive to them, and that is what the company is doing. The company has an office address, as you can see in the above screenshot. This increases the company's credibility as people tend to trust a real office more than a virtual one. Should you have queries regarding the company's services, feel free to email them on [email protected] or initiate a live chat online and get your answers.
It is very important always to ensure you check on the reliability of the customer support of any company before settling on one. That will determine how well and fast your problems will be handled.
Payment
If you are among those people who prefer credit cards and debit cards to e-wallets, I have good news for you. The company only accepts payment via credit cards. It is more convenient and safe using the credit cards as it saves the customers the burden of transferring money to an e-wallet to pay for the services. Below are the cards supported by the company.

This makes it ways cheaper for its clients.
Guarantees
Money-Back guarantee.
Should the client be interested in canceling the order and requesting a refund, they are eligible for a full or partial refund depending on the reason for the cancellation. The company does 100% refunds on the following conditions.
The order had not been assigned to a writer.
Double payments.
Late delivery of work.
Level of plagiarism exceeds 10%.
If the writer failed to follow initial instructions (Subject to scrutiny by the Quality Assurance Department).
In case the paper was assigned to a writer but half time to the deadline had not lapsed, you stand a refund up to 70%. If you make a request past half time, the total refund legible is up to 50%.
PapersOwl provides its users with a plagiarism report should they ask for it. Besides, they offer free revisions, given that the original terms/ instructions are not violated.
How to Make an Order
In order to make an order with PapersOwl, click the Order-Now button. That will redirect you to the order page that looks like this.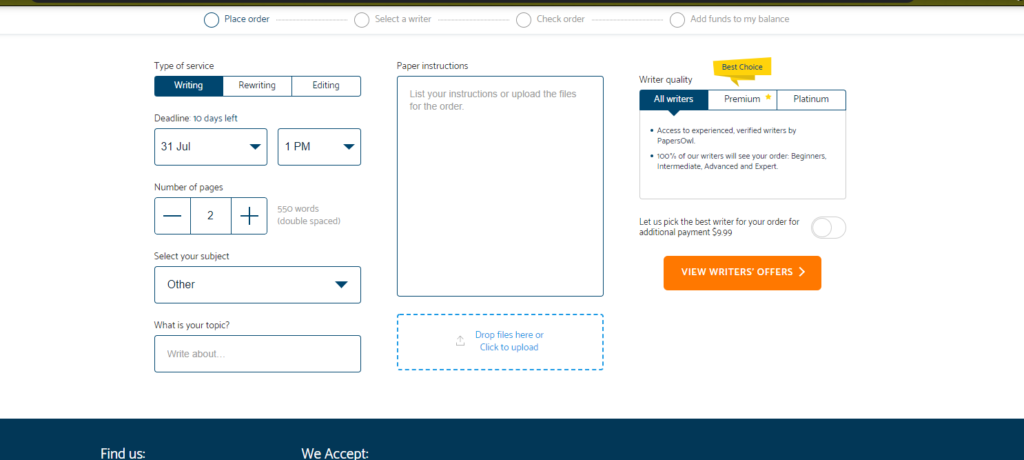 Add the necessary information regarding your paper, attach any documents that could guide the writer through. After that, you will be prompted to sign in or log in. Once logged in, you can view the writer's proposals and rates. It's convenient and fast to use.
Loyalty Program
The company has a loyalty program for its clients that promote its growth. You can earn money/ loyalty bonus by referring your friends to use the services. However, the funds can only be used to make an order within PapersOwl.
Verdict
The three qualities any student would look for in a writing service agency are quality, originality, and timely delivery. Why else would you seek writing services if you expect poor quality papers? That would be an assassination to your academic life. I cannot emphasize enough the importance of checking the customer reviews of any company before deciding to use their services.
If you are looking for an incredible agency with outstanding services, I will vouch for PapersOwl. I was thrilled by their quality services that are delivered timely. The company staff handles all clients professionally and is friendly. Are you still looking for an alternative to PapersOwl? If you are, at least use PapersOwl as your datum. But is that necessary? Well, that is a decision that you need to make by yourself.
This blog contains the author's views and reflections on topics about which he chooses to write. The author reserves the right to express his subjective opinion and is not responsible for the quality of services provided by the overviewed sites.