Overview
Power-Essays.com is a custom writing service that has been in this business for six years. It's not a well-known company but many students order their essays and other academic papers on this website because it has affordable prices and offers different types of writing help. On the website, this company promises to deliver high-quality papers, but so do many other companies from this niche, and not all of them actually keep their promises. Therefore, I decided to answer the most important question: is Power-Essays legit? In this review, I will try to find the answer and tell you everything you need to know about this writing service.
Story
I've used and reviewed many writing services so I know how difficult it can be for students to find a reliable service. Custom essay writing is a huge industry with hundreds of companies, and not all of these companies are actually reliable. In some cases, you may receive unoriginal papers. In other cases, your papers may be written by unprofessional writers or writers who are not native English speakers. The situation gets especially difficult if your budget is tight.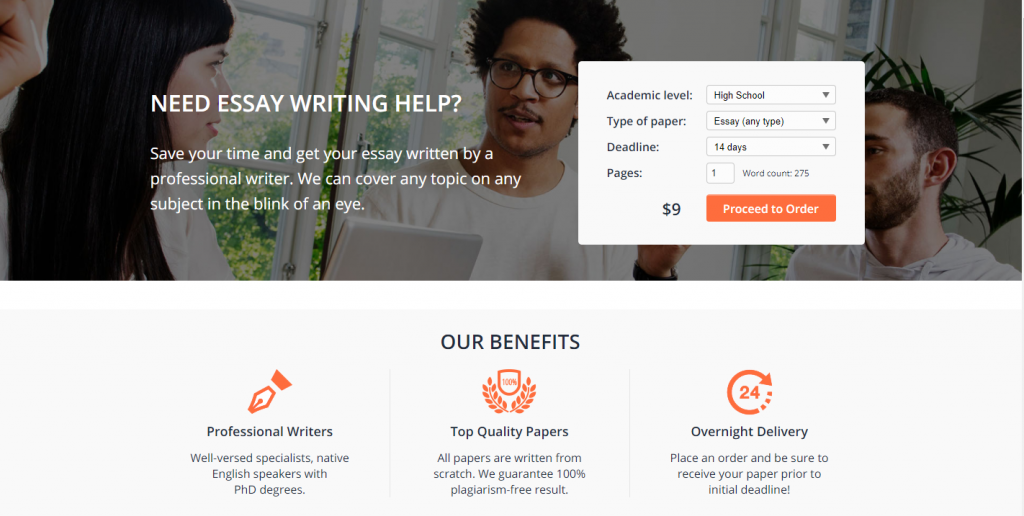 Many reliable writing services are quite expensive, and the reason is that professional writers with U.S. and U.K. degrees deserve to be compensated accordingly. Does it mean that you should never use cheap writing services? Of course, not. There are many ESL writers who know everything about their subject, and they know how to write good academic papers. Legit affordable writing services always offer free revisions, so even if you're not completely satisfied with your paper, it can be improved to meet your requirements. In contrast, when dealing with unreliable services, your complaints may be ignored, or you may not receive your paper at all.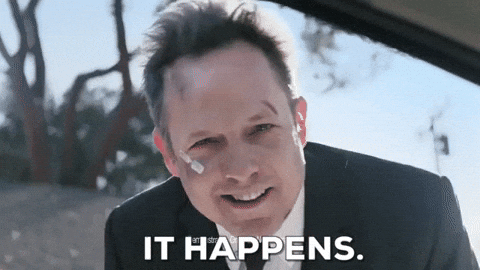 I've noticed that some students mention Power Essays when discussing writing services on the internet, so I decided to learn more about this service. Just as always, I started by researching the company's background. It turns out that Power-Essays.com belongs to DDW Corp. Limited. This company's registration address is Kastellorizou, 3A, Aglantzia, Nicosia, 2108, Cyprus. The same company also operates other essay writing websites, including ExpertWriting.org, EssayOneDay.com, GetWritings.com, and PaperShine.com.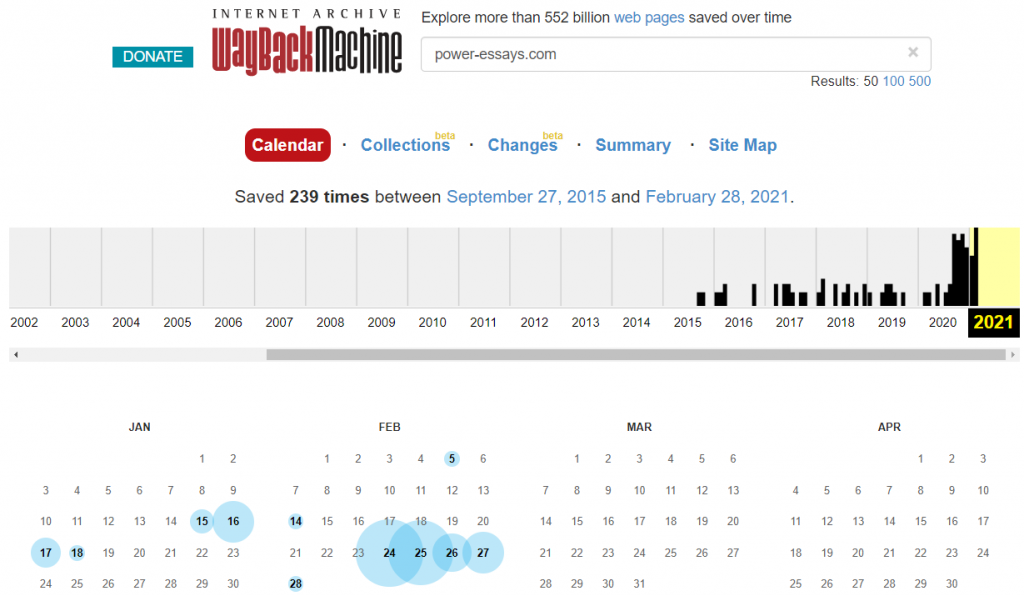 According to Web Archive, Power-Essays.com was created back in 2015. The website is simple, with a minimalistic design, price calculator, and a live chat with customer support. Generally, it's no different from many other websites of custom writing services. The design features generic fonts and buttons, and there is not much information available on the main page. If you're going to buy your paper online for the first time, I recommend that you check the FAQ section first.
Pros and Cons
Pros
Simple and easy-to-use website
Quick customer support. You can contact the customer support team via live chat on the website or phone
Various freebies, including a bibliography page, revisions, formatting, title, and references pages
Money-back and plagiarism-free guarantees
An opportunity to check samples of papers and calculate the price before making an order
Cons
There's no information about writers and their professional level available on the website
You cannot communicate with your writer directly
No social media links
No discounts
Types of Services
Here you can order all kinds of essays, bibliographies, book reviews, creative writing, capstone writing, case studies, coursework, lab reports, and critical thinking writing. Besides, Power-Essays offers assistance with multiple-choice questions and problem-solving tasks. As you can see, it offers a wide range of services for students, but it also can help other customers. For example, here you can also order a business plan.

Prices
I've already mentioned that this is an affordable writing service. There is a price calculator available on the main page. However, I couldn't find a complete price table to evaluate prices for different types of services. Generally, prices start at $9 per page — this is a price of a simple high school essay with a two-week deadline. If you need a university-level paper with the same deadline, it will cost you $18 per page, while Ph.D. papers cost from $35 per page.
As you can see, the academic level is the main factor that impacts the price of orders. Another important factor is the urgency of your order. You'll be able to buy your paper at a low price if you choose a 14-day deadline, but this service also helps students with extremely urgent orders. For instance, you can order your paper here even if you need it to be delivered in three hours. In this case, however, the price of your order will grow significantly.
On the one hand, it seems like Power-Essays doesn't offer any discounts. On the other hand, the prices are already low. Honestly, it's difficult for me to imagine purchasing a decent easy for less than $9 per page. In addition, here you get many things for free. Free revisions aside, you can also get free bibliography, references, and title pages, as well as free formatting. Most custom writing services offer these things for free, but their prices are usually higher.
Quality of Service
The prices are good, but what can you get for this money? Well, there's not much feedback from customers to understand whether or not Power-Essays.com provides high-quality papers. I will consider Power Essays reviews in more detail later, but feedback from customers isn't the only thing that can help you evaluate the professional level of the writing service. For instance, Power-Essays has a great customer support team.
According to support representatives and the company's website, this company hires writers from all over the world. Therefore, you should expect that your papers will be written by non-native English speakers. However, you can also request an ENL writer when making an order. As I've already mentioned above, ESL writers can also be real professionals who know their subject. You may choose ESL or ENL writers, depending on the complexity of your order. Besides, you can check out paper samples from Power-Essays writers before making an order here.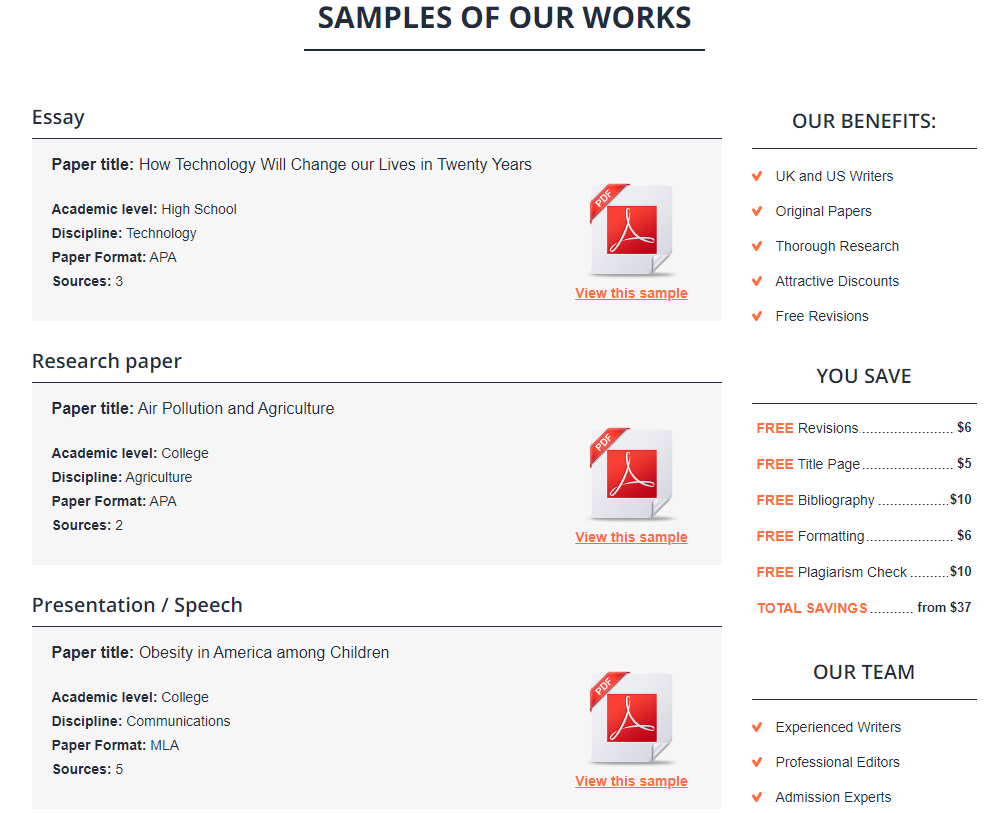 Guarantees
Power Essays offers a money-back guarantee. I strongly recommend that you read the money-back policy carefully before making an order to avoid any misunderstandings. You can get a 100% refund if the company doesn't find a writer for your order and if you receive a plagiarized paper. If your paper is unoriginal, you should provide evidence of plagiarism. For example, you can submit a Turnitin analysis that shows at least 10% of plagiarism.
You can also get a refund if your order is delivered late. However, the amount of the refund will be determined by the company. According to the website, the price will be recalculated. As for partial refunds, you can get a 30% refund if your paper contains grammar, spelling, or punctuation mistakes, and a 10% refund if your paper isn't formatted properly. Moreover, you can get up to 100% of your money back if your writer fails to follow your instructions. However, such cases are considered individually by a dispute manager.

Keep in mind that, if you're not satisfied with the quality of your paper, you can also request free revisions. You can request a free revision in 10 days after receiving your paper. By the way, if you want to request a refund, you can also do it only within 10 days.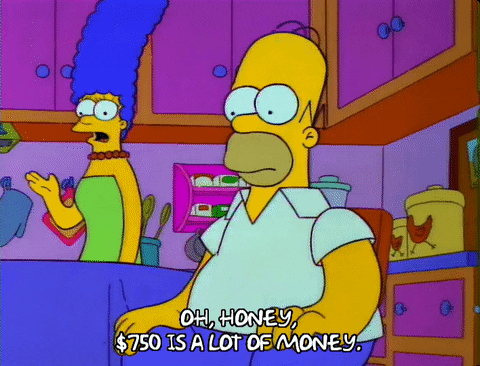 Customer Support
I've already mentioned that Power-Essays.com has an active customer support team. Customer support is available 24/7, and you can contact it by using the live chat feature on the website. All of my questions were answered in just a few seconds.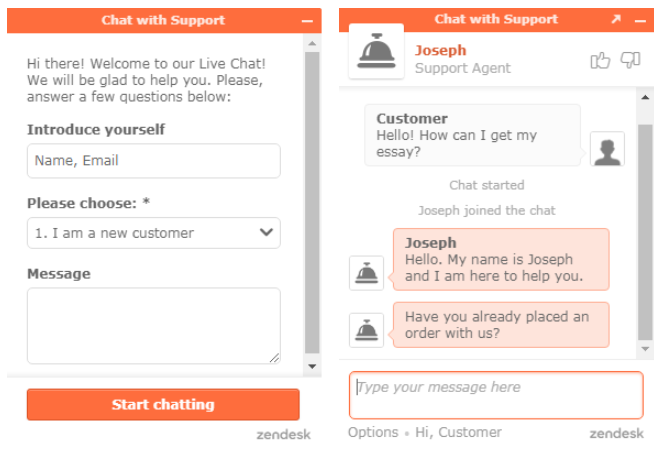 How to Place an Order
The ordering process is similar to that on many other websites from this niche. First, you should provide the necessary details about your paper, including its topic, subject, and format. You can also upload any materials that your writer should use. After this, you can select the category of writer (best available, advanced, ENL, or preferred writer), select extras, and calculate the price of your paper. After this, you should pay for your order and wait.
Customer Reviews
When I do my research, I always carefully analyze reviews from customers because it's the best way to understand whether or not a certain writing service is reliable. However, writing services are aware of how important reviews are for potential customers so some of them post fake positive feedback or even create entire fake review websites with fake positive reviews of their services and negative reviews of competitors. Although I didn't find any evidence of Power-Essays using such practices, neither did I find enough genuine feedback from customers.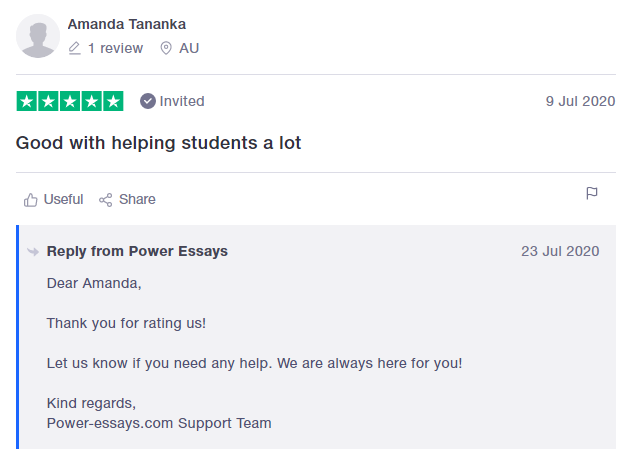 There is a Testimonials section on the website, but it only contains positive reviews so it's difficult to understand whether they are fake or the company only selects positive feedback for its website. Therefore, I started to search for Power-Essays reviews on reliable third-party sources like Trustpilot and Sitejabber. It turns out that Power-Essays has a 3.7-star rating on Trustpilot with only one review, and there are no reviews on Sitejabber. I also looked for feedback on social media, but couldn't find any. The good news is that, even though I didn't find genuine positive reviews, there are no negative reviews, as well.
Verdict
My main goal was to answer the question: "Power Essays: scam or not?" Well, I couldn't find any evidence of fraudulent activity. Is Power-Essays legit? It has a money-back guarantee and free revisions, just like any other legit service, and the customer support team is always ready to help. Unfortunately, there's not enough customer feedback available on the internet to understand what customers actually think of this service, but if you want to buy your essay for cheap, you can give Power-Essays a try.
This blog contains the author's views and reflections on topics about which he chooses to write. The author reserves the right to express his subjective opinion and is not responsible for the quality of services provided by the overviewed sites.