Overview
Usually, I start my reviews with a monologue where I explain the relevance of writing services. The first paragraphs are devoted to the story of how hard student life is and what they have to do to complete everything in time. Then I bring you neatly to the fact that the advent of writing services gives them a fresh coat of paint. Students can safely balance their studies, work, hobbies, and personal lives. Then I bust a myth that ordering an essay is scary and expensive. Next, I will tell you about my experience and how I came to write overviews. As soon as I explain all this, we will proceed to a detailed review of a particular essay writing service. You know what? This time, I would like to skip it! You're students, and you don't have time for long reads! Right off the bat, let's talk about Ultius.com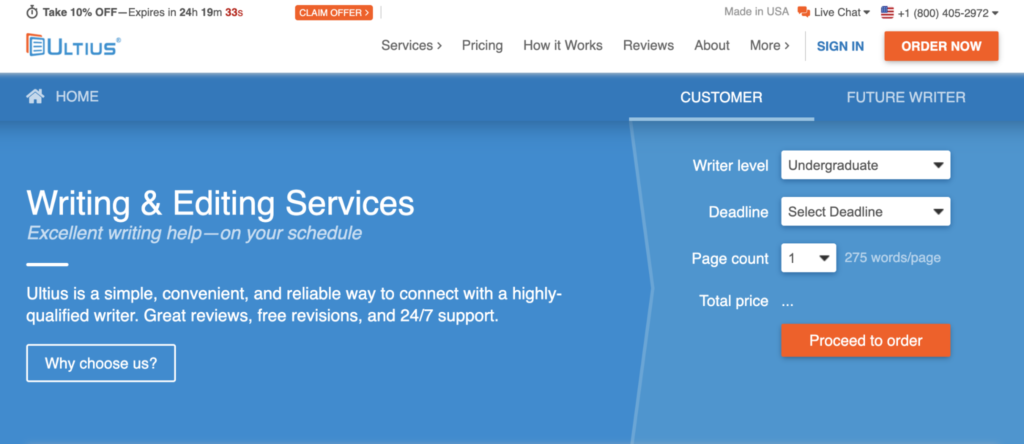 Story
I believe that a good review starts with thorough research. In the first place, let's get the basics settled. On the website, I found a page dedicated to Ultius's achievements since its establishment in 2010. If you can't stand boasters, you'd better scroll it down.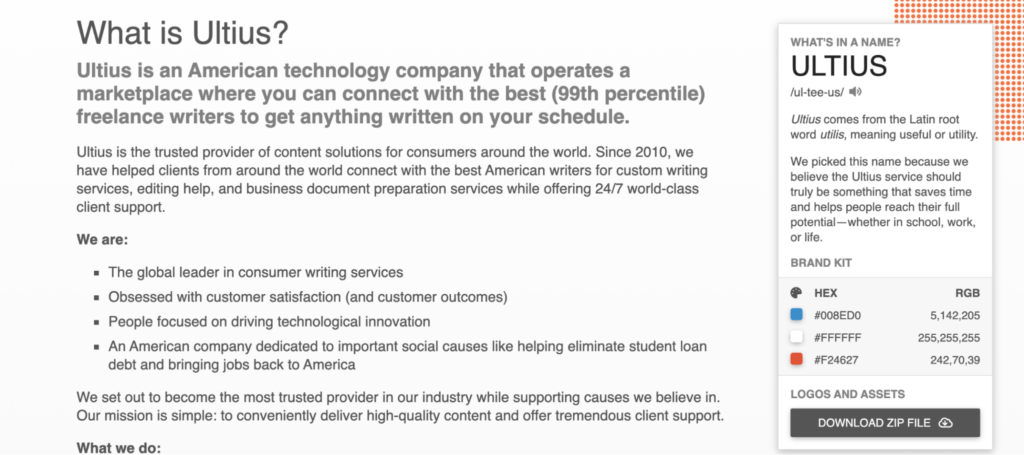 In all these years of writing reviews, I have seen myriad agencies who named themselves as students' saviors. Usually, they describe how dark and gloomy the writing services market was until they came and saved us from scammers. That's very impressive, though. To prove that creation date to myself, I visited Web Archive. To my surprise, this writing service did appear a long time ago, still in 2011, not 2010. Yet, maybe I'm just picking a hole in Ultius.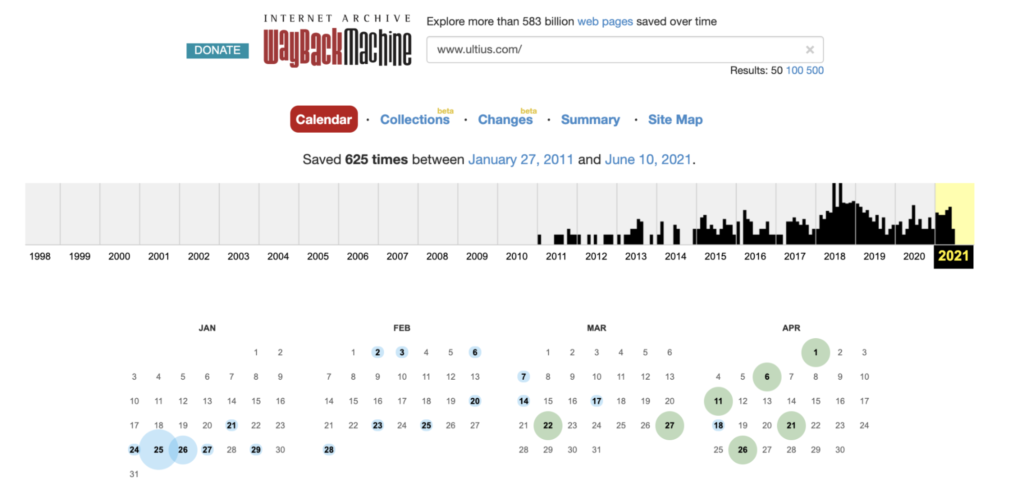 In its Privacy Policy, I saw that the company is based in Delaware. Being a USA-based corporation is a big draw. Hence, you have a much better chance of speaking good English with the customer service team.

For those who are as overcurious as I am, I found the original version of the Ultius main page.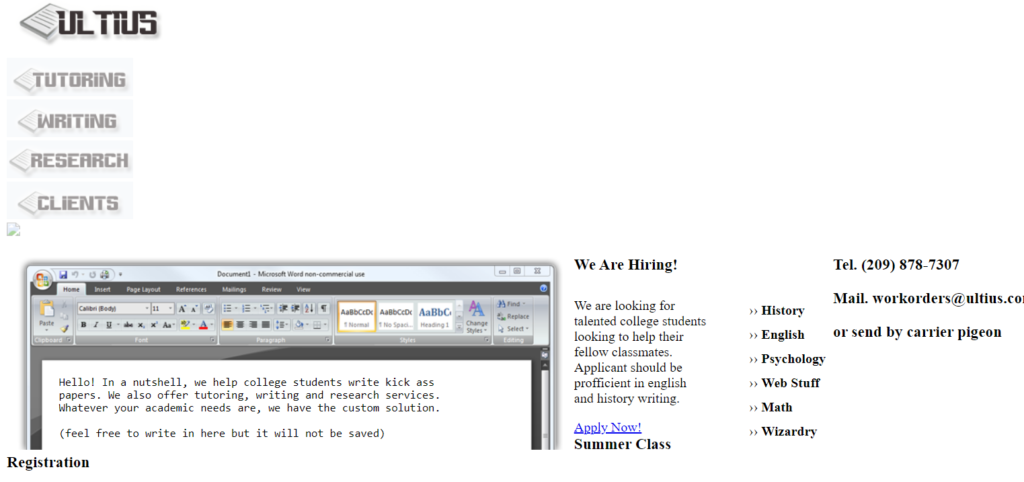 You must admit that it looks like an app from the `Spy Kids` movie or something! By the way, I'm just kidding.
Pros and Cons
Pros
Well, be that as it may, but Ultius published true information about its history. I'm sick and tired of exposing lies, but not this time. The site did appear in the late 2010-s, and its authors really helped thousands of students. I wish to point out that they have real photos of their team! Can you believe that? On top of that, Ultius is a benefactor and helps students by awarding scholarships. Its staff also cares about the American unemployment level and does their best to provide people with workplaces. 
If you want to get a picture of your paper, you can download free samples. Besides the sample itself, you get an ultimate guide on writing the preferred type of paper yourself. However, why bother? 
Ultius deserves credit for well-maintained social networks. Managers consistently publish posts on educational topics every 3-4 days. I'll go one better and say that I got stuck in the blog! 
Even though an essay will cost you an arm and a leg, you can still save a little money. Ultius offers nice discounts, for example, now you can waive 10% off the final price.
Ultius works with native English speakers only. To become a member of its family, you must fill in the form to prove that you are a U.S. citizen. This requirement arises from the company's origin. If you are an American company, keep American employees only. 
Quick and detailed replies from customer support deserve to be highlighted. Again, I was impressed, and this time by the number of ways to contact it. Here, we have phone numbers, live chat, Facebook messenger, Alisa bot, fax, emails, and text messages. To try all of them, I must have at least 99 problems!
Cons
I've waited for so long to say that, but the website is user-unfriendly. I've seen bad interface designs, but this one takes the cake. I wrack my brain to understand its logic but in vain. I pressed the buttons a million times, and every time the site took me further and further away. It got to a point where I completely forgot what I was looking for. Why on Earth are there online courses for web designers?
Now, on to more important things. There are no clear money-back, privacy, and plagiarism-free guarantees. The only thing I understood is that I have seven days to send my paper back for revision. And that's it. In Terms & Conditions, there is a paragraph dedicated to refunds. However, it neither states the terms nor conditions.
Although Ultius swears up and down that my confidentiality is of paramount importance to the company, it does have issues. Placing an order requires lots of personal data, and this remark, by no means, should be taken lightly.
Among the disadvantages, I would like to mention the lack of services available. Nowadays, the market is full of writing agencies, one better than the other. To stand out from the competitors, you have to offer a wide range of services at an affordable price. In the case of Ultius, we have neither of that.
This writing service is a rip-off! One page of a high-school essay with a 20-days deadline will cost you $17.50. I dread to think how much money I need for an urgent thesis.
Types of Services
Speaking about the number of services offered, I would like to reiterate and underline the points I have already made. When you open the site for the first time, you see that Ultius helps only with editing and writing.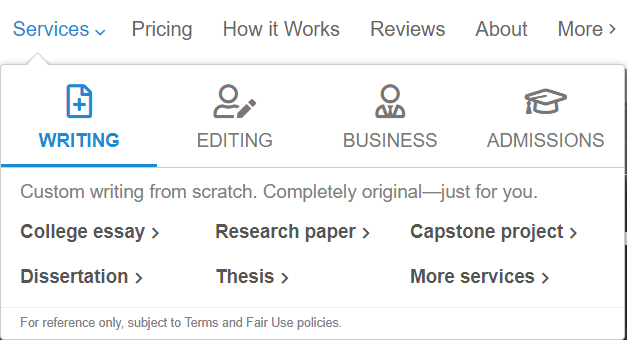 The latter includes essays, dissertations, research papers, and thesis. Due to the complicated interface, finding the full list of services is a hard nut to crack. I thought that on the order stage things would get easier, but they didn't.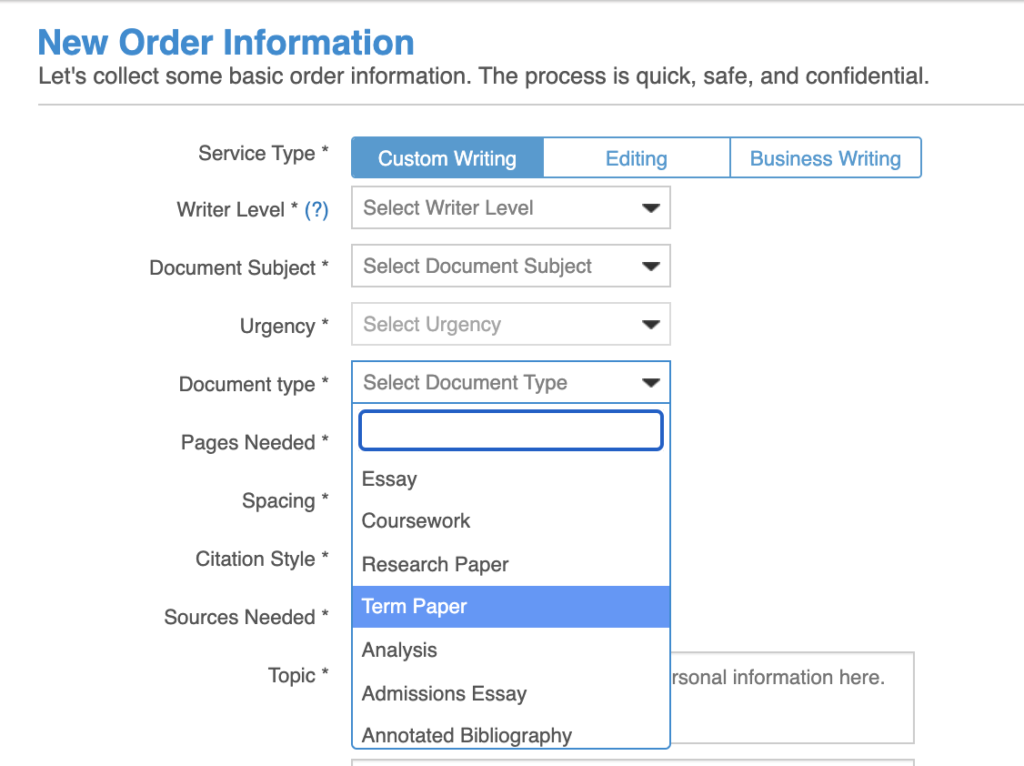 Price
If you need a high-school essay of 5 pages urgently, be ready to splash out on it! This little treasure would cost you $270. Although the site is quite complicated, at least it's easy to find the pricing.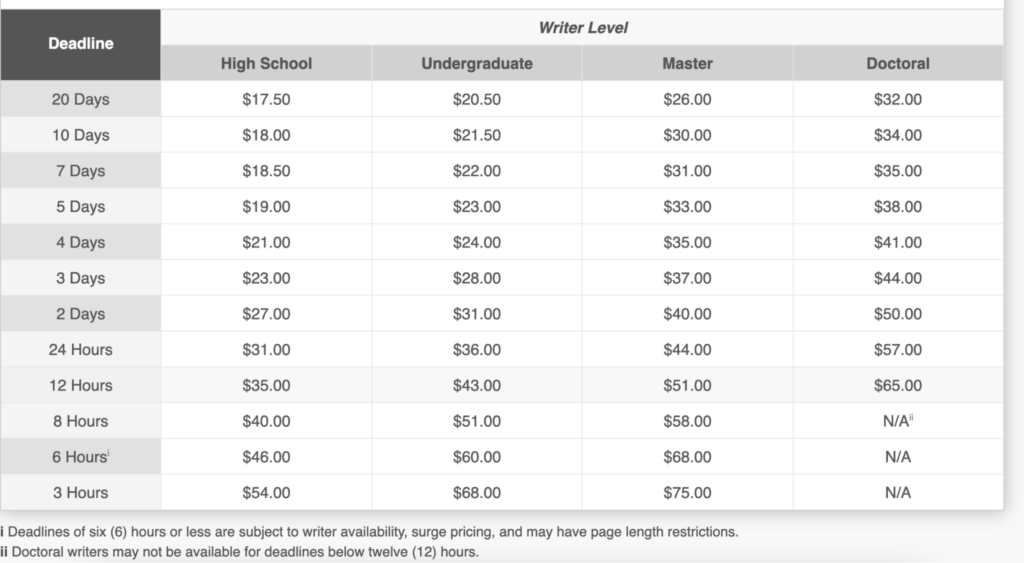 But be forewarned there is more to come. If you want a graduate writer to take care of your essay, be ready to pay +20%. A specific writer will cost you less, but still 15% extra.

Ultius entertains potential clients with a pack of freebies. However, most of them are included in the basic set of any writing service. Are you trying to give out 100% originality for a bonus? That's a must!

As far as I could understand, Ultius doesn't provide any goodies to regular customers. It's too bad, though. As for the payment methods, Ultius is not inferior to its competitors. As soon as you apply a promo code, you will proceed to secure payment. Here, you can pay by credit card, Discover, or PayPal.

Customer Support
While using Ultius, you can count on timely assistance. Ask your question in the online chat! To do so, you must leave your contact details first.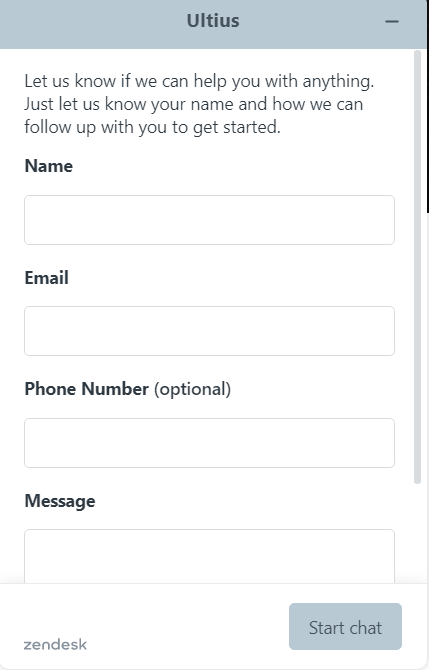 Again, I doubt that my mobile phone number is so essential to a manager in the chatbox. If you find it suspicious too, email or call them instead.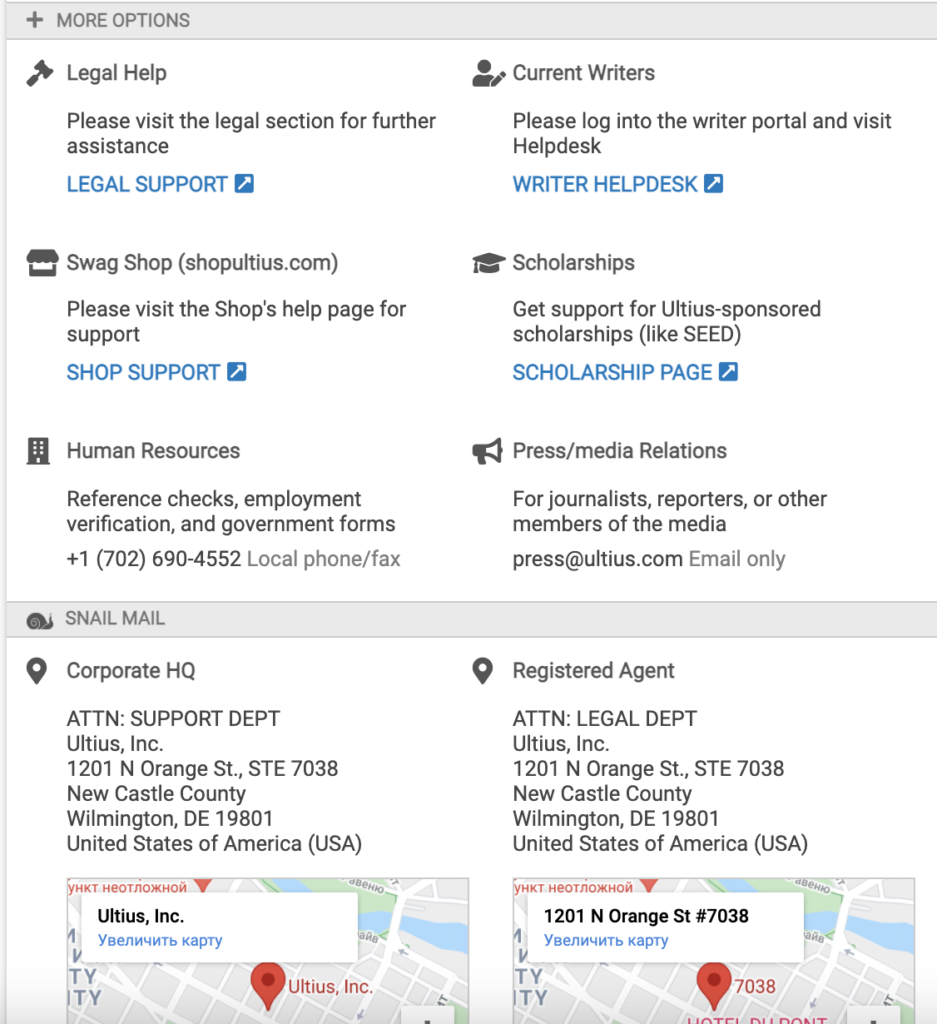 Zoomers can shoot a text on Facebook.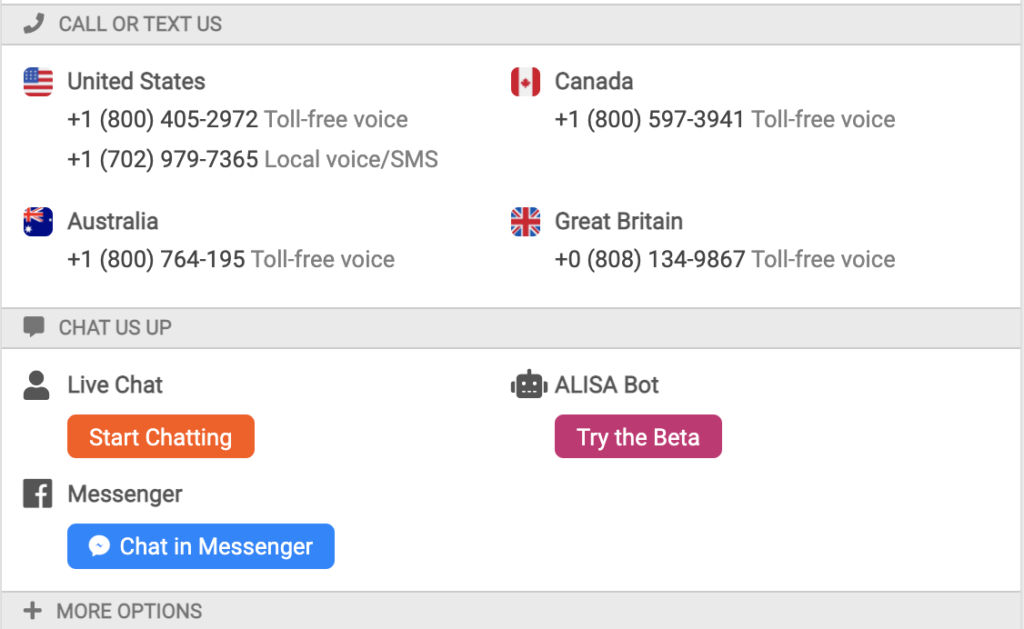 Quality of Service
Quality is the other criterion by which I evaluate the writing service. It's important to me that every penny spent by a student pays off. That's why I do not only read feedback but try the service myself. In the case of Ultius, I was curious. Is all this hype with American writers justified? Is the essay worth the money?
Sorry guys, but I'm tight-fisted. That's why I ordered a high-school essay with a standard deadline of 20 days. I was spoiled by other writing services that sent completed orders ahead of the deadline. Here, I had to wait for the twentieth day as stated. Maybe they're on fire, and I chose the wrong time? Who knows. Nevertheless, the quality of the essay was quite good. Frankly, the grammatical constructions and punctuation pleased me! My anti-plagiarism test showed that the content is unique.
When I evaluate the quality of services, I also pay attention to guarantees. That is a topic I touched on earlier when listing the cons. And yes, they are not as clear for me as they could be. The Fair Use policy asks me to go to the section dedicated to Revision policy. The latter, in turn, refers to Terms & Conditions, where the author milled the wind. I still don't understand the conditions for revision. Most often, competitors list specific cases when I can count on free edits. For example, if I suddenly change the original instructions for the essay, I won't be able to apply for its revision. The same applies to money back policy. Will I always get a 100% refund? That's a riddle wrapped up in an enigma.
How to Place an Order
The order process won't take long as there are only two steps. First, you provide as much information on your paper as you can. Thus, you need to specify:
Academic level
Subject
Urgency
Type of paper
Number of pages
Spacing
Citation style
Sources needed
Topic
Also, there is a field where you can share your additional comments. I used to upload the instructions on the site, but in the case of Ultius, I have to type everything manually. That's so old school!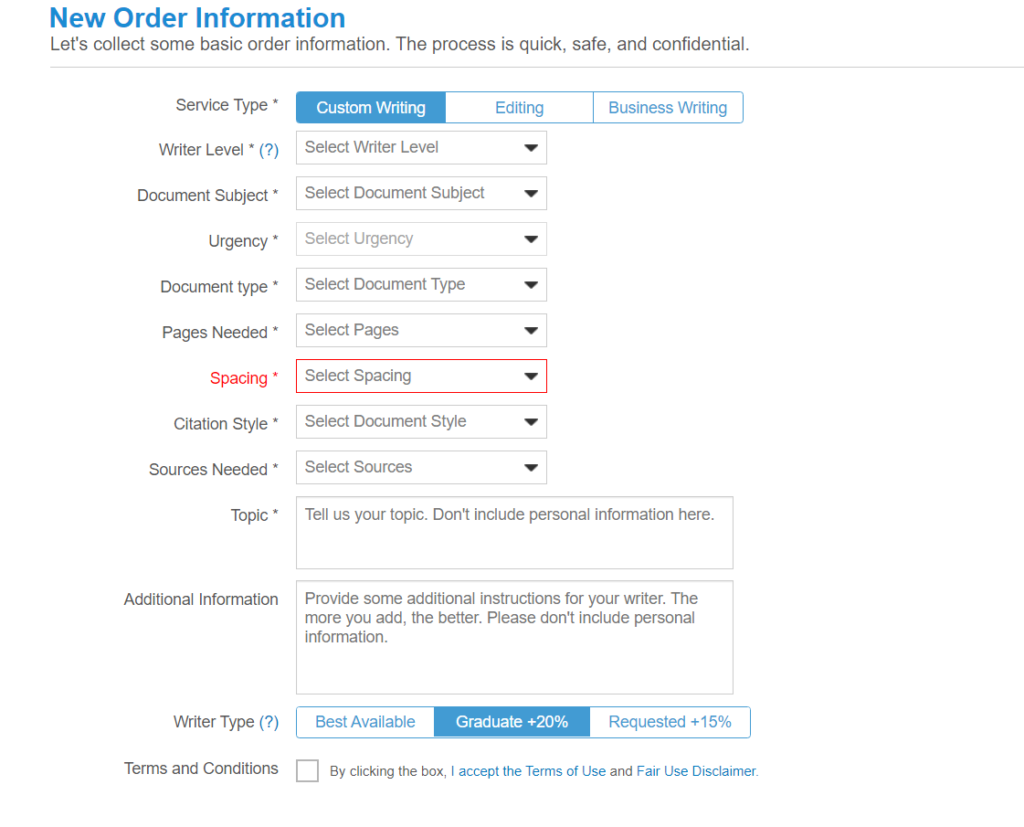 Also, at this stage, you can choose the writer type (I have already discussed it earlier). As soon as you complete filling in the information, you can proceed to payment. However, you have to sign up or log in first. That's where the fun begins.
For registration, Ultius requires:
Name
Surname
Email + password
Phone number
Dial-in PIN
I don't know about you guys, but I doubt a writing service truly needs my surname and phone number.
Reviews
Every time I prepare a review, I look forward to reading feedback from real customers. Although I taste the service for myself, I try to keep an open mind. In the case of Ultius, I anticipated a large number of reviews. And you know what? My expectations were entirely met.
On Sitejabber, there are 460 reviews in total with an average rating of 4.29 stars. To save your time, I compiled the list of Ultius pros and cons by student's opinion.
Pros:
punctuality
quality of papers is above average
if managers cannot assign the writer for your specific topic, they make a 100% refund
Cons:
issues with customer support service

Social Media
On the main page, there are links to accounts on social networks. Thus, you can start following Ultius on Facebook, LinkedIn, or Twitter.

Verdict
I know that you are already dying to know my overall impression. Well, to me, Ultius is a run-of-the-mill writing service. It boasts of its American team of authors, editors, customer support managers, etc. I'm happy for you guys, but does it really cost that much? For those who target high-school students, you do overcharge. Despite numerous discounts and special offers, you still didn't offer a referral program for regular customers. What's more, Ultius doesn't have a money-back guarantee or a detailed revision policy we are familiar with. The writing service offers a million options to contact their customer support, but that's not a way out. The quality of the essays met my expectations, but I don't know if I should have expected anything different from it. All in all, Ultius will take its place in the middle of my rating of essay writing services.
This blog contains the author's views and reflections on topics about which he chooses to write. The author reserves the right to express his subjective opinion and is not responsible for the quality of services provided by the overviewed sites.