WiseEssays Overview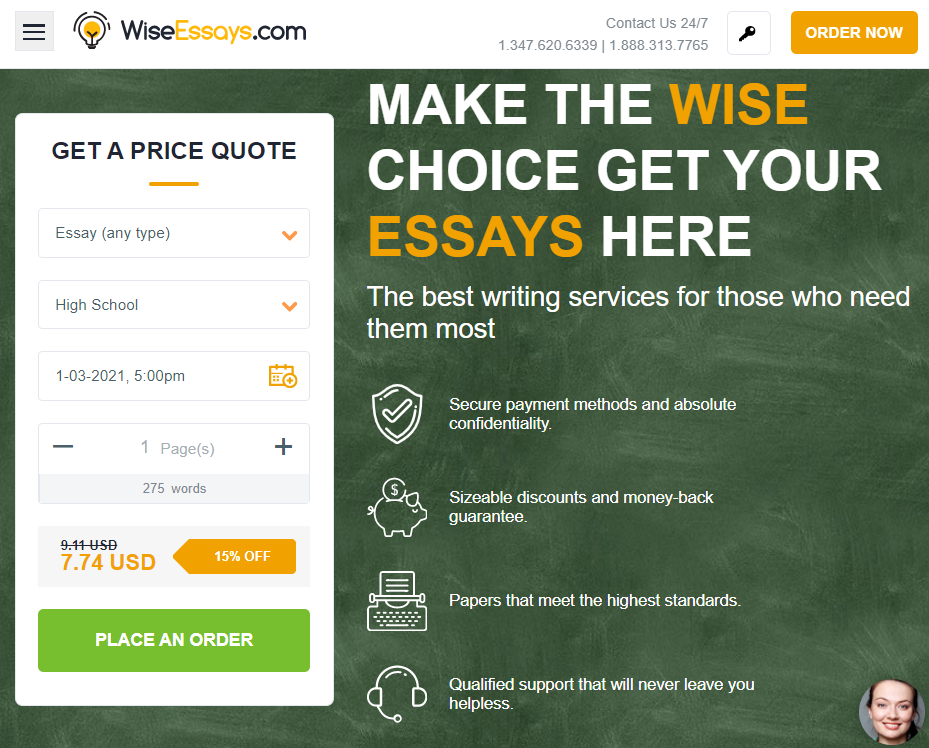 WiseEssays is a cheap writing service where you can buy different kinds of academic papers. The prices start at $9.11 per page, and this website also offers discounts. For example, you can make your first order and pay $7.74 per page. Although low prices make this service quite attractive for students, if you're looking for high-quality writing, you may want to choose another company. Is WiseEssays a scam? In this review, I will answer this important question and consider different aspects of its services so that you can decide whether or not this website is worth your money.
Custom academic writing is a huge industry, and you can find hundreds of websites that offer their services and promise great papers at a low price. However, choosing a reliable service can be a challenge because good services are often quite expensive, while many cheap services often hire unprofessional writers who are not even native English speakers. Given the tough competition in this business, reliable companies are often those who have been around for many years. Students always share their reviews online so companies that provide poorly written papers quickly disappear or try to improve their reputation by publishing tons of fake positive reviews.
WiseEssays.com belongs to a Bulgarian company Steadi Ltd., which has been providing academic papers since 2011. On the one hand, this service has been around long enough to improve its services and provide the best papers possible. On the other hand, this is a company from Eastern Europe, and the prices are really low so you probably shouldn't expect working with experienced ENL writers when making your orders here. Basically, it's one of many websites where you can buy papers for cheap if you're willing to take some risks.
The website is well-designed. It's easy to use and it has all the necessary information so that you can figure out how this writing service works and how much it will cost you. You can evaluate the price of your order on the main page, and you can also contact the customer support service. The company also claims that it protects its customer data. This service promises plagiarism-free papers delivered on time, but so do many other writing services, as well. Is WiseEssays legit and trustworthy? Keep reading to learn more.
Story
Every time somebody tells me about a cheap writing service that I haven't seen before, I want to research it and to write a review. I know how difficult it is for students to choose a writing service. Not all companies keep their promises and deliver well-written papers created by real professionals. The situation gets even more difficult if you don't want to overpay and your budget is tight. In this case, you may find many cheap services, some of which fail to meet their customers' expectations in terms of quality, while others may simply take your money without giving you anything in return.
On the one hand, there's no surprise that most good writing services are quite expensive: talented writers from the U.S., the U.K., Canada, and Australia deserve fair compensation for their efforts. On the other hand, cheap writing services that work with non-native English writers are not necessarily bad. There are many ESL writers that know everything about their subjects, and sometimes they can deliver decent papers. Of course, when dealing with ESL writers, you may need to edit and proofread your papers, but even in this case, such services can save you a lot of time.
First, I started to look for WiseEssays online reviews to understand what customers think about it. I will consider customer feedback in more detail later. However, there is not so much feedback available so I thought that a good solution is to make an order and see how this service works. A friend of mine needed a simple essay so I recommended WiseEssays. I needed to apologize for such advice later, but fortunately the essay was short and not urgent so my friend had enough time to edit it. Apparently, the writer didn't even read what they wrote because the essay contained many typos and it didn't meet some of the instructions.
Pros and Cons
Pros
Many academic services are available, not just writing.
A great discount system for new clients.
Affordable prices
Cons
The lack of feedback online
Unprofessional writers
Types of Services
WiseEssays provides a wide variety of services. Customers use this website to order not only custom writing from scratch but also editing and proofreading. You can order all kinds of academic essays, coursework, term papers, case studies, dissertations, annotated bibliographies, and academic articles. You can also order academic assistance if you need help with multiple-choice questions or science projects. Besides, this company offers postgraduate help and admission services.
Customer Reviews
Whenever I want to determine whether or not a certain writing service is reliable, I start to search for online reviews from customers. Fortunately, when students have a bad experience with a writing service, they usually don't hesitate to share their thoughts with others. Writing services, however, understand how important reputation is in their competitive business so they often decide to use dirty tricks in an attempt to persuade students that their services are good. For instance, companies often publish fake positive reviews on third-party platforms or even create their own fake review websites.
Given that WiseEssays has been writing academic papers since 2011, I expected to find a lot of feedback online, but I was disappointed. I only found two reviews on Trustpilot and no reviews on SiteJabber. The lack of feedback looks strange because all writing services I know that have been in this business for many years always have a lot of online feedback. Therefore, the company is either not honest about its age or very unpopular, which would be even more weird given how low the prices are.
After googling "WiseEssays reviews," I found some fake review websites, and a few reviews on some review platforms that are certainly not as popular as SiteJabber and Trustpilot. Honestly, I don't know how objective these reviews are, but WiseEssays has an average rating of three out of five on all of these platforms. Therefore, it's difficult to recommend this writing service to students. I've always said that the best solution is to use well-known websites with good reputation, and the lack of customer feedback makes it difficult to determine whether or not using this service is a good idea.


Prices
Perhaps, affordability is this service's main selling point. As I've already mentioned above, you can order your paper here for $9.11 per page. This is a price without a discount, and it's displayed on the main page. Given that new customers get a 15% discount, they can even order custom writing for $7.74 per page. However, the information on the main page is different from that from the Prices section of the website. Here, prices start at $12.71 with a discount, and grow up to $14.95 if you don't have a discount.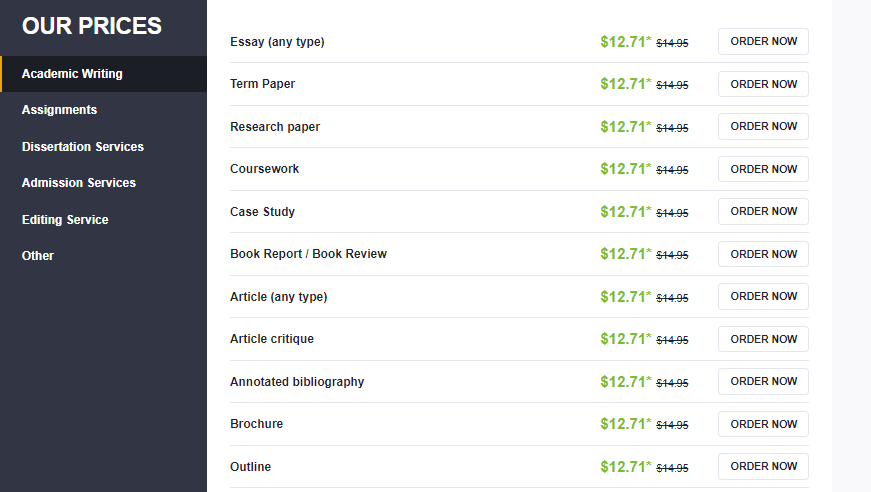 The weirdest thing about this pricing system is that writing an essay from scratch costs as much as writing an outline or working on a case study, even though all these assignments obviously take different amounts of time and effort to complete them. At the same time, a dissertation only costs $2 more than an essay of "any type."
The company also offers customers to save $50 by getting a title page, reference page, formatting, and revisions for free. An interesting thing about these features is that they usually come for free when using any other writing service, as well. Although the pricing system remains unclear, WiseEssays offers some good discounts. You can get a 15% discount when making your first order. Moreover, the company goes even further and also offers a 10% for the second order.
Quality
The lack of customer feedback makes it difficult to figure out how well this service performs on a regular basis. Basically, all I have is my friend's experience and a couple of reviews published by other customers. The reviews are rather negative, and my friend also needed to edit her paper before submitting it. The writer certainly had problems with grammar, and they also forgot about a few details that were clearly indicated in the initial instructions.
Generally, it doesn't make sense to expect outstanding papers when using cheap writing services. As I've already mentioned above, such companies usually work with ESL writers so you get exactly what you pay for. I wouldn't say that WiseEssays is worse than other cheap services out there, but it's certainly not the best one. Besides, it's even hard to understand whether or not this service is cheap, given that different sections of the website contradict each other.
Customer Support
You can contact the customer support team by using a live chat on the website. Customer support is available 24/7. I visited this website a few times, and sometimes, the live chat icon didn't appear, which could be caused by some technical difficulties. You can also contact them via email, and I did it. The support team responded in an hour and I got answers to all of my questions.
Payment Methods
Here's what makes WiseEssays stand out: on most custom writing sites, you can pay with either a credit card or PayPal. WiseEssays accepts Visa, Mastercard, Maestro, American Express, Discover, PayPal, Wire Transfer, Delta, Diners Club, JCB, and Solo.
Guarantees
WiseEssays offers a money-back guarantee. However, if you want to get your money back, I recommend that you read the Money-Back Guarantee page carefully before making an order. The rules are quite complex so you should do everything right to be eligible for a refund. The good news is that you can get your money back if your writer fails to deliver your paper on time. In this case, you must contact the company within 24 hours after the deadline. However, you won't get a full refund if you're still going to use the paper.
The situation gets more difficult if you're not satisfied with the quality of your papers. In this case, you must contact the company in three days after getting your paper and explain where exactly your writer hasn't followed your instructions. Therefore, you should make sure that your initial instructions are detailed and clear. After this, the company will revise your paper for two weeks. You will have to either approve it or contact the company and ask for a refund again. You only have three days to do it because after that, the paper will be considered approved.

How to Make an Order
The ordering process is no different from that of many other custom writing websites. You can quickly evaluate the cost of your order on the main page. After this, you should provide all the necessary details and instructions, and make a payment. Once the payment is done, you can relax and wait for your paper.
Loyalty Program
WiseEssays offers lifetime discounts for customers who order a certain number of pages. You can get a 5%, 10%, and 15% discount for ordering 20+, 50+. And 100+ pages, respectively.
Verdict
I wouldn't recommend WiseEssays simply because there's not enough feedback from customers available. Besides, some of this service's policies are quite sketchy. Is WiseEssays a scam? Probably, not. You may give it a shot if you're looking for a simple high school essay. However, there are many other writing services with the same prices that have a solid reputation and are reliable.